Oracle OpenWorld "Outtake" Take Advantage of Smartphone Apps on Oracle R12.1.3 and Beyond

Oracle Vice President of E-Business Suite Product Strategy Jeanne Lowell  took advantage of OpenWorld 2014 to announce the latest enhancements on OAF (Oracle Application Framework ) and Oracle's Application strategy for 2014. By using Oracle Mobile Application Framework, multiple devices used by the same person will automatically share the same content. Though, Oracle's development approach for 2014 focuses on separately smartphones and larger screens.

Everyone  has a tons of different devices out there and each one of us are using more than one during a day. Starting with our phone in the morning, change to our tablet on the way to work, and using our laptop or desktop in the office. Oracle provides a solution how we can handle this mobile world and gives access to E-Business Suite data on these devices. The benefit of the mobile application framework within Oracle global platform is that you can use it on once and it gets deployed on different devices.
Mobile, table, desktop, laptop…
Mobile apps share a common look and feel and Oracle's continuously releasing standalone apps for specific product modules. In the meantime, the goal is to support both smaller and larger screens. Apps can run on all the devices but provide a richer experience for tablets and larger screens. The new Oracle framework is doing it automatically. Accessing modules like Oracle HRMS/HCM or iProcurement, anything that's from a web-based interface, you can see that tablets provide a new, fascinating user experience.
Tablet Optimization
Tablet Optimization has been delivered with Oracle R12.2.4 in late August. Oracle focused on supporting the touch functionalities of tablet devices. It provides a clean and modern interface with more space, gesture support and pays attention to support other tablet functionalities like camera, map or emails and how you can apply them to your business applications.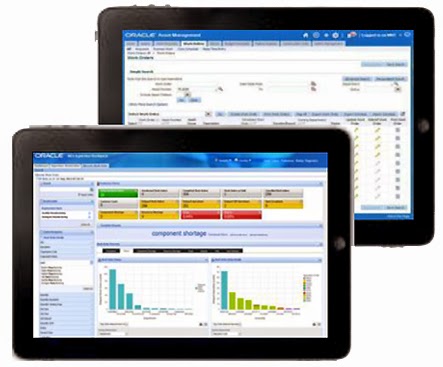 Homepage
Following the design patterns of Fusion Applications, the new simple home page includes an announcement section and also a list of iconized functions with a custom role-based page with a fast and easy access to the favorites. Employees can see and use targeted functions.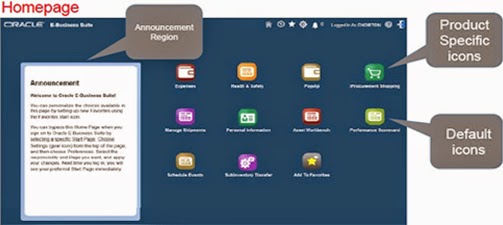 Oracle's new enhancements won't stop coming so you will be able to deploy mobile capability as quickly as you can and discover the latest user experience innovation.
Whether at OOW 14 or Watching from Far Away, Don't Miss Out!
If you're at Oracle OpenWorld 2014, be sure and stop by booth 2009 and get an On-Demand Demo of Oracle EBS R12.2.4. You can also set up a time via our website.
If you're not able to make OOW '14, then you can click here to access close to two dozen all Oracle R12.2 related posts on this site and/or you can click here to view our R12.2.4 videos!