To Test or Not to Test?
Companies today have numerous customizations and integrations, so when the time to upgrade their ERP environment comes, it comes at the cost of great complexity and effort. Traditionally, there is one feature of the project life cycle that organizations often overlook, underutilize or squeeze at the very end: testing.
However, ERP testing is evolving as an expert service area that requires comprehensive knowledge in ERP software, testing, processes, methodologies, and technology. Organizations are investing more time and budget in ERP solutions, hence it is no wonder that spending on QA and Testing is on the rise, because a seamless go live is truly priceless.
According to the World Quality Report 2014-15, "The proportion of corporate IT spend devoted to ensuring software application quality and performance is higher than ever before. QA and Testing's share of the IT budget continues to grow from 18% in 2012 to 23% in 2014 and 26% in 2014."
If you are planning on upgrading to a newer version of Oracle EBS in 2015, your organization should identify what must be tested, how it should be tested and when. To be able to do that, you need to ask yourself: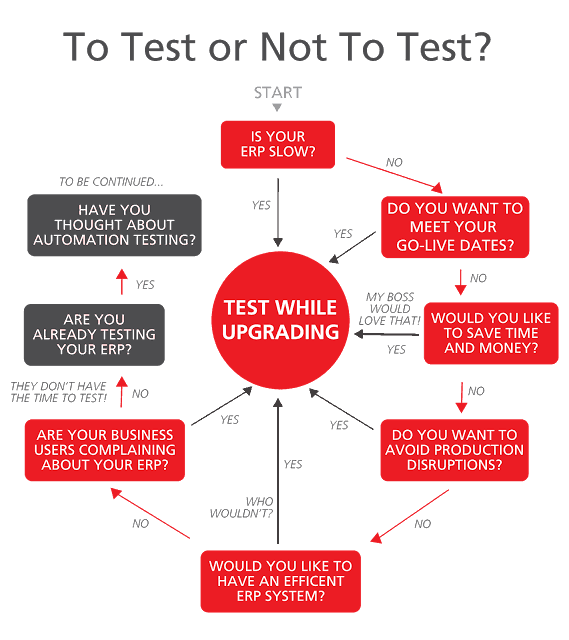 Learn how to perform successful Oracle R12 testing at our webinar: How to Successfully Plan and Test your R12 Upgrade on Tuesday, August 11th at 9:00 AM PST/12:00 PM EST. Our experts will go over the best practices for testing your Oracle R12 project without taking unnecessary risks or going over budget. Our experts will discuss:
Common reasons for failed upgrades
Error and risk mitigation
Defining appropriate testing goals
Redirecting testing efforts to multiply value