New in Oracle UPK 12.1.0.1: Randomized Question Pools within Assessments

One of the main challenges when creating effective training content is to identify the exact skills and gaps in your workforce, and be able to provide the type of training needed to meet the required skills and performance levels.Everyone thinks of Oracle User Productivity Kit (UPK) as a tool that documents business processes, but it is also a valuable asset to assess the competency of your company workforce and create effective training materials. With UPK trainers can not only assess the end-users transactionally through the Know It! Mode but also conceptually with the assessment feature.
UPK provides multiple options that help build effective end-users' assessment:

Different types of questions: Fill in, Hot Spot, Matching, Multiple Choice Single Answer, Multiple Choice Multiple Answers, True/False, User-Defined
Question order/ Answer order: Questions and answers can be displayed in the order they were created or in a random order
Passing score %: The minimum passing score can be modified to match your company standards
Remediation: Users can receive different feedback when they answer to the question
Show Associate Content: if a question has associated content,  the user will be able to view the related content after answering a question
Summary: If enabled, users are able to view the summary of the assessment taken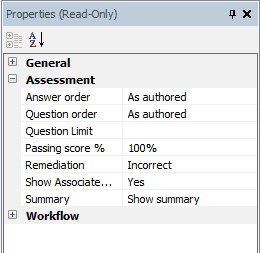 The newest enhancement to the assessment effectiveness is the randomized question pool option. With this option users will not have the same questions in the assessment, but the questions will be randomly selected from a created pool of questions. In addition, if uses re-take the assessment, this option makes sure that the same user receives a different pool of question and not the same as in the first assessment.
For example, in the UPK Developer, a course has a Post-Assessment that contains 80 different questions. With the randomized question pool, we can specify in the Question Limit field (located in the Properties pane of the Assessment editor) that only 20 questions of those 80 should be used when the user takes the assessment.
It is time to rethink how to effectively asses your workforce by analyzing the potential benefits of using UPK 12.1.0.1 Professional. Put Oracle UPK's Assessments to work for your company!