Cost Benefit Analysis for Using Oracle UPK for Training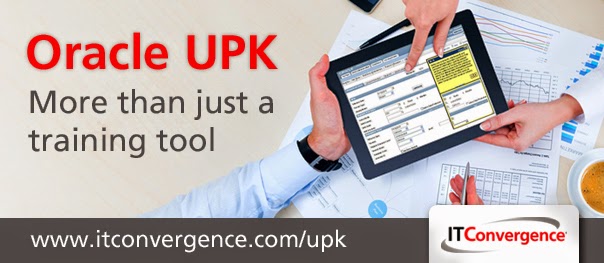 Recent studies have showed that when an organization begins using a Learning Management solution, on average, they should expect to increase productivity by 10-15%.
Decreasing the time it takes end users to develop a thorough understanding of the processes related to their job function can significantly reduce the costs associated with training these employees. The less time employees spend being trained, the more time available to be productive and delivering for your organization.
Multiple studies have shown that organizations would significantly benefit from standardizing process documentation and training aids, but doesn't happen often due to a lack of internal resources. Increasing end user adoption ultimately leads to higher levels of employee job satisfaction reducing turnover rates and the costs associated with training new employees.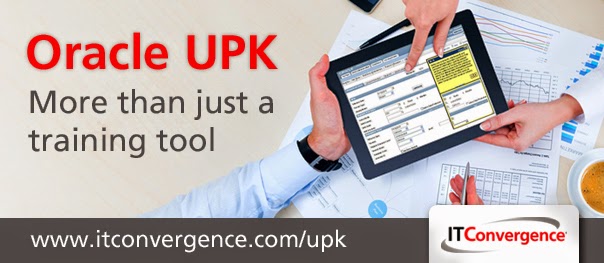 Oracle UPK the Answer?

Not only does Oracle UPK (User Productivity Kit) reduce  time to competency and increases productivity, but it also decreases the time needed to create training content.
Number's don't lie: A client cost/benefit analysis showed that Oracle UPK cut the time to develop an hour of training from 50 hours to only four. Another client experienced a time savings of 65%  on training content creation.
Someone could argue that other tools, such as Adobe Captivate or Camtasia Studio can achieve the same results as UPK. So let's look more closely the main differentiation factors of UPK taking into consideration only its training capabilities.
Some of the factors separating Oracle's User Productivity Kit (UPK) from its competition are its ease of use, the ability to publish various documentation and training aid outputs from a single authoring source, and its unique object recognition technology. Using UPK with other Oracle's applications such as JD Edwards, PeopleSoft and Taleo, and non-Oracle applications, such as, SAP, Salesforce and KOFAX streamlines the development process through its object recognition technology. Reducing the time it takes to develop training content reduces the overall costs. Cost and productivity are two variables which go hand-in-hand. By increasing productivity and reducing the costs associated with reaching that productivity, management is setting themselves on a trajectory of long lasting success.
Stay Connected for the Latest on Oracle UPK
For more information on our UPK services, visit our UPK mini-site, and sign up to take advantage of our UPK free demo or health check.
Watch UPK tutorials on our YouTube Channel!
Can't get enough of UPK?
Neither can we. At IT Convergence we have been feeling very generous lately, and inspired by the holiday spirit we are offering a free Installation of Oracle UPK  and 6-month free UPK Hosting .