Oracle Recognizes IT Convergence for Excellence in Oracle User Productivity Kit Solutions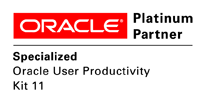 IT Convergence proudly announces that Oracle has recognized our commitment to continuously delivering high quality
User Productivity Kit (UPK) solutions
.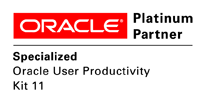 IT Convergence, an Oracle service provider and a Platinum level member in the Oracle® PartnerNetwork (OPN) has achieved Specialized status for Oracle User Productivity Kit Solutions. The Oracle User Productivity Kit Specialization recognizes partner organizations that are proficient in selling, implementing and/or developing Oracle User Productivity Kit solutions.
With the Specialized status, IT Convergence has become the first global company with headquarters in North America that has been recognized by Oracle as the User Productivity Kit expert. IT Convergence's expertise in Oracle UPK Services was possible thanks to our UPK certified experts and their superior knowledge in UPK solutions, as well as their exceptional UPK solution delivery for clients around the world.


Ramp up your UPK Skills
Let the New Year bring you new skills. Join us from February 4th to 7th for four days of Oracle UPK Breakout Training and learn how to make the most out of this transformational tool. Preregister now for our UPK Developer and Administrator workshops.
Stay Connected for the Latest on Oracle UPK
For more information on our UPK services, visit our UPK mini-site, and sign up to take advantage of our UPK free demo or health check.
Watch UPK tutorials created by UPK experts on our YouTube Channel!
Can't get enough of UPK?
Neither can we. At IT Convergence we have been feeling very generous lately, and inspired by the holiday spirit we are offering a free Installation of Oracle UPK  and 6-month free UPK Hosting .