What is Oracle UPK Q&A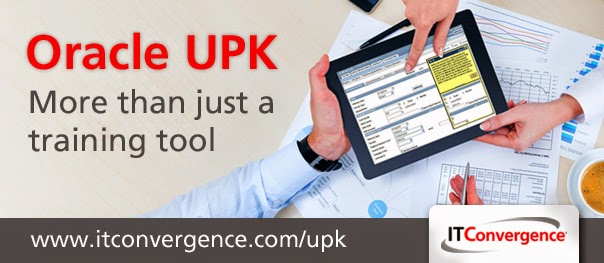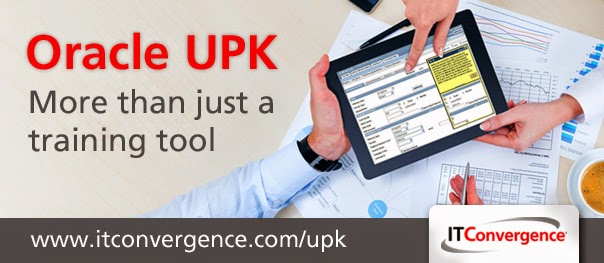 We'd like to thank everyone for their interest and participation in last week's webcast: "What is Oracle User Productivity Kit?" The webcast included an overview of the features and value of Oracle UPK, as well as a lively Q&A session at the end. As usual, we are happy to provide a transcript of the questions.
Is there UPK pre-built content for Oracle Financials?
The simple answer is yes, you can purchase pre-built content for UPK, not only for Oracle Financials but also for other modules
With the pre-built modules, can they then be modified to document your specific processes?Yes, the pre-built content gives you that stable environment for you to start with, and as you move forward, you can customize them as much as you want.
Where are UPK recordings located so that end users can access the content?UPK is really flexible when it comes to deployment. Whether it's on a website or through a LMS, there are many options to deploy – where it resides is really up to the client. We've seen it on websites, on portal, on SharePoint, or if the company has a centralized Learning Management System, it can also be deployed there. A separate component of the UPK product is the Knowledge Center: it comes with UPK, and it allows you to deploy content from UPK directly to the Knowledge Center, which works as a repository that can track and host content.
Is it possible to link multiple topics into a single one?Yes. There are a couple of different things you can do. With UPK, both at the concept and frame level, when you are recording a topic you can embed a URL. So you could have a topic embedded into another one as a URL, to link those two together. Another thing you can do is use the feature "See Also", which means that if there's a topic that's relevant to another one, you can have that topic tied to the other. So, let's say you're executing a process in AP, and you want users to see invoicing or purchasing, you can link those topics to the AP process by using the See Also button.
What's your specific experience with Oracle Lease and Finance Management modules? As a business, we've done about a hundred R12 Financials upgrade projects. As related to UPK, we've done another hundred or so. We could say it's the core of our business, since we have in-depth experience in Financials Apps, but we also get involved with many other applications because UPK is, above all, agnostic.
Is it possible to disable UPK's Know It mode in the Knowledge Center? 
Yes, it is. In the Knowledge Center you can do assessments (true or false, multiple choice, fill in the blanks, etc) as well as the Know It mode. It's basically a preference, so you can disable it if you don't want it on the Transactional mode. As far as best practices when creating an assessment on the Knowledge Center, we recommend having a couple of questions and then the Know It mode as a navigational piece and a few questions afterwards as a follow up. In this way UPK scores it as one assessment and not just a knowledge check. So the answer is yes, but you might want to keep it coupled with some conceptual questions to test the learner from a navigational perspective and the business understanding.
How do we update UPK topics? Can we update recorded topics or do we always need to record a new one?If you're referring to updating the UPK topics, you would go to your existing topic within UPK and double click on it. This will open the UPK Editor, and depending on what you want to accomplish, there are a few things you can do. If you want to change a screenshot, you can go to Edit Screenshot, and do it with the action areas, or you can directly re-record the screenshot. If your process has changed after, for instance, the fifth frame, you can go to that frame and select "re-record", which will allow you to re-record from that fifth frame onwards.
Does UPK work as a test tool? If not, can it be integrated with other test tools? We should define Test tools before we can answer: if you mean a test tool that will manage your test scripts and execution, then no. What UPK gives you the ability to do is create test scripts – with one recording you can create both an Excel document (Test Case) and a Word doc. This means there will be a 60% reduction in the time used for manually creating those, since you are actually recording the process, so it's quicker.
So if you own an automated testing suite, you can take that Excel sheet and upload it in to a testing suite (the ones we mainly see being used are HP Quality Center – now called ALM – OATS (Oracle Application Testing Suite), an Oracle product for application quality management, and IBM Rational Test Manager.  So UPK has the ability to create test scripts and integrate them with a testing suite, but you are not going to be able to manage the test execution within UPK.
What you get from UPK are 4 ROI value points: first, reduction of time necessary to create test scripts; second, the ability to drive standardization (as UPK creates that template text, a navigational glossary of terms); third, the ability to eliminate human error in the creation of test scripts (done manually even in the testing suite) and finally, the ability to streamline your testing and training efforts (since when preparing training you don't have to start over, you can go back to the UPK test scripts and transform them into training by adding learning objectives, images, graphics and other user enhancements.
Join Our UPK Webcast on Higher Education
Register today for our webcast "UPK for Higher Education Institutions", to take place on August 21st at 9:00 AM PST/ 12:00 PM EST, and learn about the challenges education institutions face and how Oracle UPK can help overcome them. The webcast will feature the case study of Tulane University , whose CTO will be sharing his experience partnering with IT Convergence. Reserve your spot here.