On Monday our Practice Director Jordan Collard excelled in front of a full house audience at Oracle Open World 2015. Being an OOW Alumni & back to back encore speaker, Jordan has presented on the many aspects of the Oracle UPK product for years.
This year, he stepped outside of the conventional approach and instead created an innovative presentation on the "Bells & Whistles of UPK" using the Oracle UPK player package as the main driver throughout the presentation, demonstrating the many unknown aspects of the product such as Customizing the Look & Feel of the UPK outputs, Modifying Testing Templates, Creating a package & Embedding a Video and, last but not least, the Test It! Mode Tracking in the Knowledge Center. Here are the features highlighted during his presentation:
Customizing Look & Feel
One of the bells & whistles of UPK that many users are not aware of is its customizing features. The product allows developers to provide a look & feel of the UPK outputs that cater to the standard organizational appearance with company logo and interface skin color or any other visuals depending on the purpose of the content.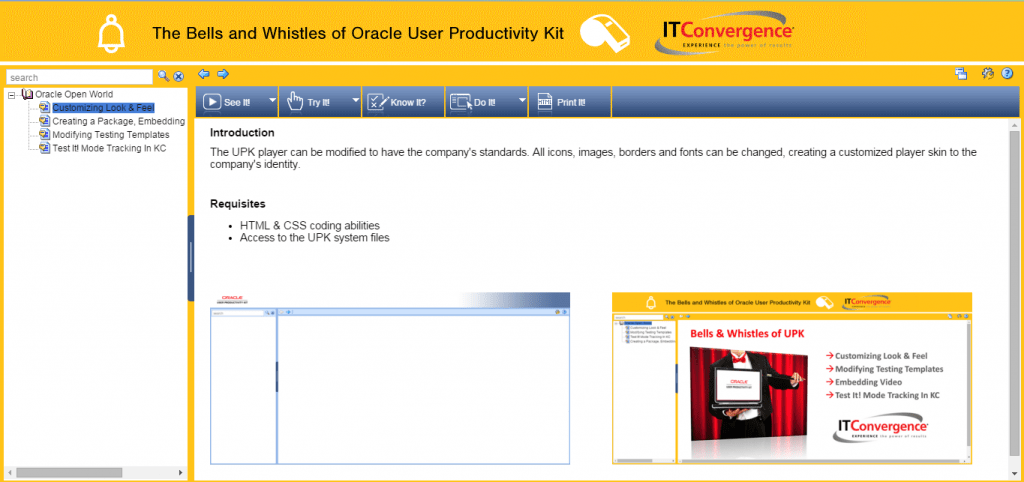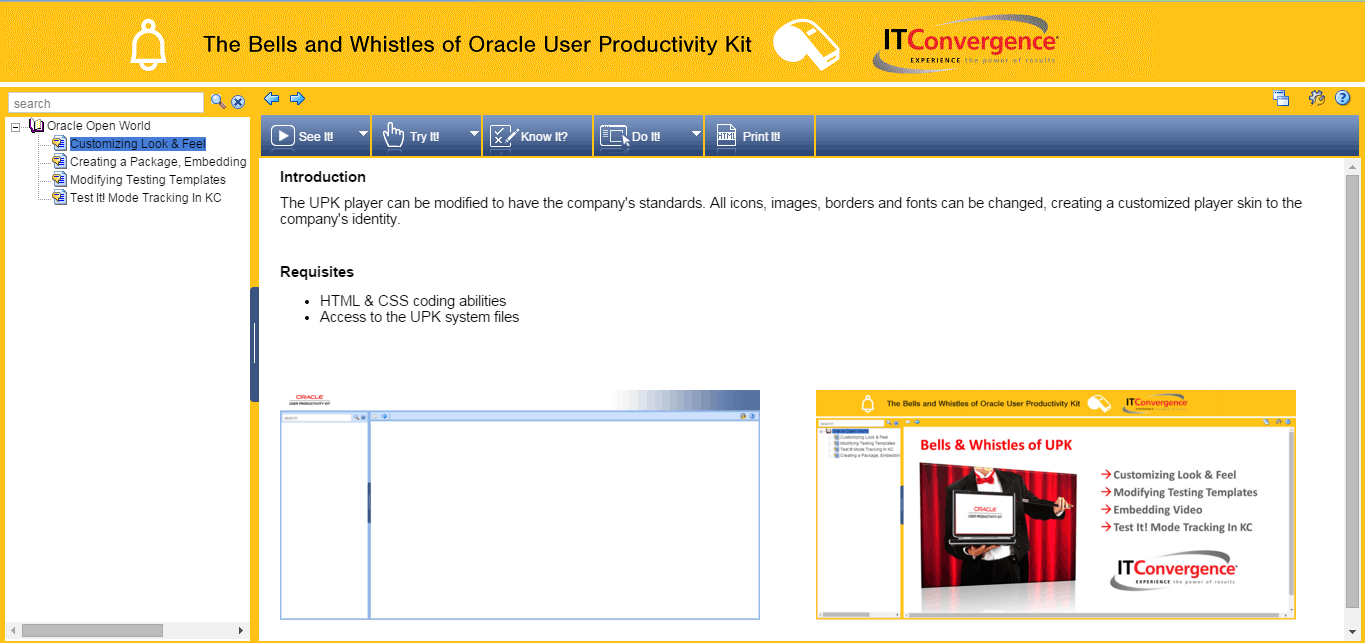 Creating a package & Embedding Video
While UPK is known for its efficient method of content creation that often contains outputs that show a step by step simulation process, its features of having dynamic content to boost user engagement & embedding external content to provide blended eLearning is little known by the developers.
UPK provides an option to create packages inside the topics' webpages in order to embed any media and hyperlinks external to UPK such as videos, PDFs, web links and just about any media desirable.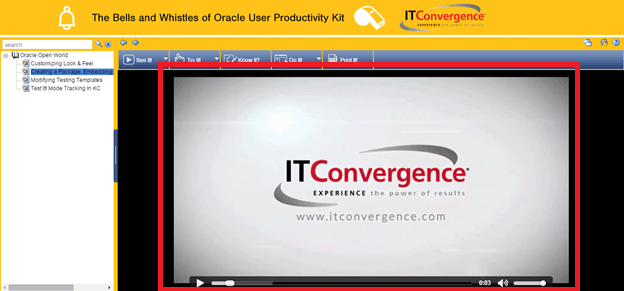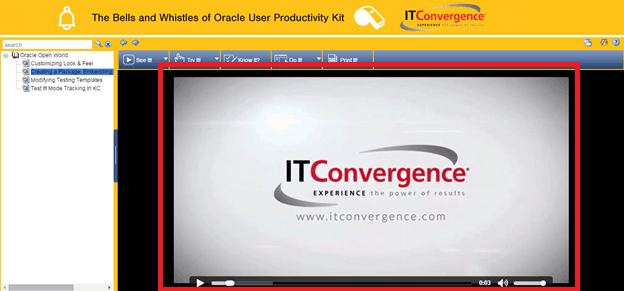 Test It! Mode Tracking
Does manual Testing ring a bell to you? Are you one of the testers that continue to struggle with creating test scripts manually in MS Word or Excel?
The Test It! Mode window sits on top of the live application following a step by step procedure that allows the user to verify the process and add notes to notify bugs or any other glitches that shows up along the way. While Oracle had announced the Test It! Mode as one of the new features that enables an automated user acceptance testing process, there was no option to track back the results of these tests. Soon after came the 1st enablement service pack for UPK 12.1 professional version, that provided the option to track & store all the Test It! Mode results back in the Knowledge Center where you can find the Test It! Mode summary as well as specific reports of each UAT performed for the process.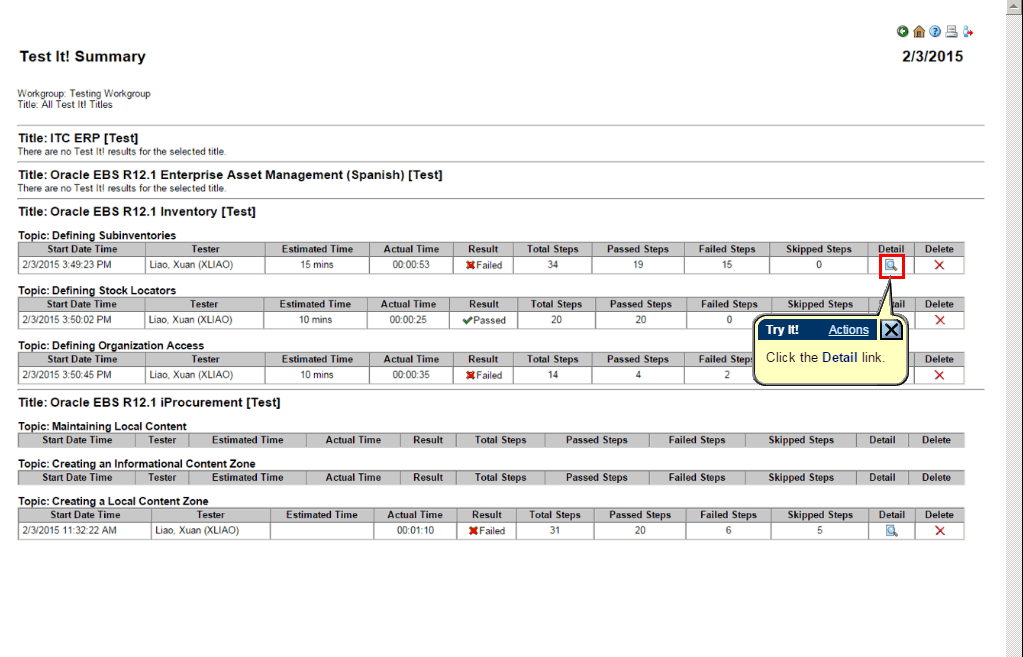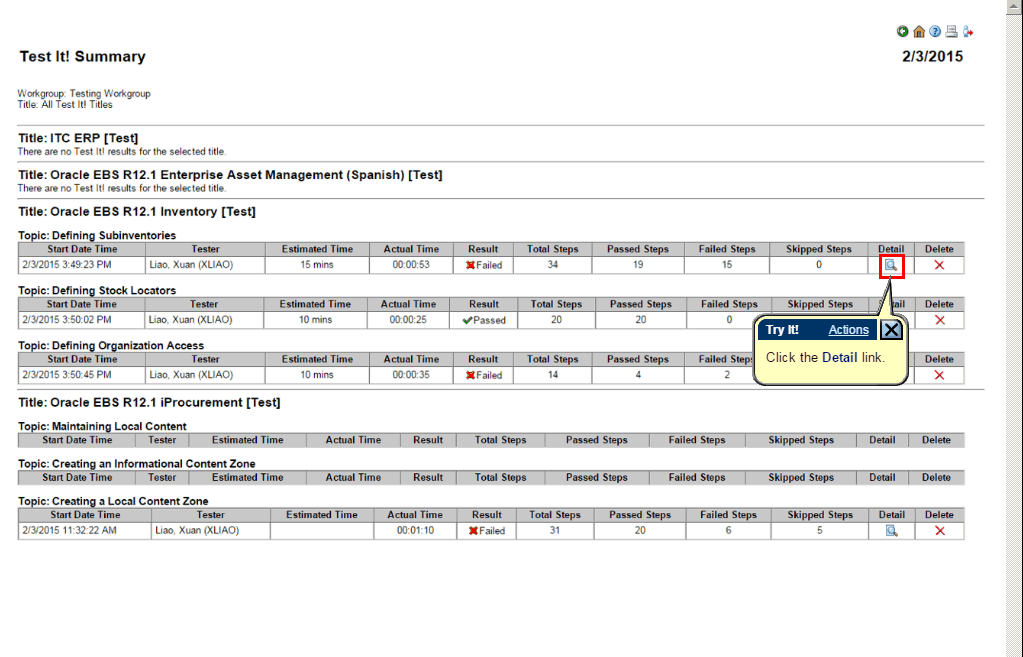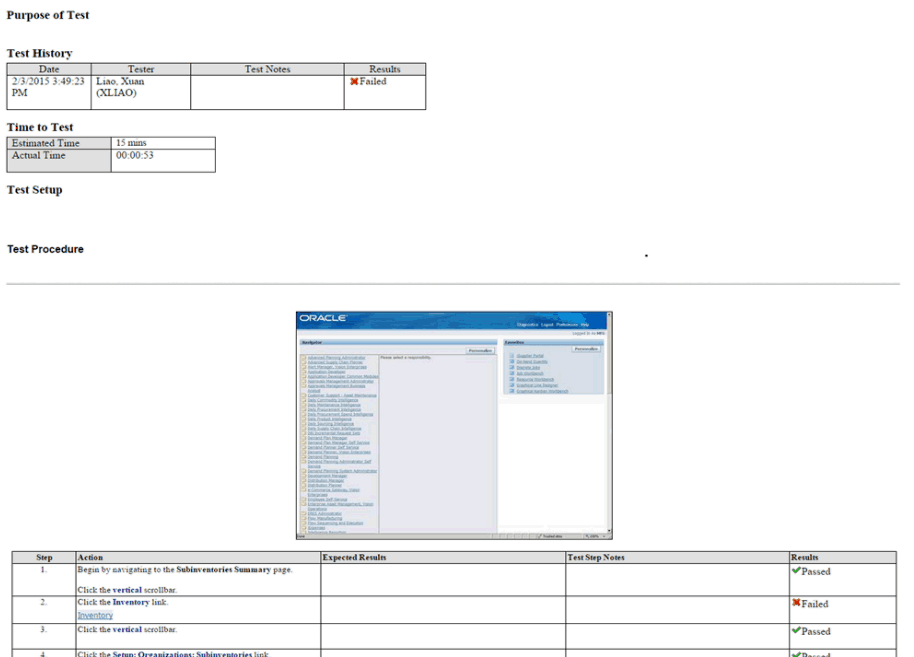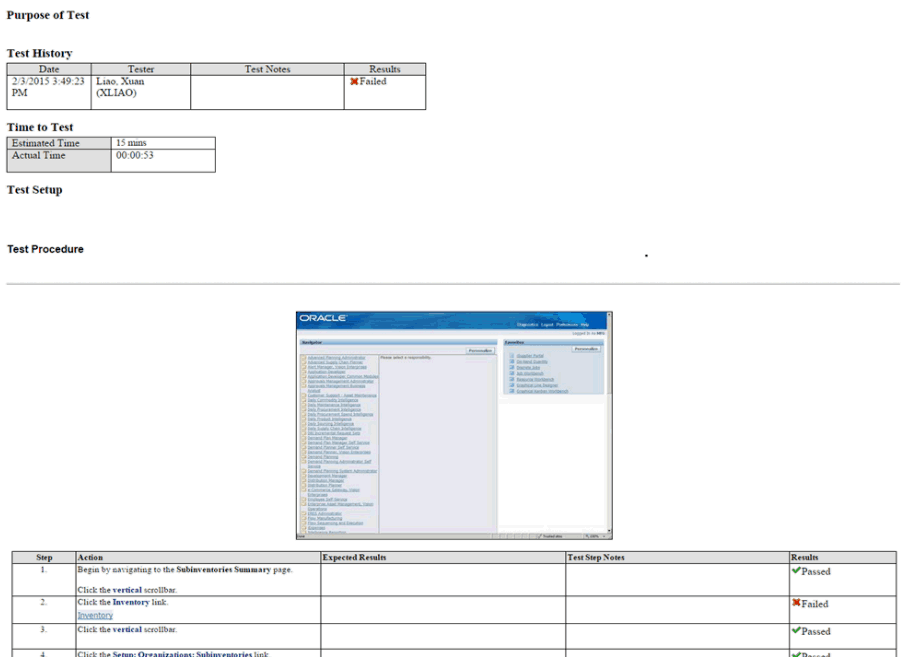 Modifying Testing Templates
Do you use UPK to create your testing cases in MS Excel? Have you encounter scenarios where you needed to add an additional column to reflect author notes or specific data sets? Well with a few HTML & CSS coding abilities, you can completely tailor your test scripts content & subsequently integrate it to the automated testing tool of your choice.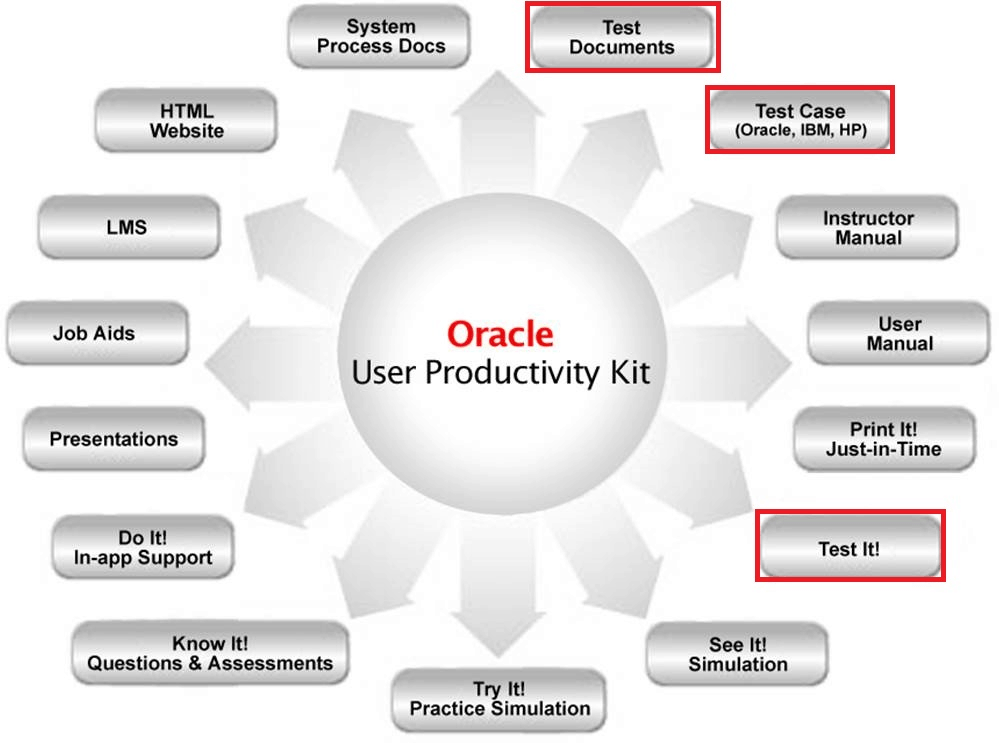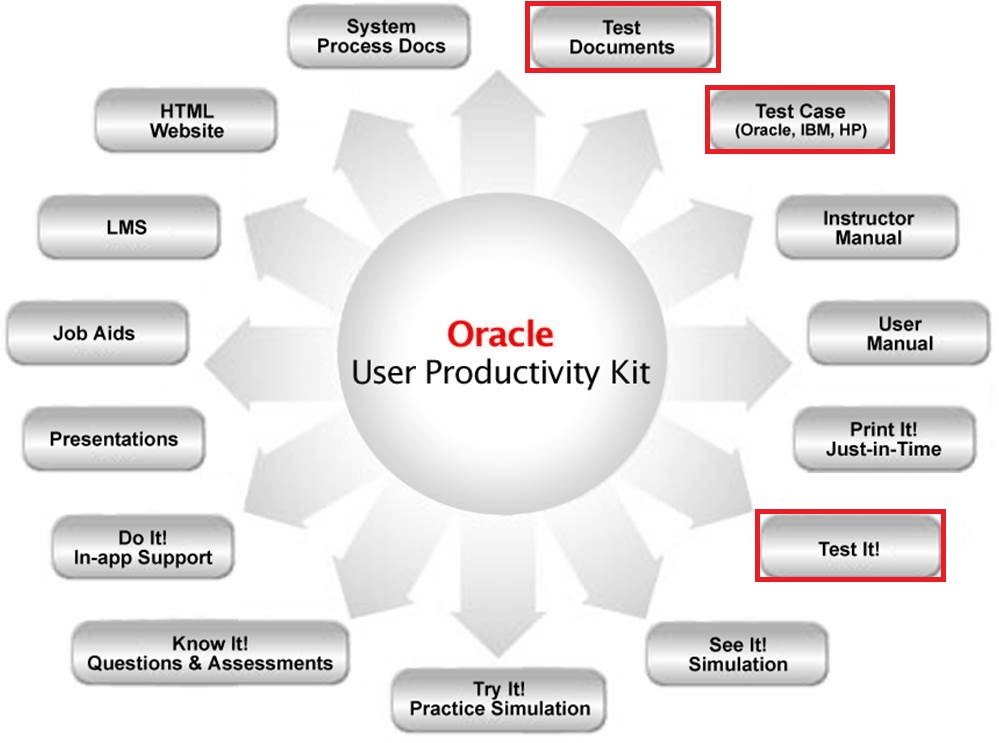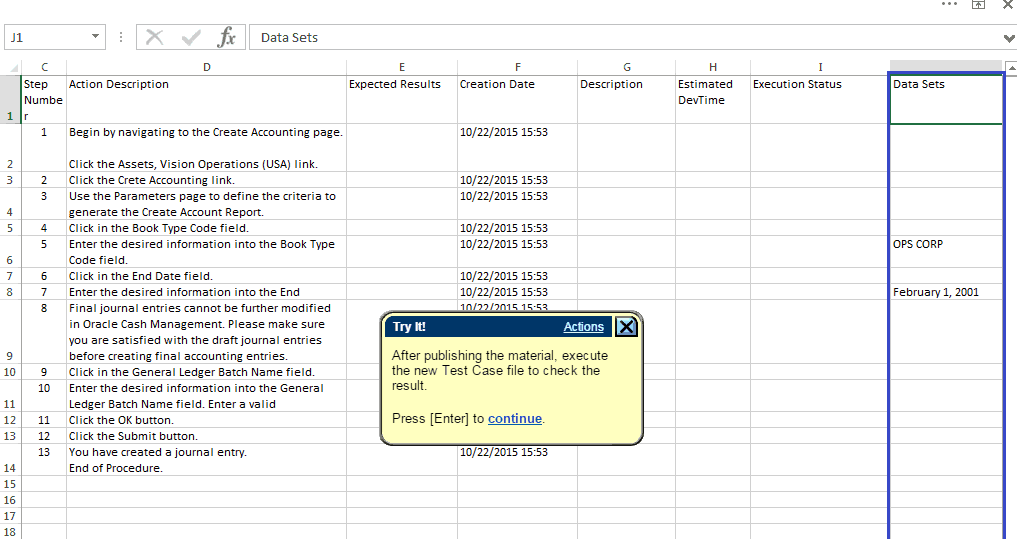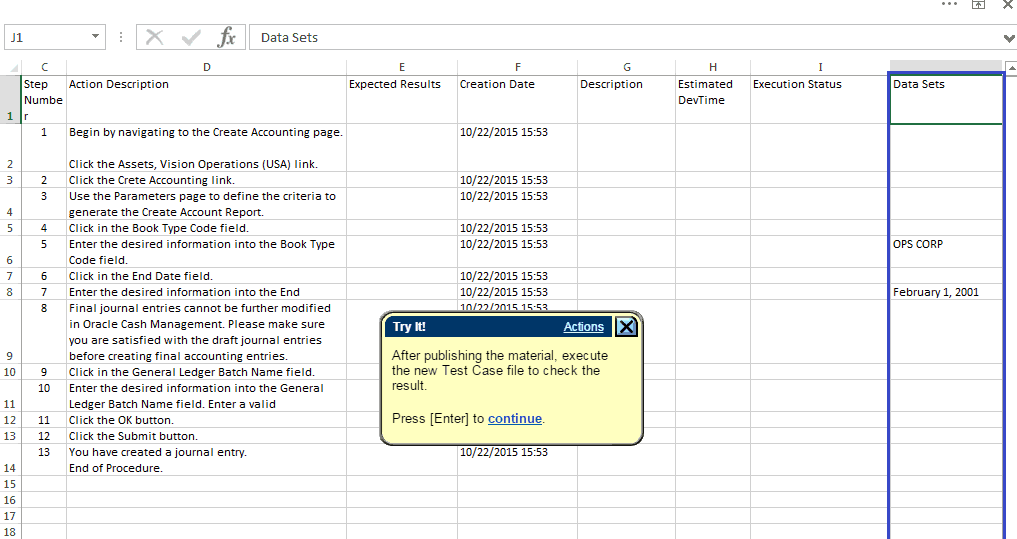 Curious on how to leverage these bells & whistles of Oracle UPK and more? Contact us to have a free UPK Demo or Health Check now!
Missed this presentation at Open World? Download here the webcast recording of "The Bells & Whistles of Oracle UPK"