Thanks go out to everyone who joined the first webcast of our 2014 series last Thursday: "Resolution for 2014: Rollout Oracle in China". The webcast was presented by IT Convergence's China Practice experts, Richard Mei and Cypress Hu, along with our CTO Gustavo Gonzalez.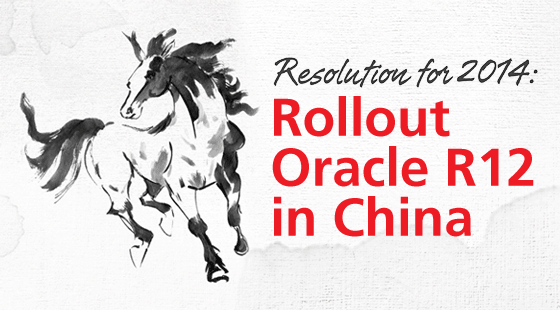 As usual, we're happy to make available the transcript of the Q & A session, along with the questions that weren't answered live due to time restrictions:
1. If we're operating in China, can we have simply use the global COA without having to set up the second ledger?
We would suggest you setup 2 ledgers for your China subsidiary, one that conforms to US GAAP and another that conforms to China GAAP, however, there are also other solutions that don't require to setup a secondary ledger.


2. What is the system filing process for foreign companies if we want to roll out Oracle EBS (11i or R12) to replace our original Accounting System? 
It is requested by the China Finance Bureau to process a system filing for any new ERP/Accounting System implemented or upgraded by foreign-owned enterprises. The regulation is national but each province interprets it differently. Currently, Shanghai is the only province that enforces a system filing where a data file should get exported in accordance with CNAO standards. If the ERP/Accounting system has been significantly modified or upgraded, the system filing must be resubmitted. Companies/LE registered in other provinces do not have this as a mandatory requirement.
3. What kind intercompany functionalities we can leverage from supply chain and financial point of view?
Mainly there are two types of intercompany transaction standards out-of-the-box from Oracle. One is the intercompany transfer and the other is intercompany drop-shipment. Based on that, we can achieve central distribution and central procurement and drop-shipment scenarios. We have in-depth knowledge of handling intercompany transaction flows across multiple organizations from Supply Chain, Finance and Planning aspects.
4. We implemented with 11.5.10 in China.  We used our current GL and the global accounting engine to drive the mapping for China Gap.  Is this the same in R12?
It is similar but not the same. Actually in Oracle R12, Subledger Accounting (SLA) extends and replaces the Global Accounting Engine functionality in Oracle 11i by providing a more flexible and customizable accounting engine that could be used across all Oracle EBS Subledger applications. In general, country-specific features supported by the Global Accounting Engine are now included in the seeded accounting definitions of Oracle R12 SLA.


5. I understand that all forms /html pages are translated in local language. If so, only local resources can be active on upgrades/implementations?
If you deploy MLS solution, Oracle gives you language options when you log in, you can switch to English or any installed local language. From a process or solution point of view, it allows global resources (native English speakers and any local resources) to use Oracle with the local language supported by Oracle.
6. Does R12 have a patch to apply the China localization? Most of what we did was custom.
Since Oracle R12, the feature of China localization is seeded as standard feature which doesn't require any additional patch to be installed. We just need to enable such feature by configuration. And based on our prior experience, sometimes we still need to upgrade/migrate some existing customized components from 11i to R12 in case the standard localization feature could not completely satisfy the requirement, or it might have conflicts with client's global design by using the standard localization features.
7. What about security?
There are several ways provided by Oracle to handle data security issues which involve multi org structure, Multi Org Access Control (MOAC), Data Access Set definition, Security Rules and Security Profile, etc. This really depends on your business model and what security level you want to achieve.
8. Do you see companies connect directly with GTS machine or do they use another method so that the GTS machine is not on their network?
This question is actually related to the network and we can't answer it broadly from a Functional Perspective. ITC can do a personalized China assessment to determine the needs of your environment.
9. How many actual customizations are needed for existing US Oracle to implement another entity in China? 
It depends on your business model and industry. Generally speaking, there are a handful of statutory reports requested by the Chinese government, for which R12 gives you a standard localization patch, that is, if you accept their format. Other customizations are really case by case. To assess the needs of your business we would need to know which kind of processes you want to roll-out to your China entity.
10. Where is best location for data center outside of China? 
It really depends on IT strategy; we have clients deploy their data center in Hong Kong, Singapore, Europe as well as United States.
11. Why am I hearing the KingDee is the #1 ERP in china – we run Oracle and may face having to integrate.
KingDee is one of leading local ERP system adopted by many local SME in China. Actually most of the local ERP systems like KingDee focus on Finance booking and reporting; functionalities for Supply Chain, Manufacturing and Planning are far behind Oracle solutions. Besides, the key element for most global corporations who are not using any local systems is that they do not support a global single instance strategy. However, as you mentioned, we do have cases of implementing integration between KingDee and Oracle, but only for finance modules.
For more information on China localizations click here to visit Oracle's page .
To learn how you can benefit by partnering with IT Convergence to implement Oracle in China, visit the Global Rollouts section of our website, or simply click here to fill out the Contact Us form and we'll get back to you within 24 hours.
Our next webcast will be held on February 20th 9:00 am Pacific/12:00 am Eastern and it is titled "How to Build Your Enterprise Cloud". Click here to reserve your spot now.