Oracle's E-Business Suite development initiatives are leaning towards increasing your productivity through an improved EBS User Interface.
Besides Oracle developing many applications, it's extensively and continuously modernizing its EBS User Interface. E-Business Suite Release 12.2 comes with an updated look & feel, touch-friendly layouts, touch gestures, a simplified home page and header, and rich interactions for table and hierarchical grids. The renewed interface was designed to increase end-user productivity by enabling you to produce creative insights, make timely decisions, and complete work more efficiently.
Mobile Device Optimization
Want to learn more before your E-Business Suite upgrade?
Watch our webinar recording presented by Gustavo Gonzalez, CTO at IT Convergence.
There are various situations where the need is not only modifing an existing page but rather develop a new user interface that changes the interaction with the system or provides new functionalities that currently don't exist in E-Business Suite. For those organizations who are looking for ways to extend their business capabilities, we are offering CloudIO Customer WorkCenter.
CloudIO is an enterprise platform that provides an extensive library of solutions built for existing EBS customers. New customers seeking a rich browser interface with the efficiency of hot keys, rapid tabbing features, and intuitive navigation will have access to this library. CloudIO offers seamless integration with Oracle security, enabling role-based functions in any application right out of the box. CloudIO is running in numerous production environments for customers running EBS version 11i through 12.2.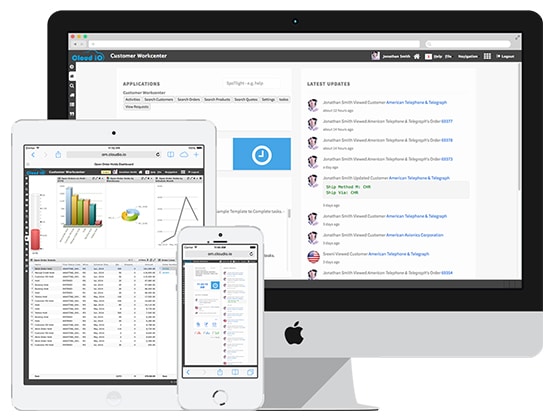 Main features of CloudIO Customer WorkCenter
Easily configurable UI
Themes and custom styles
Mobile web enabled
Multi language support
Social features
Visual feedback