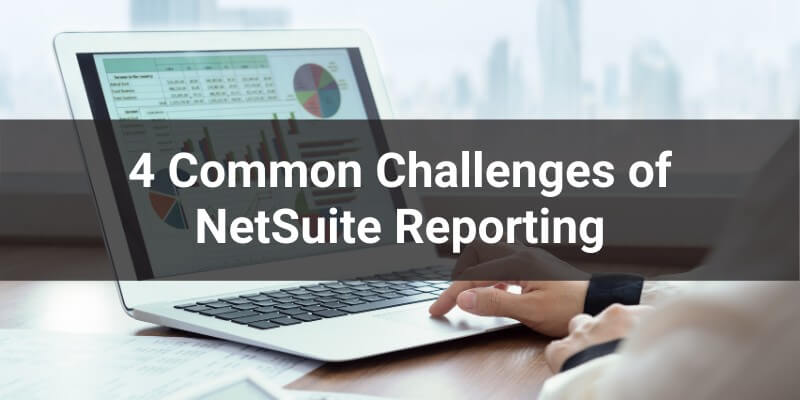 For many businesses, NetSuite is at the center of their data strategy, offering advanced capabilities in terms of data management, organization, and retrieval. However, organizations that need deeper insights for decision making find that NetSuite's in-built reporting capabilities are not sufficient for their needs. NetSuite users often face complex reporting scenarios that need additional capabilities that go beyond the ones offered by traditional reporting solutions. For example, you can generate basic reports on enterprise performance using NetSuite, but you can't optimize your reporting process.
NetSuite Reporting Challenges
1. Ad Hoc Reporting
NetSuite's Saved Searches feature is useful for accessing data but isn't suitable for advanced reporting. Due to its limitations, users often rely on the IT department to create in-depth or custom-tailored reports. Self-service reporting solutions like Oracle Analytics Cloud speed up the reporting process by eliminating the dependence on IT and making it easy for business users to create ad hoc reports. By providing business users with the capability to create ad hoc reports on demand, you can improve user adoption and apply these insights across the enterprise.
2. Real-Time Analytics
Reporting in NetSuite is mostly manual and involves exporting data from NetSuite to MS Excel, which is an error-prone and time-consuming process. Automated data collection, integration, and importing allow users to spend more time on more valuable activities such as analysis. Oracle Analytics Cloud automates a number of reporting processes, providing users with real-time insights through advanced dashboards and visualizations, and improving overall reporting performance.
3. Third-Party Integration
Effective reporting requires deep insights that are only possible by integrating multiple sources and systems, but it's not a one-click process that can quickly transfer data from one system to another. It needs extensive planning, time, and resources in order to be fully effective. Oracle Analytics Cloud integrates with NetSuite and a number of data sources so that users can have a single source of truth and report on all enterprise data in one place. An effective integration process could prevent overwriting, duplication of data, and ensure proper field mapping for improved data collection and avoid unnecessary downtime. Organizations need to determine whether to opt for a big-bang or progressive approach after thorough consideration.
4. Contextualized Reporting
NetSuite users often need more insights from their reports that they can provide. A dedicated cloud-based reporting tool like Oracle Analytics Cloud adds depth and context to your NetSuite reports. Advanced data enrichment and visualization with augmented analytics and machine learning can add context to your data, and help you uncover new insights. With significant drill-down capabilities, Oracle Analytics Cloud allows users to dive deeper into the metrics and get a more complete picture of the business.
Oracle Analytics Cloud offers advanced NetSuite reporting capabilities and provides a more powerful alternative to NetSuite reporting. It specifically addresses common NetSuite reporting challenges, allowing you to get the actionable insights you need quickly and easily. To learn more about how Oracle Analytics Cloud can transform your NetSuite reporting, sign up for a personalized demo.