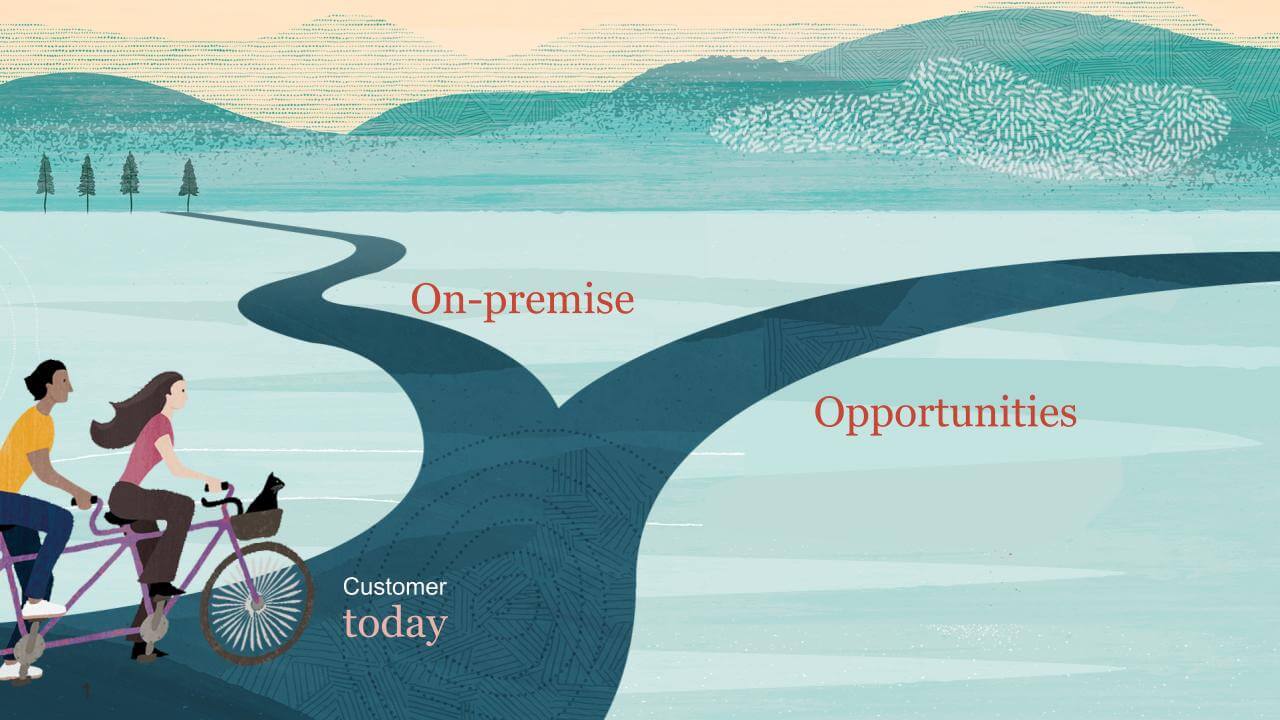 Oracle is eager to move its Apps Unlimited customers (JD Edwards, EBS, PeopleSoft) to its custom-designed Oracle cloud Infrastructure to deliver the best price-performance to its customers. But migrating to any cloud is not about what Oracle or any other vendor wants, but what is your organization's business objective and how you look forward to fulfilling those business goals.
You may be running Oracle EBS (ERP, HCM, Supply Chain, etc.) for years and would have stabilized your environment with integrations with multiple other internal or vendor apps. So why consider cloud as an option, and that too Oracle Cloud? What does Oracle have to offer which other leading cloud providers may not have?
Why Oracle Cloud
1. Research Insights from Gartner, Cisco, and IDG
Because the cloud is now the default platform for running nearly every new enterprise software application, it is increasingly the first choice for production workloads as well.
Gartner

forecasts

that the worldwide public cloud market will reach $331 billion in 2022, with infrastructure services growing at an annual rate of 27.5%, faster than any other segment of the market. 

Cisco

predicts

that 94% of enterprise workloads will be processed by cloud data centers by 2021-22 

IDG Research survey

of 550 IT decision-makers found that 38% said they're considering migrating all applications and infrastructure to the cloud.
2. Fork in the Road – Options Today for EBS Customers
The options today EBS customers have are:
1) Status quo (not acceptable) with drastically changing environments and uncertain future, or
2) Pursuing new opportunities that will help take an agile and flexible approach to attenuate the impact of changing environments.
On-prem legacy solutions fall away somewhere past the pine trees but the road with Oracle Cloud is full of opportunities with a bright future.
Several companies like yours are often today at this intersection. Either continue on the same road with E-Business Suite as you have been for the last 10, 20, or even 30 years, or choose a path for new cloud opportunities, capabilities, and functionality. The status quo may work well for you today and tomorrow, but what about later this year or in the next decade? A cloud infrastructure assessment at this stage is the most logical step in which a certified Oracle Cloud Specialist aka. CSPE partner like ITC can help.
3. Cloud Benefits & Organization Technology Demands

These six examples are just a few of the opportunities cloud delivers to customers who have moved from install base systems. With Oracle Cloud, customers are propelling themselves onward and upward with lower TCO, Faster time to market, more effective work with less repetition, and crafting new business models with emerging technologies like IoT, etc. Success stories of 13 customers you can read here who are leveraging the benefits of Oracle Cloud Infrastructure (OCI)
The world of tomorrow is approaching us faster than anyone can predict – and in some cases, it's already here with emerging technologies like artificial intelligence, machine learning, blockchain, IoT, and voice-activated business software, are driving new business models that nobody had ever heard of just a few years ago.
The economic environment caused by the Covid-19 pandemic has upended the plans and expectations for nearly every industry and business. Most organizations have had to evaluate their lines of business, ways of operating, and financial health to determine their ability to withstand the challenges they are facing. For most organizations, changes are needed in order to stay resilient during this challenging time.
One of the keys to resiliency is the ability for organizations to be agile and respond quickly as needed to change direction when required or to take advantage of new opportunities. Flexible solutions and processes as well as real-time insights are driven by the latest technologies to increase that agility. Check out this Gartner's assessment on Oracle Cloud Infrastructure (OCI)
4. Shifting Reality: On-Prem to Cloud

Regardless of how anybody feels about on-premises software, there are several important realities that are now undisputed facts:
Over the last ten plus years, cumulative investments in on-premises business applications, including IT spend and R+D has declined rapidly.
Meanwhile, the same spend for the cloud has ramped upwards rapidly.
Today, we are near or at the juncture where cloud fully outpaces on-premises.
Sure, some on-premises solutions will still be operational 20 or 30 years from now, just like any legacy product. But so what. The overall trends are clear. A legacy system two decades from now will suffer from shortages of talent, investment, and capabilities. Would you want to take a risk on this? Think about what competing with those who have embraced the cloud will mean for your business and your career.
In all respects, ignore these realities at your own risk.
5. Obstacles on Path of On-Prem EBS

How did you last upgrade go? How far over budget was the project? Was it delayed? How long ago was the project? How many customized objects do you have? How many of those customer objects are related to just reporting, including "Bob's 2013 general ledger analysis"?
A few examples remind everyone why on-premises systems are fraught with common concerns. For example, regular and systemic current on-premise issues involving
Expensive and time-consuming upgrades
Too many custom objects that are difficult to manage, track, and update.
Rapidly aging infrastructures that contribute to your overall technology debt.
Disconnected, dirty, and disparate enterprise data that is hard to normalize and leverage in real-time.
Inadequate core reporting and analytics that often require more expensive third-party solutions.
All of these, and others, are probably lurking to some degree in your organization, however, you can still eliminate most of this and save time, learn how to leverage OCI experts to eliminate the tactical task
6. Use Cases for Moving Oracle EBS to Oracle Cloud

Gartner in its research, now recommends that cloud architects consider OCI not only for Oracle workloads, but also for use cases centered on bare-metal servers, high-performance computing needs or high-performance networking needs, and adoption of OCI should be considered to run both, mission-critical Oracle and Non-Oracle workloads, Learn more

All leading research's highlight cloud infrastructure benefits to a) Technology performance & 2) Economic benefits as key. Oracle's research of its ERP customers noted that 79% of customers, planning to move to the cloud.
However, a word of caution to all those customers is that the movement of the cloud should come with the "right-sizing" of the infrastructure. IT teams in a zeal to move to the cloud, sometimes "undersize" the cloud thereby leading to poor performance, and "oversizing" will get you to a fat size invoice at the end of the month.
Oracle Cloud Specialist aka. CSPE certified category of expert partners can help ease this decision and ensure the faster time to market along with ensuring precision and right methodology for maximizing your benefits such as technology currency, better usability, more flexibility, lower costs (lower TCO!).
When transitioned correctly and optimized with changing environments, the benefit can be realized through all departments in the organization and not just IT, e.g. Departments can convert their 'ideas to market': Faster Finance, Faster Business, Faster R&D, Faster Human Resource, etc.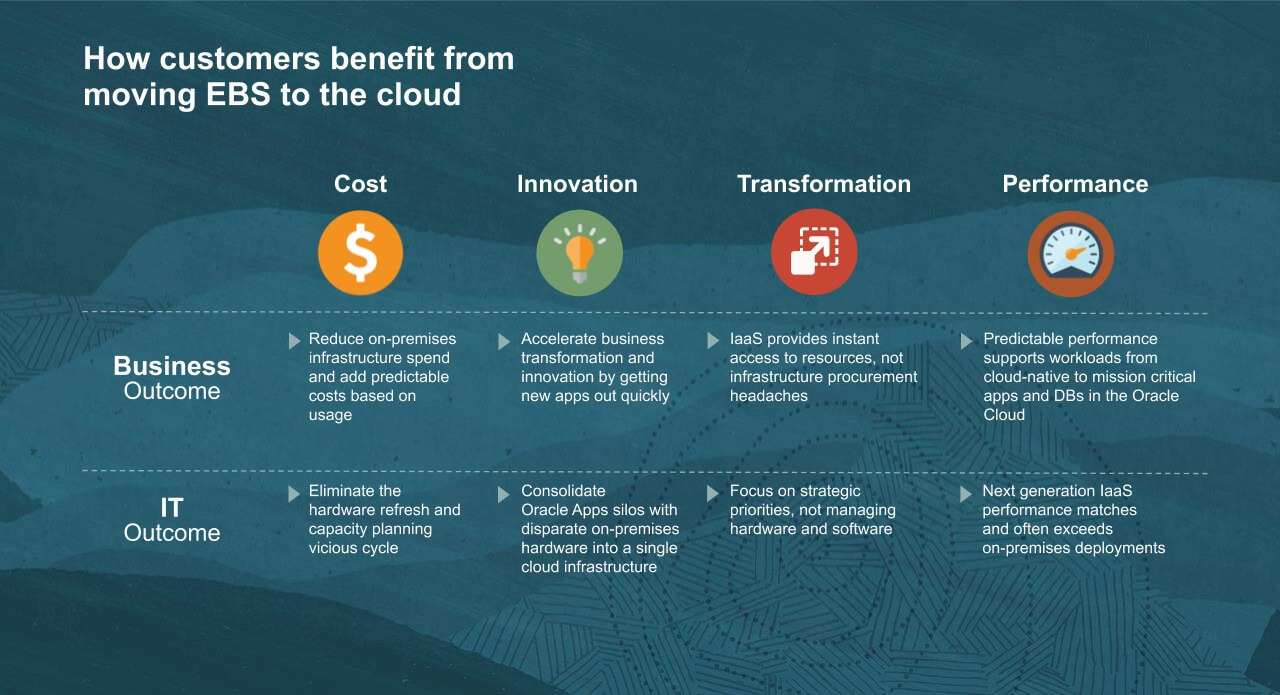 7. IT and Business Benefits
Those who have chosen to move to the cloud have experienced benefits across the organization
7a. IT benefits
Optimize costs by shifting CapEx to OpEx and matching capacity to demand and eliminate the hardware refresh/capacity planning vicious cycle
Consolidate Oracle Apps silos with disparate on-premises hardware into a single cloud infrastructure – and keep your customizations!
Focus on strategic priorities, not managing hardware and software
Next-generation IaaS performance matches and often exceeds on-premises deployments
Maintain complete access to (and control of) the data running your business
Meet infrastructure access demands from LOB leaders
7b. Application and Dev-ops Team Benefits
Instant access to compute, networking, and storage infrastructure
Accelerate dev/test cycles, quickly test new features
Rapidly update production applications
Maintain full control of infrastructure platform
7c. Business Benefits
Accelerate business transformation and innovation
IaaS provides instant access to resources, not infrastructure procurement headaches
Ability to create and launch new customer-facing apps quickly
8. Beyond TCO Benefits

Most on-premises deployments can be migrated to Oracle Cloud Infrastructure without requiring significant re-architecture, re-integration nor business process changes, and will result in a solution that is more flexible, more reliable, and delivers higher performance at a lower cost than deployments running on-premises or with other cloud providers. Read customer experiences with Oracle Cloud and Amazon Web services here.
Additional Benefits of Oracle Cloud
Rapid in-place technology refresh and patching
Proactive costs and usage monitoring
Near-instant scaling
Ability to retain control over security and governance using familiar tools
High availability with RTO < 4 hours and RPO < 4 hours
Federated identity with your existing systems
9. TCO benefits
These 5 numbers are real winners for every business that moves from on-premise to cloud solutions. Lower TCO, higher ROI, and improvements in key areas like forecast accuracy.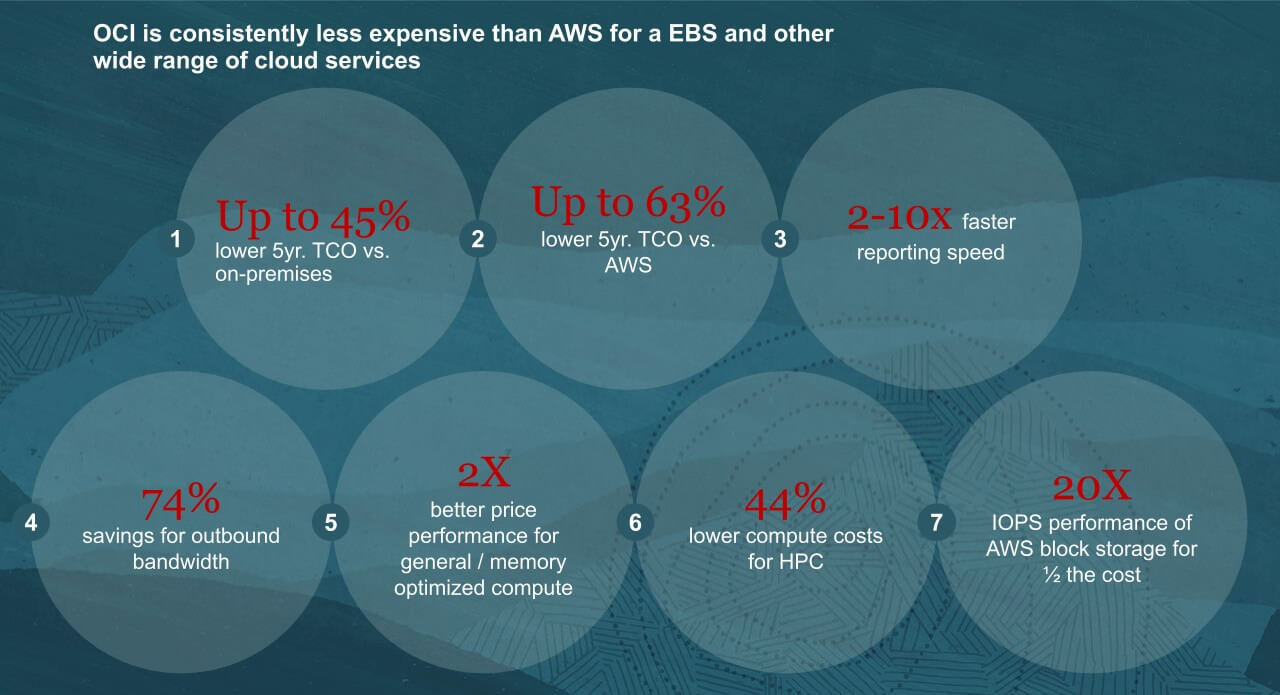 Oracle Cloud Infrastructure is built for enterprises looking for higher performance, consistently lower costs, and easier cloud migration for their existing on-premises applications. OCI is consistently less expensive than AWS for a wide range of popular cloud workloads for several reasons:
(1) In the area of networking, charges for outbound bandwidth are 74% less expensive than AWS.
(2) For compute, Oracle delivers > 2X better price/performance over AWS for general purpose and memory-optimized instances.
(3) For HPC workloads, AWS provides similar performance to Oracle, but is 44% more expensive and provides no local SSDs, half the RAM, no RDMS networking, and no performance SLA, and
(4) For block storage, OCI offers as much as 20X the IOPS performance of AWS for less than half the cost.
Conclusion – Accelerated Benefits
Enterprises interested in updating their infrastructure environments, increasing agility and capacity, and looking for ways to optimize efficiencies and cost can attain this in OCI with careful consideration and planning. Being a certified Oracle Cloud Specialist aka. CSPE we have been helping customers in accelerating their successful journey to Oracle Cloud Infrastructure. Let us together work and create a success story for you. Speak to our specialist.