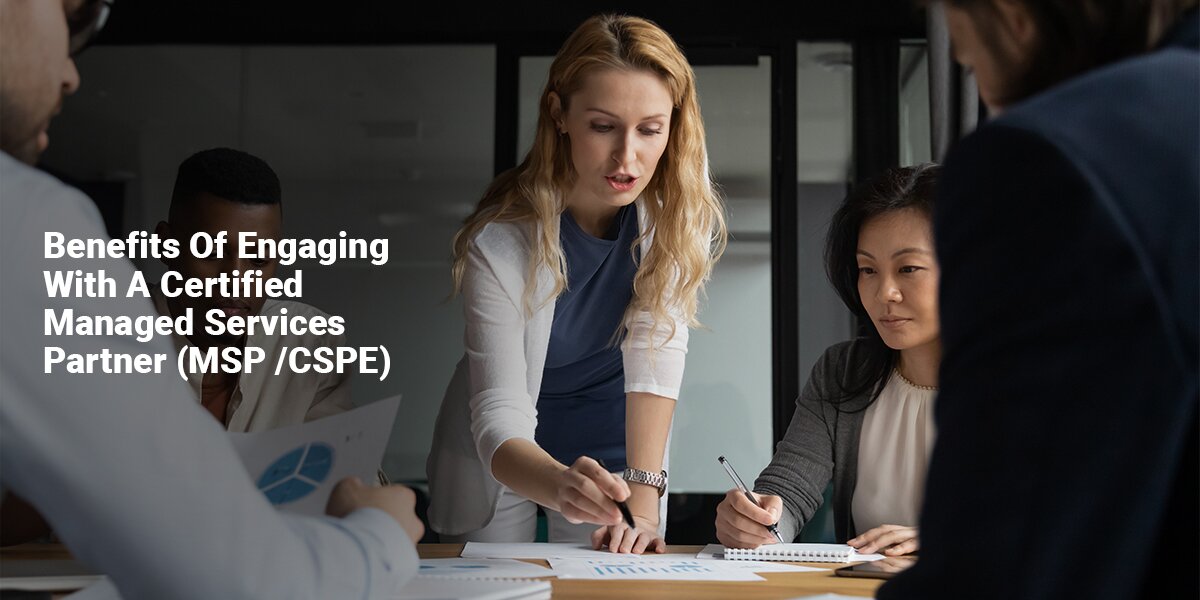 According to Gartner by 2026, public cloud spending will exceed 45% of all enterprise IT spending, up from less than 17% in 2021. That invariably implies that IT leaders must channelize their time and mind share to management of cost & operational efficiencies derived from their cloud investments.
With the help of specialised Cloud partners, organizations are accelerating the process of migrating workloads from entirely on-premises to a mixture of on-premises, hybrid cloud, and multicloud options. As this migration continues, the ability for organizations to identify and respond to issues that impact business objectives and may represent millions of dollars in costs and lost revenues increases.
Traditional MSPs who are managing your onprem applications might get you to the cloud but will certainly not have the know-how to deliver a performance focussed approach for delivering value in costs & long-term operational efficiencies. Surely the Hit and Try method in
Cloud Migration
and
Management
is not an option.
Adopting cloud services without using a performance-focused approach for dependency mapping will experience a decrease in service quality levels.
IT Leaders relying on traditional MSP's on adopting cloud services without using this performance-focused approach for dependency mapping will experience a decrease in service quality levels. Will IT leaders risk it? For your critical application like SAP, Oracle, ERP etc. surely you will not.
Which partner should you look toward for long term strategic benefits? Oracle cloud certified CSPE's are specialized partners, certified to consult, build, operate, migrate & manage applications to Oracle Cloud IaaS & PaaS, for critical and non-critical applications – All of this under a single Contract and single point of contact. Along with this if they have the expertise for Azure and AWS too will be a plus. How can they help add value? The below points will help understand.
Benefits of Cloud Migration Partner as Your Long-Term Strategic MSP
1. Full Lifecycle Partners – Beyond the know-how of tactical migration from on-prem to cloud, Hyperscale Certified Public cloud experts (Oracle Cloud CSPE's) need to go hand-in-hand with IT leaders. To be successful IT leaders must engage these MSP's/CSPE's from day 1, when they plan to devise a Cloud Strategy. Long term benefits will accrue in terms of Cost, operational efficiencies, user experience from this engagement.
Cloud Strategy and Advisory
Cloud Implementation
Cloud Managed Services
Cloud Modernizations

2. Migration Experts Continue in Lifecycle – Team that migrates you to the cloud knows the environment inside out. Phased approach for cloud migration to mitigate risks: you would need a team to build scripts, tools & processes to automate tasks to save crucial time to value for all future cloud projects. With well documentation, this cloud team will have the knowhow to accelerate this process for you. These experts are the most appropriate to provide long term Managed services of the evolving dynamics of your cloud decisions, thus accelerating your journey towards cloud transformation.
3. Consistent Support with Complete Knowledge with One Partner – Repository of knowledge of current and historical migration projects will help in ensuring consistency & improving future project delivery. Applying best practices and processes customized to your organization. They can help expand cloud automation strategies by incorporating new scripts & tools into your I&O processes. Cloud specialists supporting in documenting your cloud migration journey, are an asset ensuring your projects move at an accelerated pace.
4. Resolve issues faster
IT leaders can rely on automation to reduce toil (repetitive tasks), avoid human errors and enforce consistency. With the increasing pace and scale of developing and deploying modern, cloud microservices-based applications, it is no longer enough to resolve incidents and remediate issues as they arise. The continuous changes to production environments demand a more proactive and pre-emptive risk mitigation strategy enabled by for proactive and faster resolution of issues. They can help
Detects risks in pre production environments.
Scale operational support capabilities without a corresponding increase in workload.
Predict failures by analyzing signals derived from metrics, logs and traces.
5. User Experience – Delivering user experience when geographically dispersed business leaders have to engage with their cloud project requests. This team can build the User experience across all geographies through the Cloud Project Manager. Since this Migration partner, who is also providing Managed Services to your new environment as a Cloud MSP/ CSPE knows your environment inside out, hence will also be able to recommend strategies, and new business cases for CIO's to lead discussions with.
6. Managing Relation with Cloud Providers– The migration partner cum MSP partner can on your behalf engage with the Cloud provider for Technological consultation discussion, Licence compliance etc. Along with this they can negotiate the best deal with the Hyperscale providers such as AWS, Oracle on your behalf. Any hiccups that might occur on the way in the learning curve or new tool launches from cloud providers can be understood, explained and applied to your environment easily.
In the long term this partner can help reduce ROI, reduce your time to value significantly & also recommend strategies to further optimize Cost without impacting performance by being engaged as a strategic long term cloud & digital transformation partner.
Other notable benefits Oracle certified MSP can deliver
Some vendors will provide migration only, others managed services only however, an Oracle certified MSP partner (now known as MSE Partner) will have the adaptability to provide end to end solutions. Below are the following non-exhaustive list of other notable advantages that a third-party service provider can offer. The third-party service provider can provide:
Single contract and single point of contact.
A buffer between the client and Oracle, especially of interest during tough conversations such as VM usage.
Recommend, advise on right size license Compliance.
Provide oversight and recommend cost optimization for licenses and contracts on the OCI environment.
Offer POCs, giving you a taste of OCI before committing.
MSE can become the single source of billing for organizations & also manage redundant tactical tasks such as billing and incidents.
Offer the wealth of its experience, from design through solution management, which any single client will have difficulty competing against.
Offer options for further optimizing costs through tailor made solution for resources : Right Shoring: Staff Leasing, On Demand, Onsite, Onshore, Nearshore, Offshore, Hybrid.

A skills minefield. Migrating to the cloud is a highly technical move.
According to Gartner, through 2022, insufficient cloud IaaS skills will delay half of enterprise IT organizations' migration to the cloud by two years or more. For mission-critical applications like Oracle EBS, migrating to IaaS needs to be strategically planned.
It doesn't just require a skill set that's based on the actual act of migrating; it also demands knowledge of which workloads should be moved to the public cloud, and which should remain on-premises. But these skills aren't readily available. Many IT professionals are attuned to the machinery of their company's own IT infrastructure—its own hardware, software, and tools.
Gartner Suggests 5 Steps to Scale up Cloud Deployment for Enterprises:
Ensure cloud policy, strategy, and adoption plans are in place
Establish a fully empowered cloud center of excellence
Supplement skill shortage and seek knowledge transfer
Expand SaaS use, implement user-friendly controls
Cloud policy adoption involves the whole organization not just IT
Here we emphasize the 3rd point which strongly involves filling the cloud skills gap to ensure not only a smooth cloud deployment but also maximizing the cloud investments with optimizations post-deployment. While investments in learning and developments can go a long way for organizations to become self-sufficient, this approach will be slow & take a toll on costs & time to market benefits.
Cloud Skills Gap in Enterprises
Cloud migration strategies tend more toward "lift and shift" than toward modernization or refactoring. The former does not develop native-cloud skills. The latter requires a lot of upfront experience.
The cloud service providers cannot train and certify people quickly enough to satisfy the need for skilled cloud professionals.
Consulting companies are having trouble fielding a bench of talented people with relevant cloud skills.
Clients are still struggling to determine what roles and organizational structures are needed to support their cloud initiatives.
Clients regionally are still short of people with sufficient cloud capabilities necessary to meet their cloud adoption objectives (e.g., EMEA, Latin America, and the Middle East).
System integrators (SIs) are the fallback, but clients often do not trust them because many SIs are still learning as well and are struggling to scale their operations to meet demand.
Two choices the customers have today are:
1 ) Manage In-House
2 ) Out-Task or Outsource
Each choice has factors affecting its viability, ranging from visibility and control to financial and even human resources considerations.
Outsource to a Managed Services Provider (MSP / Cloud Certified CSPE)
According to Gartner a managed service provider (MSP/CSPE) delivers services, such as network, application, infrastructure and security, via ongoing and regular support and active administration on customers' premises, in their MSP's data center (hosting), or in a third-party data center. MSPs may deliver their own native services in conjunction with other providers' services (for example, a security MSP providing sys admin on top of a third-party cloud IaaS).
Benefits of engaging with a MSP
Dedicated Team of Experts
Proactive & Preventive Maintenance
Scalability to grow as business demands
24×7 accessibility of support services
Faster resolution of issues
Read how ITC successfully migrated 250 + Enterprise applications to OCI with minimum downtime for a Global Diversified Conglomerate

What is the Oracle Partner Network
Oracle Partner Network (OPN) is Oracle's partner program that provides partners with a differentiated advantage to develop, sell and implement Oracle solutions. OPN offers resources to train and support specialized knowledge of Oracle's products and solutions and has evolved to recognize Oracle's growing product portfolio, partner base and business opportunity. Key to the latest enhancements to OPN is the ability for partners to be recognized and rewarded for their investment in Oracle Cloud. Partners engaging with Oracle will be able to differentiate their Oracle Cloud expertise and success with customers through the OPN Cloud program – an innovative program that complements existing OPN program levels with tiers of recognition and progressive benefits for partners working with Oracle Cloud. To find out more visit Oracle Partners Network