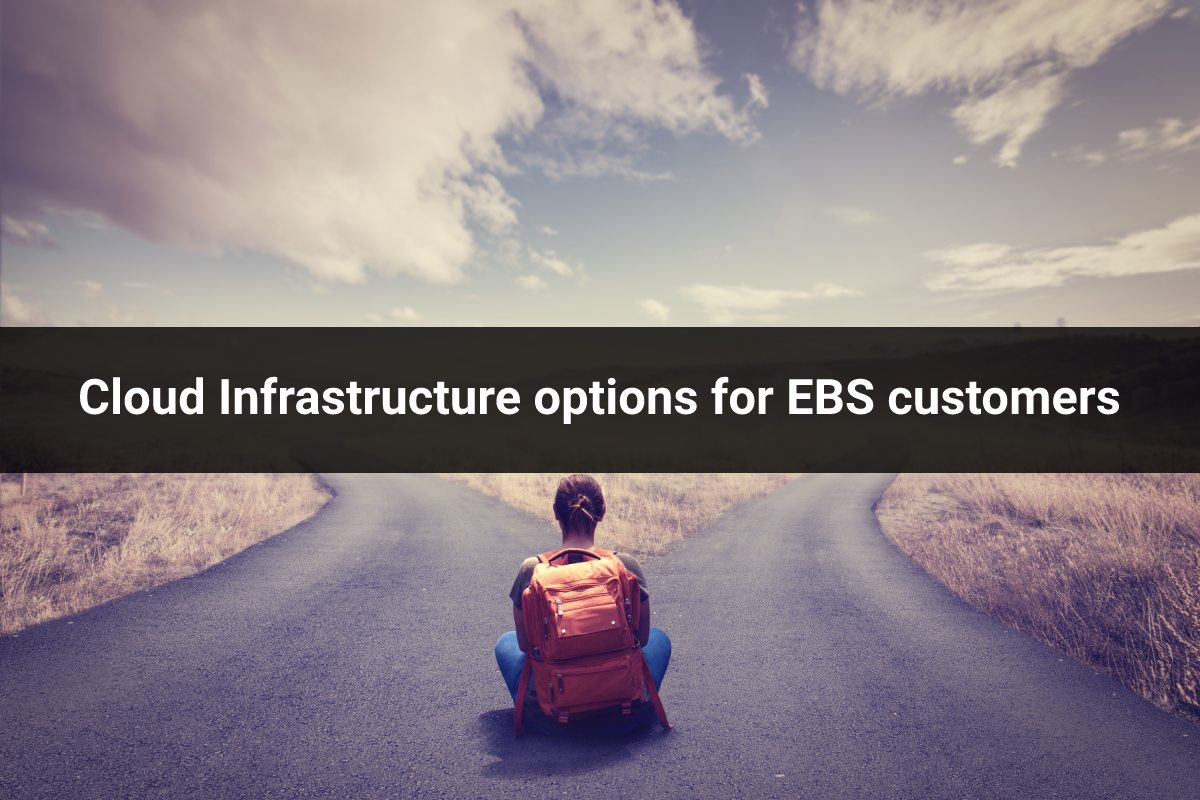 Cloud Options to Choose From
Private Cloud Infrastructure: Keep running your EBS On premise
Oracle Cloud@Customer: Get Public Cloud into your Data Centre
Public Cloud: Migrating EBS to OCI – Maximize EBS Strengths
Moving EBS to IaaS on Other Public Clouds: AWS , Azure, GCP
Organisations have implemented Oracle E-Business suite many years ago. When we engage with clients who are using Oracle E-Business, we typically see that a gap has emerged between what the system is actually delivering for the business, and what it is capable of:
Organizations are under severe pressure to evolve in order to survive and thrive in today's economy. Conceived perhaps several years, the design of an IT system that may no longer support the organisation's current strategy.
Several customers are not on the latest release of the product, and therefore aren't leveraging the latest functionality that the product has to offer.
Business users that were around at the time of the implementation have often left the company, and with them, their valuable knowledge of the software and how it has been implemented specifically for that organisation.
Implication of the above issues leads Oracle E-Business often seen as the problem rather than the solution, pushing the users to depend on off-system manual processes & even and a proliferation of Excel spreadsheets. Does it really have to be like this?
Private Cloud Infrastructure: Keep Running your EBS On Premise 
You may continue to run your current EBS onprem on legacy infrastructure or opt to build a private cloud onprem or a vendor data center. However in doing so, besides capex the complexity of owning, managing & its security associated cost needs to be assessed.
In either of these scenario, you may want to assess to upgrade to the latest version for enhanced functionalities features, security. Driven by today's business requirements, Oracle E-Business Suite continues to expand its capabilities of features and delivers new and innovative application functionality across the enterprise.
Keeping your system up-to-date is crucial – especially if you are using Oracle EBS 12.1, now scheduled to end Oracle Premier Support next year. If your business continues to use Oracle EBS 12.1, you may be impacted with compliance and potential support risks. Start planning your upgrade now to avoid business risks, and to take advantage of the many new functional enhancements with Oracle latest release.
However it is important to keep in mind that choosing to run onprem EBS you may have to forgo the cost savings and enhanced performance designed for Oracle application through OCI.
Cloud@Customer: Get Public Cloud to your Data Centre
Oracle today, is the only cloud provider that gives you the ability to run all Oracle Cloud Infrastructure public cloud services and Oracle Fusion SaaS applications in your data center with its Cloud@Customer offering. You can consolidate applications and databases on high-performance cloud infrastructure within your data center. and it provides the tools you need to create cloud native applications and upgrade existing ones with machine learning and modern cloud services.
For your EBS you can scale Oracle Cloud@Customer capabilities to meet your business needs with a choice of Exadata-only and dedicated region deployments.
You can also decide to integrate EBS & run modern Oracle Fusion SaaS products such as ERP, HCM, SCM, and CX in your data center without latency or security concerns.
Achieve a simple and truly consistent experience for security, management, and governance of all your workloads by using the same user interfaces, SLAs, APIs, and tools across Cloud@Customer and Oracle Cloud Infrastructure.
Optimally run existing Oracle Database instances and Autonomous Database in your data center using the same high-performance Exadata capabilities found in Oracle Cloud Infrastructure.
Public Cloud: Migrating EBS to OCI
Beyond leveraging Public Cloud capabilities of Oracle in your own datacentre, you can optionally leverage Oracle's OCI Global data center presence with enhanced security to eliminate substantial cost of running your data onprem.
OCI Choices:
Infrastructure: The Oracle Compute Cloud Service part of IaaS provides a highly scalable, competitively-priced compute capacity that can be used to host your application tier and (optionally) your database tier. You may deploy the application and the database tiers to OCI Compute virtual machines, on distinct sets of Oracle Cloud Infrastructure Compute virtual machines or you may optionally deploy multiple application tiers on distinct Oracle Cloud Infrastructure compute virtual machines that are load balanced using Oracle Cloud Infrastructure Load Balancing.

Infrastructure + Database: Deploy the application tier to OCI Compute virtual machines and the database tier to DBaaS. The Database Cloud Service part of PaaS can be used to run your database tier, allowing you to provision your chosen database configuration quickly and easily. Just like in the previous scenario, you can deploy the application tier on a Oracle Cloud Infrastructure Compute virtual machine, or you can deploy multiple application tiers on distinct Oracle Cloud Infrastructure Compute virtual machines that are load balanced using Oracle Cloud Infrastructure Load Balancing. The database may be deployed to a Database Cloud Service (DBCS) single instance virtual machine, Oracle Cloud Infrastructure DB System single instance on Bare Metal, or to an Oracle Cloud Infrastructure Exadata DB System. When you choose Oracle Cloud Infrastructure Exadata DB Systems, RAC is deployed by default. Oracle offers automated provisioning capabilities that can be used to deploy a Demo (Vision) EBS instance.
Infrastructure + Database + Application Management: Optionally, you can get assistance with Oracle E-Business Suite applications and database management by deploying managed services on top of the infrastructure and platform services.

Moving to IaaS on Other Public clouds: AWS, Azure, GCP
Yes you have the option to migrate your EBS on other cloud providers too. However it is important to note the benefits of running Oracle on Oracle. Oracle (IaaS) offers the most flexible and scalable cloud-based option for application and data management. Unlike other cloud providers or SaaS, OCI gives you complete control over your infrastructure and lets you manage your applications just as you would with an on-prem data center, except in this case you are using "virtualized servers."
This means that you have the flexibility to scale up or down as needed and will only pay for the resources you actually use. It also means that your servers are maintained by Oracle and you won't have to worry about dealing with aging hardware causing performance or security issues. Currently Oracle has no plans to offer EBS as a SaaS solution and your current investments in EBS will have to go for a toss in case you choose to leverage ERP cloud as a SaaS solution.
OCI benefits over Other Cloud Vendor
Oracle provides automation not available from other vendors & will also add future customizations
Other vendors do not have database services such as Oracle Database Cloud Service and Oracle Exadata Cloud Service.
Oracle Support has well-established processes for collaboration across different product teams, designed to promote quicker resolution of issues.
TCO of running Oracle on OCI is lesser as compared to running on other cloud providers can be upto 44% depending on the current deployment of EBS.
The above advantages along with TCO needs to be carefully assessed before considering running EBS on OCI.
Summary
Oracle's investments in cloud for EBS customers provides easy access to uptake enhancements for EBS, which includes functional innovation, modern user experience & mobility, operational efficiency. Migrating to OCI can deliver substantial cost, enhancements and in-depth security. Along with this, the cloud platform also enables easy integration & access to the broader enhanced offerings such as ERP cloud, SCM cloud, CX cloud.