Without careful management, public cloud costs can rapidly spiral out of control leading to unmanageable cost escalation. IT and procurement leaders must identify, control, and recover from unexpected cloud cost incidents and sometimes struggle to have clear visibility to take strategic decisions.
As one of the key benefits of cloud is the pay-per-use hence, Variable & Support Expenses are run-rate and fluctuate with the size and scale of the operation and needs to be continuously analyzed.
Type of Cloud Costs
1. Untraceable Costs
These are costs found in the vendor reports from finance that an account owner or you are unable to trace to a business activity, as well as costs that are too small to bother tagging.
2. Optimizable Costs
These are traceable costs that can be tagged to a legitimate business activity, are ongoing and are large enough to be relevant.
3. Protected Costs
These are costs that account owners wish to control themselves, in their own way. In this last category, there are frequent costs where a team has a pending plan for cost control that has yet to be fully implemented.
Single Cloud Vendor – Single Ownership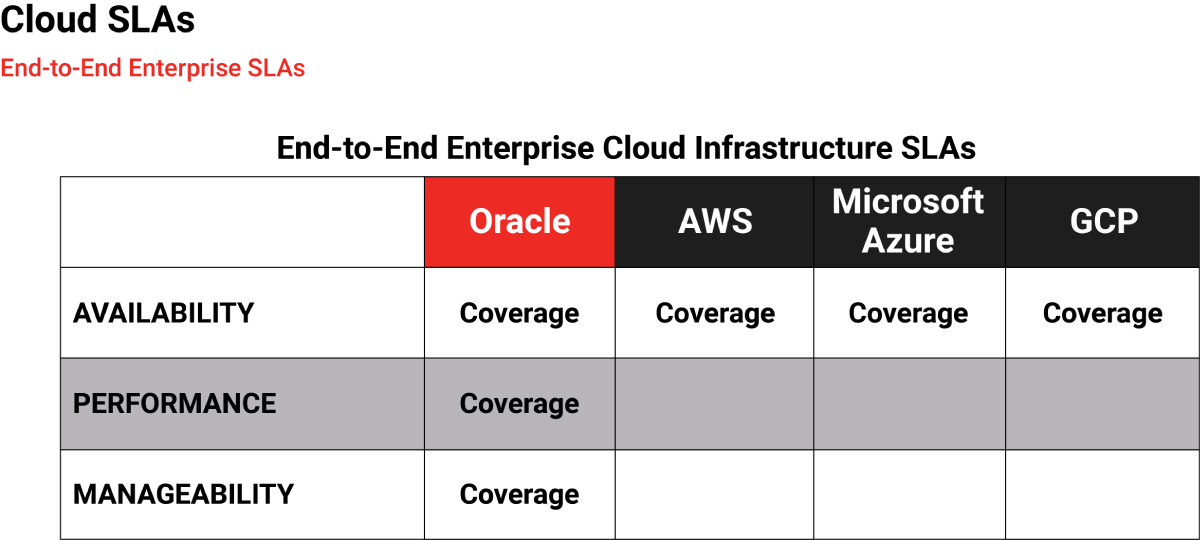 Enterprises demand more than just availability from their Public cloud infrastructure. Mission-critical workloads also require consistent performance, and the ability to manage, monitor, and modify resources running in the cloud at any time. Saving costs in our cloud journey is a continuous task and avoid any situation of cost overruns.
While running Oracle applications, or high-performance compute today, Oracle OCI (Oracle's Public Cloud service provides IaaS & PaaS), gives an edge in price and performance to AWS or Azure. Oracle commits to End-to-End enterprise cloud infrastructure SLAs for Availability, Performance and Manageability. Whereas AWS, Azure and as a matter-of-fact even Google Cloud too does not have an End-to-End coverage, shrugging away Performance and Manageability.
Only Oracle offers complete coverage with end-to-end SLAs covering performance, availability, manageability of services.

Public Cloud Pricing Comparison: AWS, Azure and Oracle Cloud
Here we try to highlight cost surprises for the top 3 Public cloud providers: AWS, Microsoft Azure and Oracle. Substantial cost is spent on Network Egress Charges (Inter-AZ), Network Egress (Inter-Region), Site-to-site VPN and Support.
Oracle Cloud infrastructure (OCI) offers low networking prices that enable customers to move significant quantities of data for less. Inbound data transfer is free, and we offer a high threshold for free outbound data transfer—the first 10TB free for each regional zone or product SKU. After that, outbound data transfer rates are based on geography. Rate differences across geographies differ due to variable carrier rates.
IT leaders not assessing these Variable and Support costs are sure to get a Cloud-Cost-Shock at the end of the monthly billing cycle for either.
Network Egress Charges (Inter-AZ),
Network Egress (Inter-Region),
Site-to-site VPN
Support Costs
Comparing Public Cloud Variable & Support Pricing
Oty
OCI
Azure
AWS
Network Egress Charges (Inter-AZ)

10 TB/mo

$ 0

Price to be released July 1, 2022

$ 204/8

Network Egress (Inter-Region) 

10 TB/mo

$ 0

$ 204.7

(West US o East US)

$ 204/8

Site-to-site VPN 

2/ mo

$ 0

$ 26.68

$ 75

Support Costs

Enterprise

$ 0

$ 1000 /mo

$15k / mo min.
https://azure.microsoft.com/en-us/support/plans
https://aws.amazon.com/premiumsupport/pricing/
Cost Comparison – AWS, Azure, GCP & Oracle Cloud
Oracle's approach to the cloud leads to efficiency designed into the model resulting in materially lower costs on core services and enabling multicloud scenarios with ease. Here is a comparison between OCI's standard pricing and AWS, Microsoft Azure, and Google Cloud Platform. Of note is the significant difference in costs on networking and enterprise-performant storage services.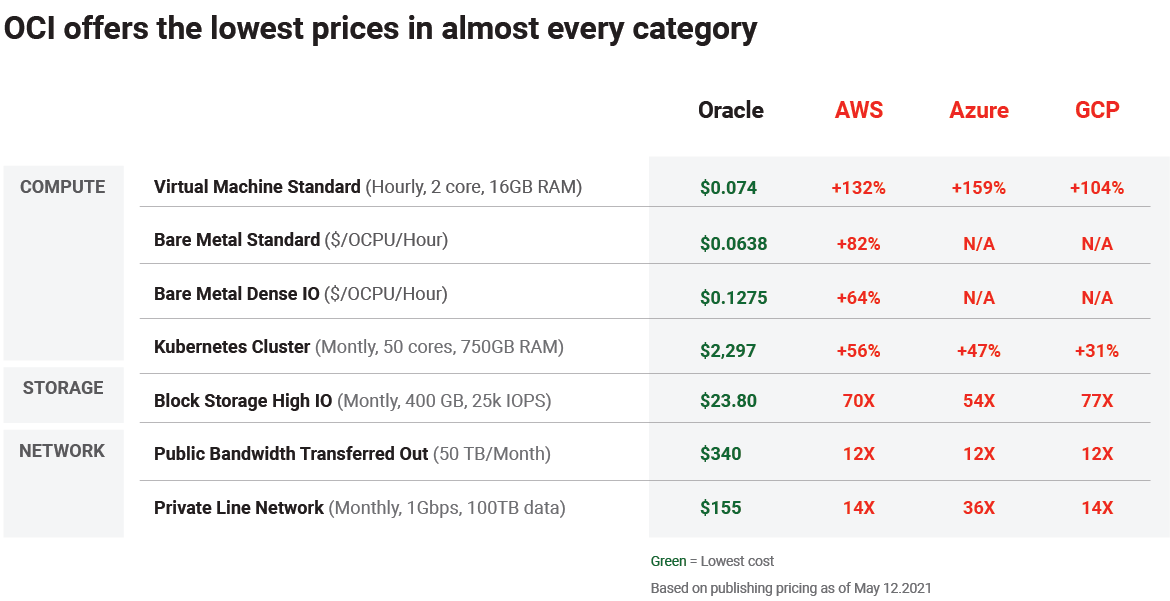 Oracle Cloud Infrastructure Billing Models
1. Global Consistent Pricing
For enterprises that want to expand in multiple geographies without constraints, OCI provides a consistent experience in every region, both in performance and cost. Customers can stay within their original budget and forecast cloud spending accurately, regardless of where applications are deployed.
Benefits:
Grow and deploy your environment in new regions without pricing arbitrage considerations
Control your budget and eliminate billing surprises
Accurately forecast cloud spending
2. IaaS/PaaS Billing or Subscription Models
Annual Universal Credits
Monthly Universal Credit (subject to Oracle approval)
Universal Credits, Pay As You Go
Bring Your Own License (BYOL)
Oracle Cloud at Customer
Government Subscriptions
3. Universal Credits
Allows customers to use OCI resources in an open manner- use them for most IaaS or PaaS services. Oracle Universal Credits enable customers to use any
OCI platform
service in any region, including future cloud services. Credits are debited as you use OCI services over the course of a year, giving you the flexibility to ramp up your workloads. Purchase of a sufficient amount of
Oracle Universal Credits
entitles you to volume discounts.
Benefits:
Predictable bill
Paid in advance and debited monthly based on your actual usage
Use your Universal Credits with any OCI service in any region
4. Pay-as-you-go (PAYG) or Annual Flex Options
Low, everyday pricing allows you to quickly provision services and only pay for what you use. Your use of OCI services—IaaS and PaaS—is metered hourly, and you're charged only for the resources you consume, with no hidden costs. You always have flexibility to switch services and cloud regions (data centers) at any time, with no notice needed.
– Terms and contract does not increase discount, but does lock in
OCI rate card
– Billing is typically quarterly in advance for Annual Flex and monthly in arrears for PAYG
– Annual Flex contracts quality for rate card discount. PAYG does not.
Benefits:
Provision and scale cloud resources instantly
With Pay As You Go, you have no upfront commitment and no minimum service period
With global coverage, commercial and government regions have the same low pricing
5. Bring Your Own License (BYOL)
Allows you to use your current on-premises Oracle software licenses to run those applications on high-performance Oracle Cloud Infrastructure, or to use highly automated managed versions of the software. Your current licenses can be used for corresponding Oracle services for 100% workload compatibility on Oracle Cloud or Oracle Cloud@Customer.
Benefits:
Recycle your on-premises licenses and use them in Oracle Cloud
Keep Oracle Support via your existing on-premises support contract
Accelerate your journey from on-premises to the cloud
6. Annual Flex Advantages 
Rate card discount tiers are 5% for $100K-$500K
Annual Flex contracts quality for Support Rewards program
Buy what you know you will consume – Annual Flex UCs expire at the end of each year
Conclusion
As an organization, you would have to consider multiple factors while choosing a public cloud-service provider, and variable and support pricing just cannot be left unchecked. Comparing the above Oracle Cloud Infrastructure does make a strong case when you compare these 4 key variables and support cost troubling IT leaders today.
Gartner recommends engaging certified cloud partners early on in your cloud planning process, to ensure that loopholes are identified early and plugged in before it turns out to be a disaster.
We now have Oracle's latest cloud certification – CSPE, & consulting with our Experts can help you make faster decisions and define the roadmap for your digital transformation initiatives. To get clear cloud pricing visibility, Speak to an Expert Now!