Introduction
Many organizations have adopted, or are considering adopting, SaaS applications even for their critical ERP applications. This shift is only the beginning of a dramatic change in the way organizations deploy and support their applications like ERP.
With this decision, IT Decision makers have accepted to move infrastructure, development and administration tasks to the SaaS application vendor, focusing existing resources on strategic transformation and thought leadership roles instead of managing mundane operational and tactical aspects of cloud technology.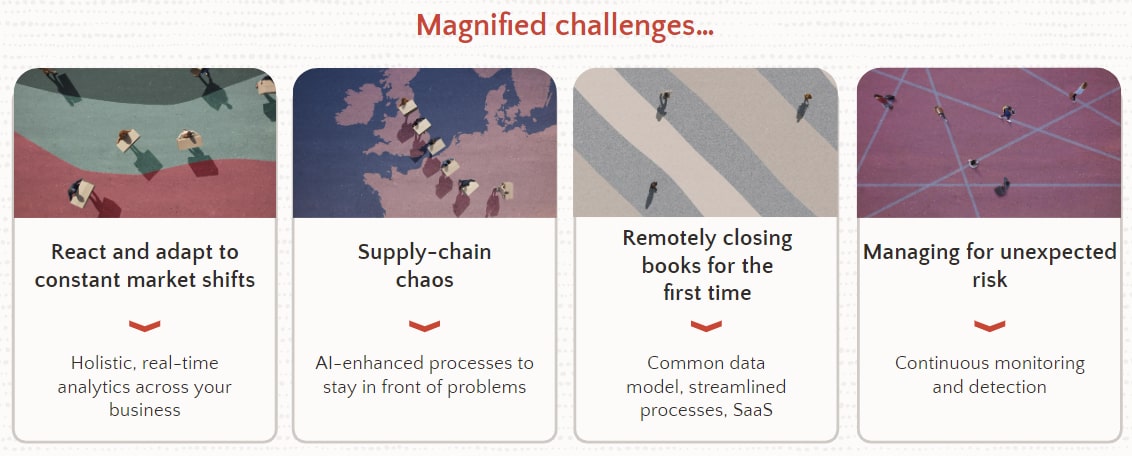 The recent pandemic tested several industries to the limit for their ability to react and adapt to constantly changing market conditions. Supply-chain disruptions, remotely closing books for the first time and managing unexpected risk were just a few.
And as a result, IDC confirmed in a recent study that companies facing these concerns are accelerating their move to cloud to become nimbler by 1) moving applications to the cloud for better security and availability, 2) migrating core business applications to SaaS and 3) using cloud as a platform for digital innovation.
What is Software as a Service (SaaS)
SaaS is software that is owned, delivered, and managed remotely by one or more providers. The provider delivers software based on one set of common code and data definitions that is consumed in a one-to-many model by all contracted customers at any time on a pay-for-use basis or as a subscription based on use metrics. (Gartner)
Key Characteristics of SaaS Applications
| | | | | |
| --- | --- | --- | --- | --- |
| Multi-tenant Model  | Automated Provisioning | Easy Customization  | Subscription-Based Billing  | Data & Application Security  |
Top Advantages of the SaaS Model
| | | | | | |
| --- | --- | --- | --- | --- | --- |
| Round The Clock Availability   | Eliminates Capex Costs  | Automatic Upgrades | Scalability And Flexibility | Access To Enterprise Software | Data And Analytics |
What is Software as a Service (SaaS) Managed Services
While implementing SaaS you do not manage the IaaS /PaaS/SaaS hardware, software, application-level security. But here is the ground realty check. Moving to SaaS does not eliminate all IT responsibilities., Organizational governance & compliance still require management by IT. Inattention to SaaS governance leads to ad hoc controls and incomplete visibility over SaaS usage and associated risks.

Key Tasks in Management of Cloud ERP SaaS Application
Key fundamental responsibilities still falling on the shoulders of Technical IT teams are:
1. Access level Security
2. Application Administration
3. aPaaS Coding
4. SaaS customization & configuration
5. Application Integration
6. Data & Analytics
7. Data Cleansing, Restructuring and Redistribution
Along with these operational aspects such as regular updates, new features added, including capability overviews, business benefits, setup considerations, and usage tips are still required by your teams.
Testing these features and an impact on your existing integrations is still something which needs close attention by IT. You need to evolve your application to maximize utilization through Organization adoption, which IT will still have to manage.
For all of this you need either an inhouse team OR a strategic certified expert Cloud ERP partner for SaaS Managed Services support.
Why Engage a Certified Cloud Expert for SaaS Managed Services?
SaaS acquisition and consumption must be flexible enough to support the business while still meeting organizational due diligence.
Risk triage is a crucial part of SaaS governance to ensure the most attention is focused where most needed.
SaaS buyers often fail to capture their operational requirements and so fail to anticipate the governance shortcomings of SaaS offerings, expert guidance is needed here.
Well-governed by cloud experts, SaaS significantly reduces the risks created by unsanctioned ("shadow") IT.