Are You Looking Into UPK Replacement Options?
With the end of Premier Support for Oracle UPK 12.1 around the corner (December 2022) and Oracle's official statement that there would not be a UPK replacement from their end, companies using Oracle UPK as their main and only training tool, need to look for alternatives to drive end-user adoption and continuous learning.
Note: Customers who have purchased the extended support with version 11.1 will be supported until March 2020, provided that they upgrade to 12.1.
Do You Need To Find An UPK Replacement?
First, let's address the elephant in the room. You might be considering to keep using UPK even without support, but as we know, using discontinued software could mean:
No more security or compliance upgrades.
Not to be in line with your organizations' standards for procured software.
No more on-demand support or assistance.
Performance issues.
Compatibility issues with new operational systems.
Lack of features to support content development for cloud-based ERP systems.
Utilization of old infrastructure (servers, database) to maintain the software running, since UPK is an on-prem application.
Second, we need to establish that the goal shouldn't only be to replace UPK. In an era where change is a constant and companies are continuously looking to implement more and more disruptive technologies, having an advanced learning solution (or digital adoption solutions) is critical. Especially in a Cloud landscape, your learning solution should be suited to the best-of-breed of today and to meet the learning needs and expectations of today's employees.
Third, you need a tool that will let you use all the training content and documentation you have created, so you don't lose all the time and investment that you put to build that content.
There are multiple tools that represent good alternatives to UPK. In order to make things easier for you, in this blog we will cover two great tools that you can look into, depending on any of these business scenarios:
For On-Prem Systems
For Cloud Systems
DATANGO: An Ideal UPK Alternative For On-Prem Systems
Datango is a tool that delivers innovative capabilities to introduce your employees quickly and sustainably into new or changed business processes or applications and to support them in a context-sensitive manner directly on the job. Furthermore, it supplies a complete, smooth, and rapid transition from UPK, by importing and converting your existing UPK content into the tool's format. This way, all previously created content can be edited and added features from Datango that UPK didn't have when the original content was created. No extra development time, no creation of repeated material in a new format, and no compatibility issues, it's a simple converter that does the job in less than 5 clicks.
Furthermore, the Datango solution provides innovative and additional possibilities, that extend Oracle UPK's features.
Whatfix: An Ideal UPK Alternative
Whatfix is a powerful alternative for companies migrating from UPK, requiring minimum disruption and effort. Whatfix provides contextual, interactive, real-time, and autonomous digital guidance across all enterprise apps — Oracle and third-party.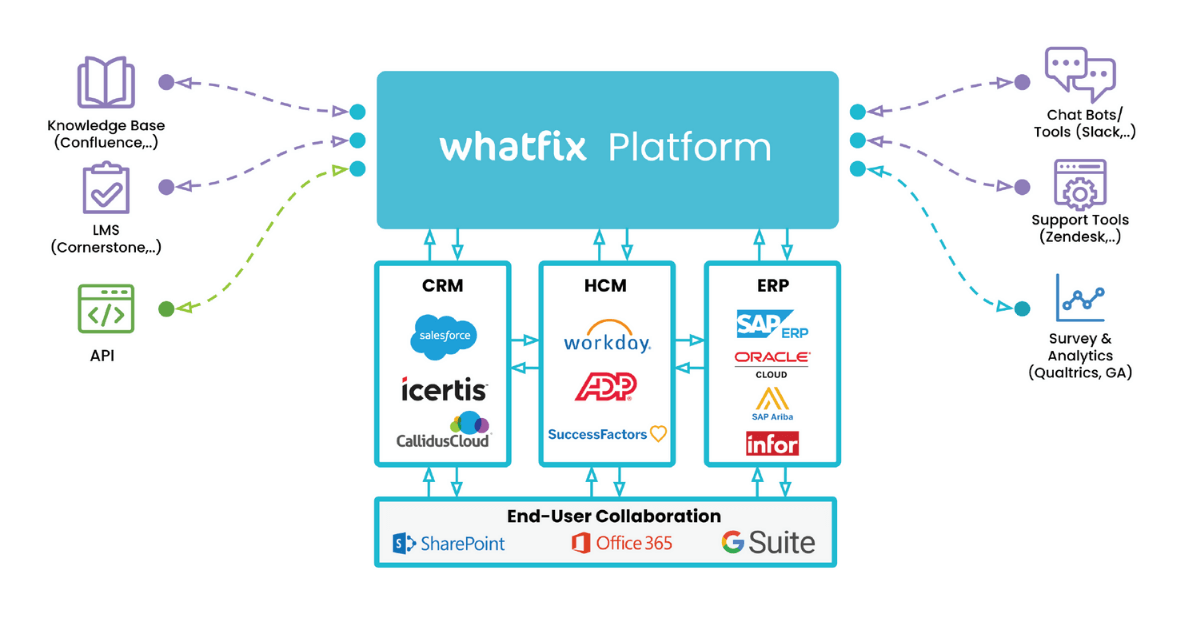 With Whatfix you can:
Replace the legacy Oracle UPK content with Whatfix's real-time interactive walkthroughs for Oracle Cloud.
Extend the capability of UPK with their Performance Support.
Re-author UPK content quickly on Oracle Cloud with our Smart Editor
Deliver real-time contextual training within your Oracle Cloud applications
Auto-generate multilingual content in rich-media formats for offline engagement and training
Ready To Replace UPK?
ITC can help you select the best solution, by assessing your change management and training needs. Our Training and Change Management Services accelerate adoption by providing continuous training programs that allow your employees to learn while doing, within your chosen application.
Interested in trying out any of these tools? Click here to request a personalized demo of the tool.