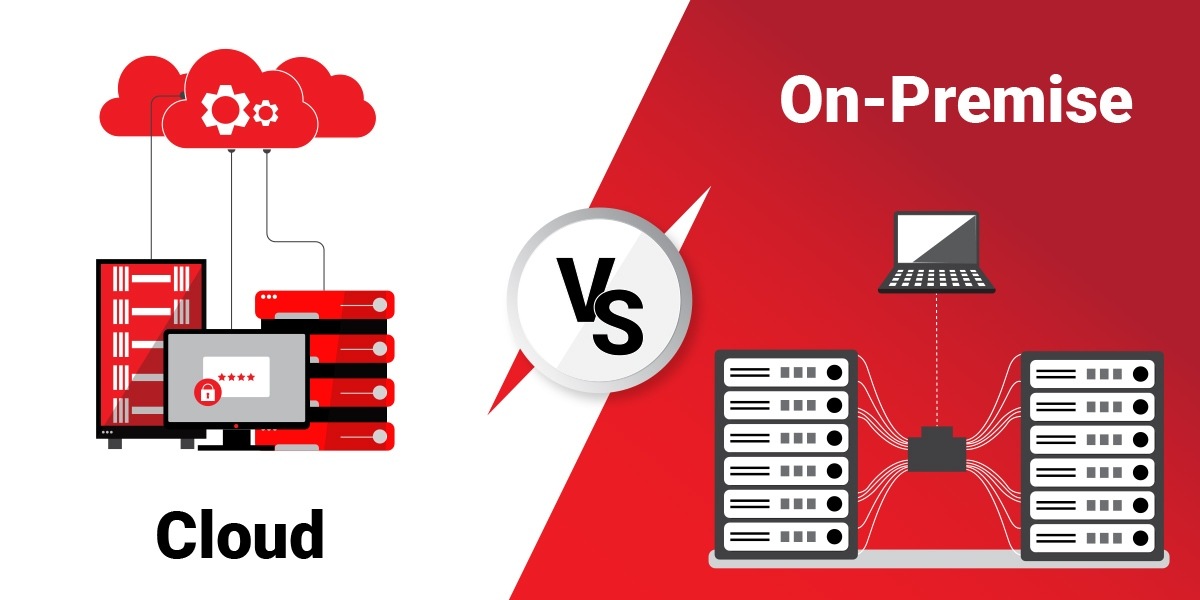 Cloud has led many organizations to shift focus from on-premise solutions to cloud first solutions, giving rise to a question 'which is best for my business'? If you are wondering which option is more secure, accessible and affordable etc, explore our handy comparison below.
OCI has made substantial year-over-year gains related to the required IaaS and PaaS capabilities, as defined by Gartner and unlike its competitors Oracle delivers all capabilities simultaneously into all regions worldwide.
Organizations considering migrating Oracle EBS using public cloud IaaS, will definitely have OCI naturally at the top of the list.
There is no right or wrong approach to the cloud vs on premise dilemma. Every customer is different and has different requirements that will influence the choice of the deployment strategy. The below comparison will help you assess before finalising your cloud vs on premise decision for your EBS.
5 Key Differences Between Oracle On Premise Vs Cloud
1. Hosted in Data Center vs Limit and Reduce Datacenter Investment
Organizations wrestle with budgetary cuts and IT managers have to deal with increasing computing demands while also trying to cut costs. "While responding to contracting budgets, IT managers are expected to deliver an ever-increasing level of service to users, and many are charged with showing tangible financial savings as part of cost-cutting measures. Migrating partial or the complete infrastructure of EBS to OCI will help reduce several costs of the data center and its operation.
2. Single Point of Hardware Failure (single tenancy) vs Increase Infra Redundancy via Multitenancy Oracle Cloud
A single point of hardware failure in a data center may compromise workload availability or even the availability of the entire location. Productivity and business continuity suffer, and security is compromised. OCI is design on a high availability architecture, while considering three key elements – redundancy, monitoring, and failover.
By creating redundant Compute instances in other availability domains or fault domains, you can avoid an impact to your applications by an issue that affects the primary Compute instance or its domain. You can design solutions to have multiple regions, multiple availability domains, or multiple fault domains, depending on the class of failures you want to protect against.

3. Multi-vendor Management vs Single Vendor as to Manage Infra + App + DB
Challenges of working with multiple vendors, often becomes a full-time job for internal administration staff to keep up with the paperwork, reporting faults or requesting technical or sales support, a major cost in itself.
Running Oracle on Oracle will bring the ownership of Oracle/ certified MSE partner who can help resolve issues, get single billing for all oracle services and manage your relationship on your behalf – including negotiation, contacts etc.
4. Complex Integration of NW/Storage/Compute vs Fully Optimized Setup for Best Optimal Performance
Either you keep building and adding a complex infrastructure environment or let Oracle provide the most optimized, secure, scalable and cost effective environment for your EBS. OCI is uniquely optimized for Oracle's application suite. As an Oracle product, you will find these virtualized servers structurally compatible with Oracle's other products and optimized for maximum performance. This is also the only cloud infrastructure that fully supports Oracle Exadata and RAC. It is designed from the ground up for performance and efficiency, making it a top choice for both Oracle applications and cloud workloads.
5. Complex License Management vs Simplifies Licensing via Bring Your Own License (BYOL)
Bring your own license (BYOL) allows you to apply your current on-premises Oracle software licenses to equivalent, highly automated Oracle PaaS and IaaS services in the cloud. Your current licenses can be used for corresponding Oracle services for 100 percent workload compatibility on Oracle Cloud or Oracle Cloud@Customer.