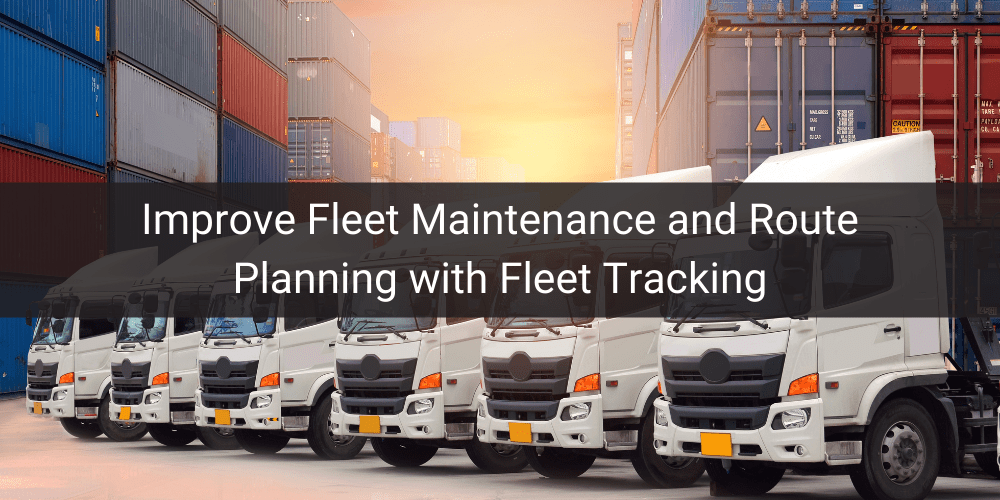 Fleet managers need to know the location of their vehicles, manage their fuel spend, ensure driver safety compliance, and use the data to provide better information to their customers. Shippers need to know when their goods will arrive and the environmental conditions inside the vehicle. Delays in delivery can significantly affect their supply chain. To meet growing demands, fleet managers are turning to fleet tracking systems to provide real-time visibility and to drive greater efficiencies.
What is Fleet Tracking
Fleet tracking systems use GPS to monitor the activity of fleet assets like vehicles, workers, and equipment. Fleet tracking systems use embedded IoT sensors to collect data from a fleet of vehicles like cars, trucks etc. in real time. This real-time data is useful for fleet managers, who use it to make informed decisions. Fleet tracking systems can collect data from the fleet, integrate with existing data in enterprise applications, intelligently interpret and present it in easy-to-use reporting dashboards for consumption. By using fleet tracking systems, you can monitor exact asset locations, engine performance, fuel usage, vehicle utilization, maintenance issues, cargo conditions and tampering alerts via onboard IoT sensors. Recent studies show that some of the benefits fleets can obtain from IoT fleet monitoring systems include:
Fuel economy increased by 20%
Economical driving improved by 15%
Harsh-braking incidents decreased 75%
Engine idle time down 60%
Driving hours decreased 20%
Safety incidents reduced by 20%
Compliance increased by 15%
10 Benefits of GPS Fleet Tracking
1. Maximize Vehicle Utilization
GPS fleet tracking systems allow you to monitor the location and performance of your vehicles at any time and improve the utilization of your fleet vehicles. Your fleet managers will be able to collect fleet data using IoT sensors and analyze it to reduce vehicle idle time and drive maximum revenue for the business.
2. Reduce Insurance Costs
Fleet monitoring systems can track if a vehicle has deviated from its expected course and quickly alert the relevant department, improving the chances of recovery in case of theft of the vehicle or any equipment inside the vehicle. These systems also provide insight into driver behavior, encouraging fleet drivers to drive more responsibly when in possession of a company vehicle. This is why insurance companies provide special discounts on vehicles that are equipped with GPS tracking systems, allowing you to pay lower premiums by up to 30%.
3. Reduce Fuel Costs
Businesses that employ fleet tracking systems see a large reduction in fuel costs due to multiple factors – better route planning, less idling, better driver behavior etc. Fleet tracking data can help you identify the best routes that save both time and money, improving driver productivity and eliminating unnecessary fuel expenses.
4. Reduce Fleet Maintenance Costs
Modern vehicle tracking systems are equipped with advanced features such as vehicle diagnostics, fuel level indicators, engine temperature indicator etc. that allow you to monitor key aspects of the health of your vehicle. You can also receive timely alerts when fleet maintenance is due – such as oil changes, wheel alignment or other routine maintenance. By analyzing all this data, you can eliminate unnecessary vehicle inspections and instead perform maintenance only when it is truly necessary, saving costs and extending the life of your vehicles and parts.
5. Improve Route Planning
With GPS fleet tracking systems, drivers can plan their routes even before starting the trip and get detailed directions for their entire route. This reduces cell phone usage while driving, improving road safety and ensuring better compliance with laws. GPS systems can also recommend alternative routes in the event of traffic jams due to unexpected roadblocks, road closures, or accidents, improving driver productivity and improving customer satisfaction due to on-time service.
6. Improve Fleet Security
Fleet monitoring systems allow you to create geographic boundaries that can send alerts when a vehicle enters or exits the designated area. For example, fleet tracking systems let you define predetermined safe areas that indicate where your drivers can stop for rest. You can also use notifications to alert customers when a vehicle arrives at their facility or to prevent unauthorized vehicle movement from your facility. In the case of any untoward incidents, you can provide direct assistance and support to your drivers, improving their safety and ensuring faster response times.
7. Get Real-time Information
GPS fleet tracking systems allow you to keep track of your connected vehicles at all times and geofencing features alert you when drivers aren't following their predetermined routes. By analyzing the real-time information collected from embedded IoT sensors, fleet managers can maximize revenues, improve productivity, and identify the best drivers – ultimately allowing them to gain more control over fleet performance.
8. Improve Time Management
Fleet tracking systems allow you to eliminate billing discrepancies through digital time card verification. Using GPS vehicle tracking systems, you can remotely track and monitor your field crew based on when they started and stopped their vehicles. You can also set up automatic reports via email to ensure that employees are paid for the hours they put in, eliminating unnecessary paperwork, simplifying payroll management, and eliminating any irregularities like overbilling.
9. Improve Customer Satisfaction
With real-time information about the vehicle route and performance, you can improve service levels and comply with statutory regulations. You can also improve customer experience with up-to-date and reliable shipment information as your fleet will be able to respond to service calls quickly and reach your customers on time.
10. Integrate with Enterprise Applications
Integrate with your supply chain and logistics applications to pull in shipment information and send information about vehicles in transit. You can also automatically generate incidents and alerts in supply chain management applications to handle issues such as shipment delays and vehicle breakdowns.
---