What is OCI Gen 2?
Oracle Cloud Infrastructure (OCI) second generation is a best-in-class platform
Higher security, workloads, and performance
Some features are available only in OCI

Oracle Identity Console – User Management
Custom Password Policy
Change Instance Name
Restore PROD backups from 60 days (listBackups, restoreBackups)
Multiple Identity Providers (SAML 2), etc.

26% of customers are already on OCI
Oracle EPM Cloud is available in 17 OCI regions (data centers)
New customers are provisioned on OCI by default
OCI Migration Options
There are two options to migrate to OCI

Customer Managed
Oracle Managed

Both these options involve no costs
Check if your EPM is already on OCI or Classic
OCI is not yet deployed in government data centers
You will have new data centers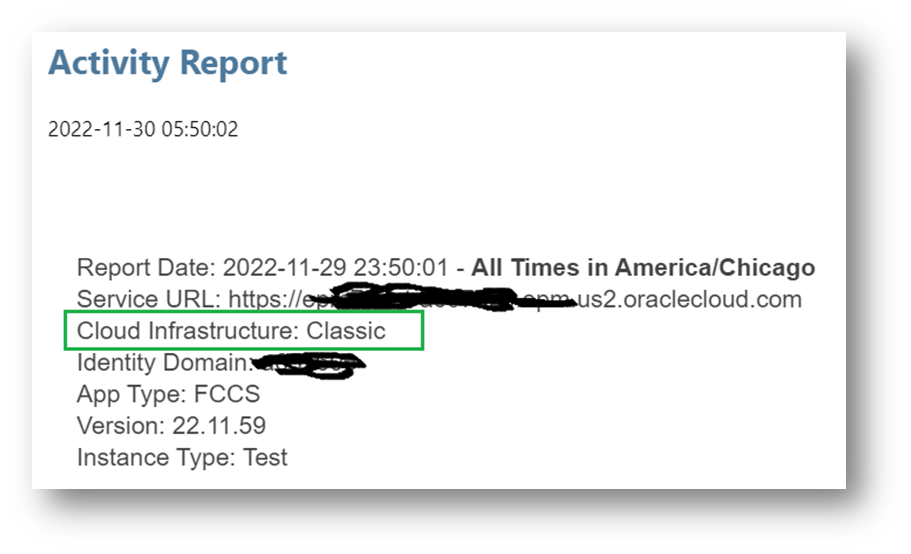 Documentation:
EPM Cloud Classic to Oracle Cloud Infrastructure (OCI) Migration
Customer Managed
Create a Service Request (SR) and submit a CSV file with the list of current environments
Option to choose your domain name
Choose the data center of your choice (only from the same geographical region)
New OCI environments equivalent to the current 'Classic' environment
OCI environments will have new service URLs
You have six months to complete your migration (Oracle will terminate Classic environments after six months)
Request additional time if your migration is not complete in 6 months

How to Do It?
If you set up SSO in My Services for Classic environments, reconfigure it for IDCS for OCI environments
If IP AllowLists are configured, use EPM Automate to reconfigure them for OCI (set IPAllowList)
Clone your applications using 'Clone Environment'
Complete your testing in six months
After testing, clone all artifacts – Applications, Users, Roles, Data Management, Stored Snapshots
Post-Migration Tasks
Announce new service URLs
Modify EPM Automate/REST API scripts with new URLs
Update Navigation flows with new connection URLs and Passwords
Update SmartView connection URLs
Modify bookmarks
Oracle Managed
Oracle notifies service administrators of the OCI migration schedule
The tentative start date is April 2023
An equal number of OCI environments are created (Classic continues to work)
Advance notification of at least one month
Two months of testing time is available to customers
OCI environments will have new URLs during the testing period
At the end of 2nd month,

Oracle migrates applications and all other artifacts
URLs remain the same as of today
Overrides test applications on new OCI environments
DNS configuration to route classic service URLs to OCI
Terminate classic environments
First Friday of the scheduled month for TEST
Third Friday of the scheduled month for PROD
Use the skipUpdate option to delay the migration for a maximum of two months
Oracle Notification for Migration Contains
A list of current Classic environments
Domain names of new OCI environments (current domain names will be used)
OCI regions (default regions based on Classic)
Default domain administrator and service administrator email addresses (service request to change email addresses in the notification month)
Customer Tasks During Two Months of Testing
If SSO was set up in My Services for Classic environments, reconfigure it for IDCS for OCI
If IP allowlists are configured, use EPM Automate to reconfigure them for OCI (set IPAllowList)
Clone the application from each Classic environment to the corresponding OCI environment using Clone Environment
No post-migration tasks are required
Timelines and Action Items
If you choose customer-managed migration, start the process at the earliest
If you opt for Oracle-managed migration, Oracle will start sending notifications from April 2023
No action at the moment if you opt for Oracle-managed migration
All customers will have to migrate to OCI without exception