Before signing a SaaS service level agreement, sourcing, procurement, and vendor management (SPVM) leaders frequently forget to inquire about what is and is not covered by basic support, which might result in them later having to pay more for higher levels of support.
Support is often included in SaaS subscription fees, however some companies limit their support to self-help tools like FAQs, blogs, and chatbot support, which is very rudimentary support. The response time for this basic support could be slow. Basic support, for instance, could not be very useful when dealing with issues of severity, where you need a response in a matter of minutes. You might choose to upgrade to the provider's more expensive premium assistance option in this case.
Negotiate Support with your SaaS Service Level Agreement
Failure to bargain for the proper degree of help up front may result in paying more for upgraded support later on in the contract. According to Gartner, premium support fees are frequently negotiable if the discussion takes place prior to the signing of a contract. For instance, standard support for Salesforce's Enterprise edition, which is covered by the subscription price, only permits online case submission, has a response time of two days, and only offers services during "local business hours." When added to Enterprise Edition mid-contract, a more advanced "Premier Success" package is available at a list price of 30% of net fees.
Even if you prepay for an increased level of support, the vendor might not still provide a SaaS service level agreement (SLA) with service credits for subpar support performance. Therefore, you should negotiate service credits for delayed support answers and resolution times and include a thorough, complete explanation of support in the contract.
This will guarantee continuous assistance throughout the duration of the contract, and in the event of any disruption, the vendor will be held accountable by enforcing the set penalties. It can be challenging to negotiate fines with vendors at times, and it all comes down to the level of clout you have with them. It's crucial to check that the contract includes support-based SaaS service level agreement. Or, if it is not possible, negotiating recurrent updates and an escalation process can at the very least offer some security.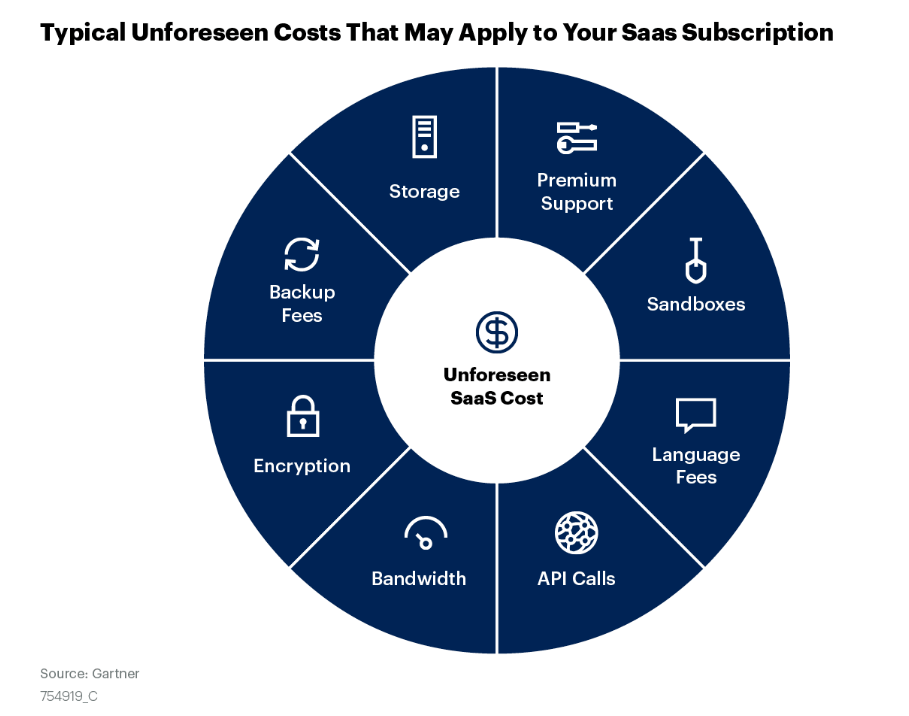 Negotiate the Price of Additional Sandboxes up Front
You must be completely aware of which test or development environments, if any, are covered by the costs and which sandboxes can incur an additional charge before signing a SaaS service level agreement. Your company may need a variety of sandboxes, possibly of different kinds, to allow different teams or individuals to play in a setting that is tailored to their requirements (for example, development, testing, and training).
Negotiate a price hold for additional test and development environments in case you find out after contract signing that you require them. This is especially important if you're unsure whether the normal entitlement will be sufficient to suit your demands. There could be various ways to pay for sandboxes, depending on the particular supplier. While some suppliers have a predetermined monthly price, others base their prices on a portion of the membership payments. For instance, the quantity and type of sandboxes included in Salesforce vary depending on the products and editions being purchased. However, Salesforce will charge you extra fees, based on a portion of the net membership payments, for the additional sandboxes if you choose an edition with inadequate sandboxes.
Depending on the size of the sandbox needed, this fee can often increase all subscription prices by 5% to 30%. Naturally, a sandbox cost that is based on a portion of the subscription fees will rise over time as more people use the service. In contrast, if the cost of the sandbox is fixed, fees will remain the same regardless of how many users there are.
It is advised to incorporate sandbox requirements in your SaaS service level agreement sourcing effort wherever it is practical and to scope them as part of the requirements definition phase. The type and number of sandboxes that are included for each product and/or organization should be made clear, and they should make sure that these are included in the SaaS service level agreement along with other entitlements. Depending on your projected company demands, it is advisable to discuss prices for potential future sandbox requirements.
Look into and bargain any additional sandbox-related expenses that may arise, such as charges for updating your SaaS sandbox environment to the most recent backup.
Negotiate the cost of additional volume and other allowances in the SaaS SaaS Service Level Agreement, as well as document storage.
The types and quantities of storage that come with each product that is purchased should be made clear and documented, and the price of any additional SaaS SaaS Service Level Agreement storage should be negotiated. This can occasionally be divided into distinct types, such as file and data. Almost all vendors have specified storage entitlements, however they are frequently outlined in online product or service descriptions and do not draw the potential SaaS buyer's attention.
Prior to the SaaS installation, you should collaborate with business stakeholders to project storage needs. In order to avoid being compelled to purchase list-price storage in the middle of a contract period, you should additionally negotiate a proactive alert from the SaaS vendor.
Conclusion
As the SaaS Service Level Agreement landscape continues to evolve, smart negotiations will remain a critical factor in maximizing value and achieving long-term success in the digital era. Understanding the pricing model and the potential for usage-based costs is paramount. Negotiating fixed pricing, volume discounts, or limits on usage can protect businesses from sudden spikes in fees and help them budget more effectively.
In negotiating SaaS service level agreement, businesses should be prepared to walk away from deals that do not align with their needs or present excessive financial risks. Vendors, on the other hand, should be open to finding common ground and adapting their terms to better suit the customer's requirements. A collaborative and open approach can lead to a win-win situation where both parties benefit from a sustainable and cost-effective partnership.