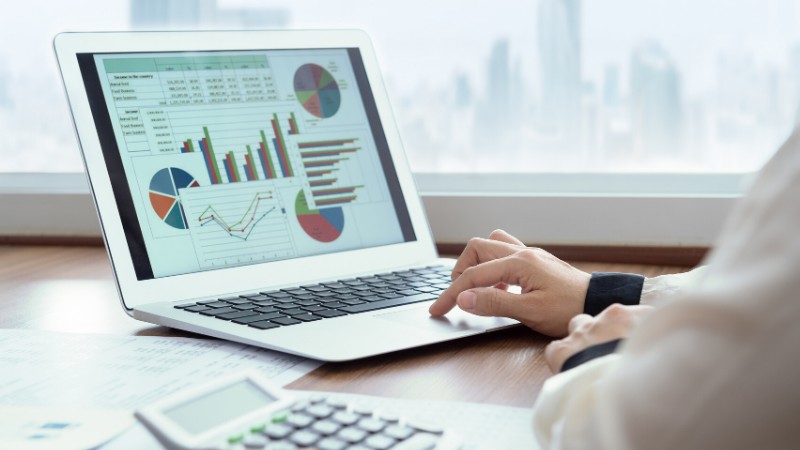 A study by Wakefield Research and Concur indicates that 84% of small-to-medium businesses are still reliant on manual processes, and 69% reported still using spreadsheets to track spending and build budgets. Many small and medium businesses still use spreadsheets for financial planning, budgeting, and forecasting. There is no denying the impact that spreadsheets have had on business but today, they are one of the slowest, error-prone, and inflexible ways to manage your accounting processes. Many finance professionals find spreadsheets easy to use, but they are a hassle especially when it comes to complex processes like financial planning, budgeting, and forecasting – which have many dependencies, and require input from a diverse group of stakeholders. As a result, many finance professionals are left with data that is filled with errors, hard to audit, and difficult to keep up-to-date. Moreover, as spreadsheets are shared between finance and line-of-business leaders, version control becomes a nightmare.
The Limitations of Using Spreadsheets for FP&A
No Single Source of Truth Spreadsheets are shared with many different people and teams. Over time, different versions exist which could differ from the actual version, making modeling difficult and unreliable. Time-Consuming Process Without a single source of truth, tracking down and consolidating all the necessary data is a slow, manual and error-prone exercise. Lack of Modeling Capabilities Spreadsheets cannot support an infinite number of calculations and macros which can leave your growing company without reliable models and projections to produce accurate budgets and forecasts. Lack of Drill-Down Capabilities Spreadsheets cannot support senior management who need to drill down into business data and get actionable insights for decision making.
What is Oracle EPM Cloud?
Optimal business performance depends on being able to predict the best possible outcomes but relying on disconnected spreadsheets makes planning, budgeting, and forecasting error-prone, time-consuming and labor-intensive. Oracle EPM Cloud provides a flexible planning and budgeting solution that goes beyond standard financial metrics and scales as your company grows. A report by Ventana Research shows that 77% of planning processes depend to some degree on having access to accurate and timely data from other parts of the organization. Oracle EPM planning and budgeting aligns the needs of both corporate finance as well as operational planners around the enterprise i.e. sales, marketing, HR, IT, and the lines of business. Key features include:
Pre-built, configurable, best-practice planning frameworks that support finance, workforce, and capital asset planning solutions, tailored to your specific requirements
Strategic modeling capabilities to create long-range, financial forecast models for changing business needs
Intuitive business wizards that support evolving planning processes
Powerful analytics, dashboards, "what if," and predictive capabilities that can drill down and provide actionable insight
Advantages of Oracle EPM Planning and Budgeting Cloud
Spreadsheets' capabilities are adequate for early-stage startups with a few employees but once they start growing, the processes become too complex for spreadsheets. They are not dynamic or flexible enough to provide a complete view of planning, budgeting, and forecasting. So, what are the advantages of Oracle EPM Cloud vs. Spreadsheets for financial planning and analysis? Here are four planning and budgeting methods that spreadsheets struggle to support but can easily be managed using Oracle EPM Cloud.
Driver-Based Planning
Many companies build sales forecasts based on the previous year's numbers, driver-based planning looks at key activities that influence sales, such as incentive compensation, increase in marketing spend, the price per unit, etc. Driver-based planning looks both at internal as well as external factors to create more accurate models, going beyond basic revenue or cost inputs of a standard financial plan, and focusing on the activities that drive performance. These mathematical models allow managers to run scenarios based on these drivers to quickly understand the drivers influence on revenues, expenses, and cash flow. With driver-based planning, Oracle EPM Cloud enables finance and line-of-business managers to collaborate more effectively and adapt faster to changing market conditions, increasing competition, new regulations, and emerging sales channels.
Rolling Forecasts
A study by Adaptive Insights shows that 64% of annual forecast targets are obsolete after 4-6 months. Building business plans around budgets and projections based on a single point in time (i.e. static budget) have proven to be inaccurate. Driver-based planning can help create rolling forecasts for more accurate budget assumptions. Rolling forecasts make it easier to create accurate plans, particularly for fast-growing and dynamic SMBs. These companies can quickly adjust their plans based on new information, as it flows in, to keep up with their growth. Doing rolling forecasts with spreadsheets is inefficient and time-consuming but with Oracle EPM Cloud, businesses can save time in the planning and provide finance with better visibility, allowing them to focus on more valuable analysis and improve decision making.
Zero-Based Budgeting
Traditionally, budgeting involved analyzing past data to know how much a department has spent and how much is available to spend in the next period. But this is a flawed approach because it often incentivizes managers to spend more at the end of a budget cycle merely to avoid budget cuts in the future. Zero-based budgeting involves preparing the budget from scratch with a fresh evaluation of each line item, allowing businesses to start from zero during each budget cycle and create a new budget based on what is actually necessary. This approach requires managers to analyze costs and spending periodically and justify the expenditure, encouraging them to be more strategic with their spending and improving profitability. Historically, this was a time-consuming and labor-intensive process but Oracle EPM Cloud makes it easier for companies to adopt zero-based budgeting to improve budgeting accountability, empower their workforce, and achieve faster growth.
Long-Term Planning, Budgeting and Forecasting
Spreadsheets can generate forecasts that extend for short time periods but they lack the capabilities required for long-term forecasting, such as scenario analysis, planning predictions, and agile forecasting. For example, spreadsheets struggle in areas like projecting employee compensation levels, facilities planning, capacity planning, market analysis, and new product development. Oracle EPM Cloud puts critical information into the hands of decision-makers, providing in-depth, holistic data from all areas of the business and allowing the business to streamline planning and budgeting.
---