When migrating core applications to the cloud, the need for a fast & secure network is often overlooked. Assess a dedicated and private connection with higher bandwidth options, and a more reliable and consistent networking experience when compared to internet based connection. This will help to ensure your migration goes through seamlessly without network choking hiccups.
According to Gartner, By YE21, network teams will spend 3x more time working in public cloud infrastructure than they do today.
Even with high-speed internet connections, it can take months to transfer large amounts of data. For example, it can take more than 100 days to transfer 100 TB of data over a dedicated 100-Mbps connection. You can configure the cloud network with an optional internet gateway and an optional IPSec VPN connection or Oracle Cloud Infrastructure FastConnect to securely extend your on-premises network.
It is practical for a telecommuter to access human resources (HR) software as a service (SaaS) application via an internet virtual private network (VPN). However, a data center site with requirements for high bandwidth, enhanced survivability, security, performance and accountability is typically better served by a private connection to the CSP, or by a combination of public and private connections. Thus, many IT leaders find it best to use CSP connectivity options that align with particular use cases. As a result they frequently use both public (internet-based) and private connectivity options into CSPs
What is Oracle FastConnect
Migrating to Oracle Cloud Infrastructure to run your mission critical applications, but are concerned about the unpredictability of internet-based connections? Oracle brings in a dedicated connectivity solution that can solve this challenge for you, called Oracle Fastconnect
Oracle Cloud Infrastructure FastConnect is a high speed network connectivity which is: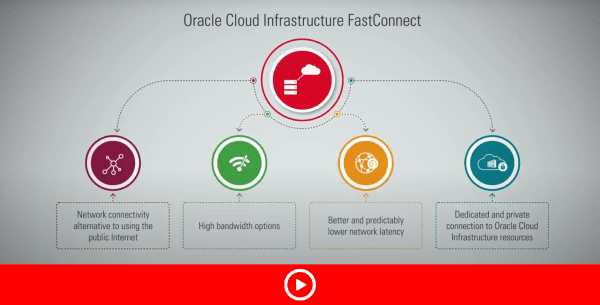 An alternative to using the public internet
With high bandwidth options
Better and predictably lower network latency
Offering dedicated and private connection to OCI resources.
Connectivity Options for Migrating EBS to Cloud (OCI)
Option 1 – Oracle Cloud Infrastructure FastConnect
FastConnect provides an easy way to create a dedicated, private connection between your data center and Oracle Cloud Infrastructure. FastConnect provides higher-bandwidth options, and a more reliable and consistent networking experience compared to internet-based connections.
Option 2 – Internet-Based VPN
IPSec VPNs provide encryption over the public Internet. Service provides multiple, redundant data center VPN tunnel endpoints using standards-based IPSec encryption.
Option 3 – Internet
Using internet leased lines through public Internet reliably to connect resources anywhere in the world.
The above options depend on the use case on which application/data center/cloud provider exists. While Internet-Based VPN and Internet is well understood, it is important to understand FastConnect, which comes under the Oracle Cloud Infrastructure portfolio of services.

Speed Options On Oracle Fastconnect
Two Ways to Establish a FastConnect Connection
Scenario 1 : Connect with Oracle Colocation in Data Center

Scenario 2: Connect with Oracle through Oracle Network Provider or Exchange Partner

What Next
Once you choose the right connectivity scenarios, you will need to ensure you have to reach out to Oracle services over fastconnect by exchanging IP routes between your network and the Oracle Fastconnect service. This is achieved through BGP routing protocol.
In above Scenario 1: If you are connected to directly to Oracle, colocation or 3rd party network carrier , your network equipment will be establishing BGP connecting directly with Oracle fastconnect devices.
In case you choose scenario 2 above: then you may have to establish a BGP either with the partner devices or oracle fast connect devices.
Accelerating Cloud migration with Certified Oracle Cloud MSPs
While fastconnect is the medium to accelerate your migration, along with this, one of the key considerations in choosing a cloud migration partner (MSP/CSP) is how they can too help accelerate cloud migration, sometimes by upto 30-40%. IT Convergence has developed proprietary tools and methodologies to ensure that your cloud migration is a success and post migration you get all the help you need to maximize the performance of cloud and get faster ROI.