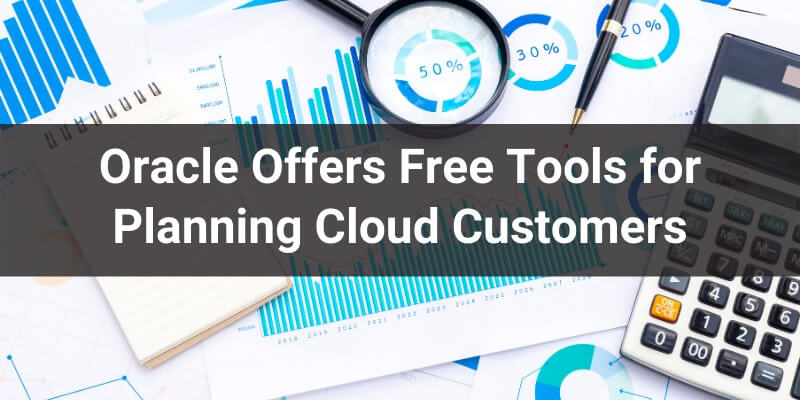 In the wake of COVID-19, every organization needs to balance urgent and critical short-term needs with their long-term strategic priorities. They need effective strategic modelling and scenario-based planning tools to manage the crisis. For existing Oracle Planning Cloud customers, Oracle is offering free access to Oracle Financial Statement Planning, including Strategic Modeling modules for the next 12 months.
What's Included in the Offer?
Financial Planning and Strategic Modeling are two pre-built modules that come bundled with the ePBCS license. As Oracle is offering free access to both these modules, customers can opt for a new implementation to meet to meet their business requirements. The offer is applicable from May 13, 2020 to April 30, 2021 to all existing Oracle Planning Cloud customers. After April 30, 2021, Oracle will charge the customer with ePBCS license subscription based on user licenses.
Benefits of Financial Statement Planning
Financial Statement Planning will help customers run detailed 'what-if' scenarios for a wide array of possible economic situations, including payment delays, inventory fluctuations, and supply disruptions This will also help increase the accuracy of revenue and cash flow forecasting and capital structure scenario modeling, and assist with bank covenant compliance, funding compliance, and credit rating calculations Enhanced business agility and improved decision-making Our simulation capabilities will help you substantially improve business agility and mitigate negative outcomes by enabling you to test a range of likely outcomes and plan for potential responses.
Accurate liquidity models Balance sheet modeling becomes critical when you are modeling for liquidity. Our built-in "goal-seek" capability will help you run periodic checks to decide which operational variables need to change for effective cost management and cash optimization. Simple and insightful reporting and analytics Real-time analysis and report distribution are available using a variety of report formats, and both reporting and analysis are possible using a web browser and Smart View for Microsoft Office.
Benefits of Strategic Modeling
Strategic modeling planning solution provides real-time analysis and the ability to statistically analyze an unlimited number of 'what-if' scenarios for contingency planning. Many organizations have de-emphasized the strategic modeling process following a period of favorable economic conditions. When market disruptions arise, there are actions that organizations can take today to position their business for success no matter what news tomorrow brings. Organizations must prepare to confidently respond to three critical questions:
Can your organization rapidly model 'what-if' scenarios?
Based on the range of scenarios, can you quantify the impact on your liquidity, capital structure needs and cash burn?
Have you prepared contingency plans to address any financial, operational and cash flow issues for all potential scenarios?
Strategic Modeling comes with a comprehensive set of pre-built financial statement reports on income statement, balance sheet and cash flow. By using the out of the box financial statements structure and building it out to the company-specific chart of accounts structure, financial analysts and planners can get instant feedback on the impact of changes they make to each scenario. For more information, here's the official statement from Oracle on EPM Free Financial Planning Model
---
Existing Hyperion customers have two choices – they can either upgrade to the latest on-premise version Oracle EPM 11.2 with premium support through 2030 or migrate to Oracle EPM Cloud. Take this assessment and find out which option is right for you: