Larry Ellison took to stage on Tuesday, June 5th, 2018 at the Oracle Conference Center unveiling a new offering for Oracle Cloud SaaS. The new "offering" is a package of tools and services called Oracle Soar, and it is intended to speed up and help the migration of applications to SaaS offerings such as Cloud ERP, HCM, SCM, and CX.
With Oracle starting its new fiscal year just a few days back, the organization is engaged in a big battle in the Cloud War with AWS and Azure leading the Cloud providers. Oracle is trying to deliver differentiators and enablers to their existing customers to elevate their Cloud Products especially on SaaS and has a huge install base on what they call Applications Unlimited (E-Business Suite, JD Edwards, Peoplesoft, etc.), a segment "Soar" is targeting.
As explained by Ellison in the presentation, Oracle ERP Cloud has more than 4,000 customers live worldwide and is the current leader, according to Gartner in the Cloud Core Financials Management Suites.
The presentation had 3 main takeaways
Enabling a Fast "Soar" to Cloud SaaS
Product Capabilities
Clients Needing No Further Upgrades Once in Cloud SaaS
Enabling a Fast "Soar" to Cloud SaaS
The tools introduced by Ellison focused on the "Automated Upgrade to Fusion ERP". This automation comprises 4 stages – discovery assessment, process analyzer, automated data and configuration migration utilities, and rapid integration tools.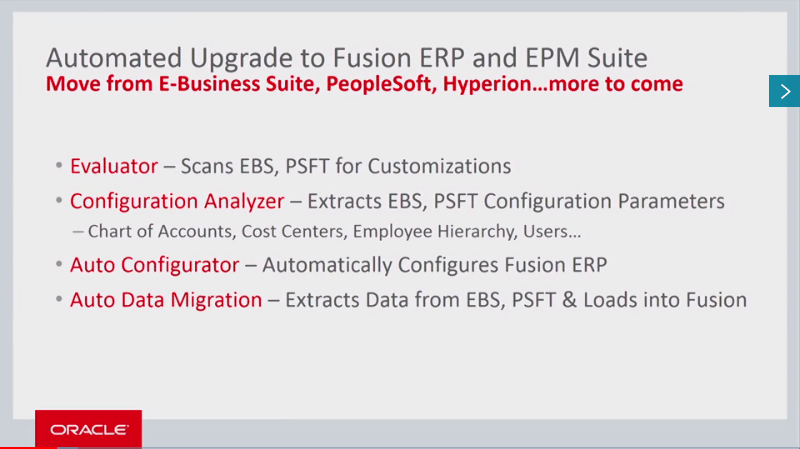 For those of us who have worked with E-Business Suite for decades, this sounds amazing but the reality is that we know this cannot be automated 100% and needs to be clapped with Professional Services. Here's where Oracle is trying to combine multiple services into a single offering. A good example of an offering like this is what we did at IT Convergence a few years ago where we leveraged our experience in implementing Cloud SaaS and built an EBS to Cloud HCM Rapid conversion tool in 2016. We have utilized the conversion tool in numerous implementations we've delivered on time and on budget.
Ellison claims that the "evaluator" can detect customizations in an e-Business Suite implementation so they can be reproduced in the Fusion ERP Cloud. This is an activity that can be automated, as IT Convergence has been doing with internal and external tools in many E-Business Suite upgrades since R12.0, to the extent of identifying custom objects; but replicating the functionality in ERP Cloud or tailoring it requires Professional Services help without question.
Further on the "Configuration Analyzer" scans E-Business Suite to discover things like users, chart of accounts, inventory organizations, memory requirements, disk capacity, and automatically replicates that in the cloud. Here is where companies are willing to overcome the challenges from past implementations with the value of an experienced consulting team that can contribute considerably.
As we all know, "re-implementing" (Ellison used the term "upgrade" instead) E-Business Suite into Oracle Cloud requires a few more steps than just setups and data migration. Even though we agree that implementing Cloud ERP from E-Business Suite might be easier than doing an upgrade of E-Business Suite itself, the complexity will depend on how the organizations can adopt and engage in this journey to the cloud.
Product Capabilities
Ellison also talked about how the "Integration Accelerator", a large library of more than 100 pre-built integrations, of pluggable integrations can speed up the go live by integrating with Salesforce and even SAP.
The introduction of Machine Learning and Adaptive Intelligence to most of Oracle products (some of that is currently available) brought an enormous opportunity to give Oracle SaaS more security and extensibility. The combination of Oracle Autonomous Database and Visual Builder running on top of Oracle Cloud Infrastructure enables a rapid platform for innovation.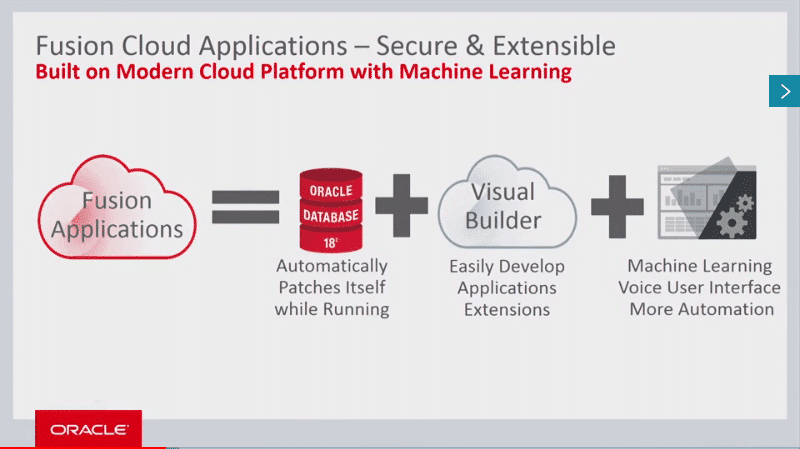 Cloud enables innovation at a fast pace and what we traditionally thought as ERP has been transformed with constant new features and the ability to have automated upgrades. But innovation brings AIs like Siri or Alexa to connect with your corporate software (Steve Miranda, Sr. VP of Applications Development did a good demo of how you can connect Alexa and Oracle Cloud HCM for day-to-day activities).
At IT Convergence, we've been educating clients on the benefits of Oracle Cloud SaaS . Our latest webcasts have been on "EBS Financials vs ERP Cloud: Key Functional Differences", "Oracle ERP Cloud: Let's Talk Numbers!", and "The Best Path to Oracle Cloud" where we discussed different practical paths to Oracle Cloud for E-Business Suite customers and how these paths can be combined. Of course, the most important aspect that we emphasize, along with Ellison, is the importance of the reduction of the existing customizations in one's E-Business Suite with standard and more advanced functionality on Cloud ERP.
Extending Cloud ERP through Visual Builder gives customers the choice of building custom integrations, extensions, and reports as well as extending functionality through mobile support, chatbots, and machine learning for even more automation. IT Convergence has over 1,000 development projects completed successfully through our right-shoring approach which we tailor to meet every customer need on Visual Builder and edge technology.
Ellison also demonstrated some existing features that are improving user interaction through automation. This is something that we discussed in our webcast, "Oracle ERP Cloud: Let's Talk Numbers!" – payables automation, consolidations across subsidiaries, and interesting addition of "automated Fraud Detection" on invoices and expenses.
Clients Needed No Further Upgrades Once on Cloud SaaS
Ellison's proclaimed that moving to the Cloud will be "the last upgrade you'll ever do."
We anticipated this about a year ago in our blog post "Oracle Cloud Update: 3 Changes You Should Know" where we described the method for releases and new features in Oracle Cloud SaaS. It's a little different than how you upgrade your iPhone, but it tries to mimic it with features that will be available automatically as well as some that might require some setup and configuration. This has been available since Release 13 (current version) forward so there's no news around this.
One More Attempt
Beth Boettcher, Sr. VP of Applications Consulting, presented on how Oracle Consulting can help organizations on their journey to the cloud through their ERP Automated Upgrade Utility plus Oracle True Cloud Method (TCM) as another attempt to bring Oracle consulting into the forefront. 
Oracle Consulting introduced -currently in road map- an implementation toolkit, which it is a project site with tasks and resources that will add visibility to the project plan.
It is one of the many methods of monitoring the activities of a project plan. Beth also talked about the simplest migration taking 20-weeks to complete. We have completed projects in similar time frames, like when we helped RLJ in implementing, redesigning, and integrating Oracle ERP Cloud with IT Convergence's IP accelerators and project methodology based on Oracle Unified Methodology (OUM).
The Long Story Short
The Oracle Soar is a combination of product and consulting, aiming to be a fast, easy way to get customers into Oracle Cloud ERP from their Applications Unlimited:
Automated Upgrade Utility
Services to add Integration, Extensions, Reports, Localizations
A project Toolkit
A dedicated Launch team (located in Denver CO and Bangalore India)
Oracle University for training
Oracle Customer Care
Support -which just has been updated as described in this blog post "Oracle's New SaaS Support Services Explained"
Finally, with the introduction of tools and technology, Oracle is enabling organizations with the speed of changes for a constantly changing business environment. Oracle Cloud SaaS is the enabler of this big change, as the starting point of a journey that will add new features and functionalities (such as IoT and Blockchain) as part of the product is very easy to get as part of your subscription.
At IT Convergence we've been helping customers in their journey to the Cloud IaaS, PaaS, and SaaS with our proven methodology, tools, skills, and certified resources across the different areas.
Looking for more information on how you can start your journey to the cloud? Check out our website, or drop us a comment below.
You can watch the Oracle Soar full presentation (40 minutes) on demand here.
---
Live Webinar: Developing a Successful Cloud Applications Strategy
Learn how to identify cloud opportunities and develop an Oracle SaaS strategy that delivers lower costs, robust analytics, and faster access to new functionality.