The recent pandemic tested several industries to the limit for their ability to react and adapt to constantly changing market conditions. Supply-chain disruptions, remotely closing books for the first time and managing unexpected risk were just a few.
The speed and breadth of market shifts rewarded companies who were already well along on their transformation journeys. Those who were able to constantly monitor business impact in real-time, predict and act on potential business disruptions as well as those who were already running their business on SaaS, making the shift to work from home far easier.
Barriers to cloud adoption
What are the biggest barriers holding back cloud adoption in your organization?
42% respondents: lack of staff resource or expertise
39% respondents: general security risks
39% respondents: integration with existing IT environment
28% respondents: data security, loss, and leakage risks
34% respondents: legal and regulatory compliance
27% respondents: loss of control
24% respondents: internal resistance and inertia
Source: Cybersecurity Insiders: 2018 Cloud Security Report
Companies are moving to cloud solutions such as software as a service (SaaS) at an ever-increasing rate, seeking to gain the speed, flexibility, and security features that their business requires. Yet many of these same businesses may not have the in-house expertise to get the most out of their SaaS applications. Be it Oracle Enterprise Resource Planning (ERP), Enterprise Performance Management (EPM), Supply Chain & Manufacturing (SCM), Human Capital Management (HCM), Customer Experience (CX): Marketing, Sales, Service, Data Cloud, SAP, Salesforce or any other application. For critical applications management becomes more complex.
However, many fail to mis-judge the post implementation management scope and assume all responsibilities shall fall under SaaS Application vendor's scope. But here is where it starts getting interesting once you understand the difference in the shared responsibilities, you learn that few roles become less relevant however few others start adding more responsibilities.
Shared Responsibility of SaaS Applications
While the SaaS application vendor has a shared responsibility to take care of post- implementation support services in the Base App, others fall directly in the responsibility of the client to either manage inhouse or leverage expert Managed Services of certified partners.. These responsibilities include:
Shared Responsibility of SaaS Vendor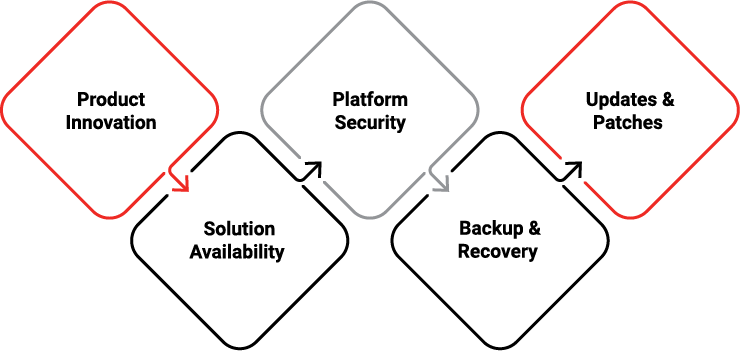 Shared Responsibility of SaaS Customer

Top 4 Business Challenges and Resolutions for Cloud ERP SaaS
Challenge 1- Increased User Adoption
Need to enable user productivity and satisfaction with application functionality
Adopt new technology and functionality quickly
How do you:
Set up core business functions?
Configure recommended practices?
Assist your end users with adoption of SaaS functionality?
Provide business transaction support?
How to resolve?
Business Help Desk for SaaS increases business end user satisfaction through elevated help desk support, including timely and targeted functional support of your end users, configuration assistance, new feature demonstration, and SLA-based response and resolution times.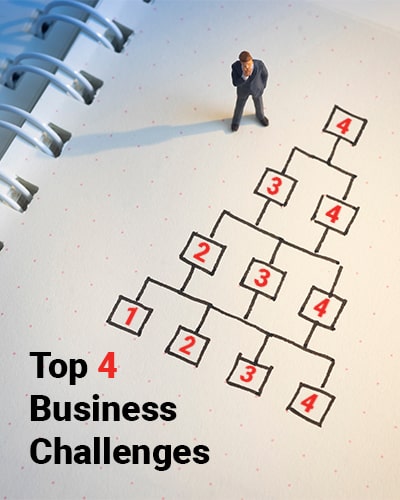 Challenge 2- Business Continuity
Need to deliver superior SLAs and ensure business continuity when it matters most
How do you:
Address performance issues of critical processes (e.g., during month-end close)?
Integrate cross-cloud workloads?
Adopt processes to business changes quickly?
How to Resolve?
Get expert help to deliver support which provides fast issue resolution for your most critical SaaS solutions.
Cloud ERP Certified partners can provide high availability and performance and assists with the ongoing execution and effective use of cloud solution through end-to-end support of your entire environment by a dedicated support team.
Resolution team to ensure business continuity during key events through 24/7 management and monitoring of critical processes and rapid issue resolution.
Challenge 3- Technical Optimization
Need to deliver outstanding operability and performance as the cloud environment evolves along with the business. You can achieve high performance of your on-premises and cloud environment with engaging technical cloud experts.
How do you:
Manage extensions and integrations?
Lower your support cost?
Bridge your resource gaps?
Make the most of your SaaS environment?
How to Resolve?
Expert team can help make your cloud journey a success with personalized support of skilled Tech engineers and technology leaders who understand your environment and business goals.
Scripts and methodologies for Extensions and Integration Support for SaaS gives you high agility through efficient management of extensions and PaaS for SaaS integrations.
Regression Testing for SaaS minimizes change impact on key business flows through effective SaaS application testing.
Challenge 4- Post Implementation Issues
Need to better shield applications from unauthorized access and threats. Secure your SaaS/PaaS hybrid environment and control access efficiently with the use of market leading tools for IAM, Observability, Security and Threat Management.
How do you:
Prevent unauthorized access and data breach?
Manage security of our cloud-based applications to the highest standards?
How to Resolve?
The Advanced Customer Services team of experts for Managed Identity Cloud Service protects identities, authentication, and access to your SaaS and other cloud and on-premises applications with a unified, cloud-based service.
While the above solve the business challenges the IT Team too has issues which they have to consider resolving. When in-house IT teams struggle with the new requirements of supporting cloud-based environments, it can have a significant impact to business.

Don't have experts to fully understand the existing environment or what impact will happen to their existing environment? Engage a certified Cloud ERP expert partner who can consult and manage all business and IT challenges for you seamlessly while delivering maximum ROI.
How ITC can help
ITC's Cloud ERP Managed Services team has many years of experience in operation and support of critical applications like Oracle in the cloud and on-premises. More than 1500+ cloud experts & subject matter experts around the world assist and guide customers toward their business goals.
Support Services Descriptions from ITC for Cloud ERP?
Support services will resolve the above 8 key challenges for Oracle SaaS customers . Detailed description of services will focus on resolving:
Prioritized issue resolution
Designated support team, Proactive and reactive support
Flexible service bundle
Function services, end user support
24/7 support and monitoring when it matters the most
Extensions, PaaS for SaaS
Application testing for business continuity
Guidance and assistance with all Oracle Technologies
Suite of services for highest security and data protection
Expert Identity management
A targeted and flexible SaaS management services portfolio can address your key requirements. Our Engineers, armed with recommended methodologies and sophisticated service delivery technology, can help you build a successful business operation and relieve your IT staff from routine tasks.