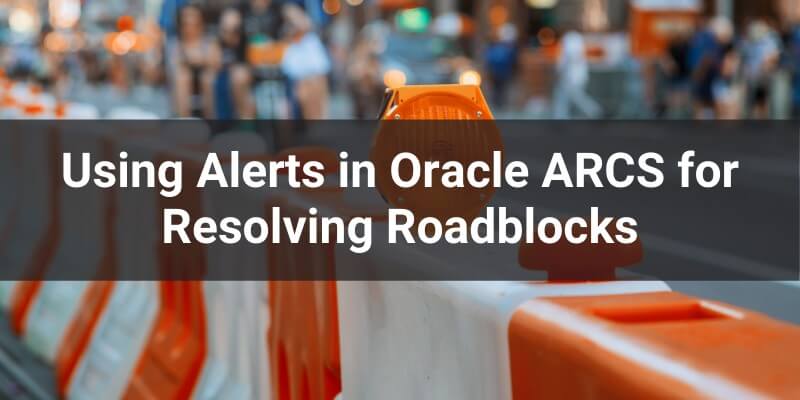 While performing account reconciliation, the user (Preparer or Reviewer) often needs additional information, justification, or help to complete their reconciliation. This process usually requires multiple email follow-ups resulting in unnecessary delays in completing the reconciliation. These delays cannot be explained in the reconciliation and in such cases, administrators have no clear information on why the reconciliation is pending beyond the deadlines.
Exceptional Management Using Oracle ARCS Alerts
Oracle Account Reconciliation Cloud (ARCS) has introduced new functionality in October 2020 called "Alerts" to facilitate a better way of tracking communication and resolving roadblocks during the reconciliation.
Alerts include instructions, questions, attributes, workflows, and have their own templates
Centralized management of alerts for administrators through a new Alerts List are available through a new card on Account Reconciliation Home
Automatic creation of alerts through the use of rules that get triggered based on meeting certain conditions
Oracle ARCS users can access the alert by visiting the URL provided in the email
External users can reply to the owner of the alert via email, and the owner can track it in Oracle ARCS
Business Benefits
These features provide users with a way to find help during the business cycle and close reconciliations faster. A few common use cases include:
The Preparer can request another colleague to post an adjustment back to the ERP system if they are going on vacation. The adjustment is found during reconciliation and is made in ARCS but pending for ERP.
The Preparer can find a missing transaction for which the user is raising an exception in Accounts Receivable or Payable and send an alert to the PO user to address it.
An automated alert is created when the Age of Adjustment created in ARCS exceeds 60 days. This means that the adjustment in the ERP is still open and not addressed.
An Automated Alert is sent to Internal Auditors asking them to perform an audit for high-risk accounts when $ balance is > 5 M USD.
The Preparer might need additional information before submitting the reconciliation regarding a particular transaction of a specific account.
Notify or request information from external users (suppliers, bank, etc.) by sending them alerts via email, while the Preparer keeps himself the assignee to record responses and close the alert.