Build enterprise apps 20x faster with 100x less code with Oracle APEX, now powered by Oracle Cloud Infrastructure with an aggressive pricing.
Oracle Application Express (APEX) is a low-code development application platform that enables customers to build scalable, secure enterprise apps, with world-class features, that can be deployed anywhere on, onprem or Cloud.
Using Oracle APEX on Oracle Cloud, developers can quickly develop and deploy compelling apps that solve real problems and provide immediate value. Customers don't need to be an expert in a vast array of technologies to deliver sophisticated solutions. Focus on solving the problem and let APEX take care of the rest.
31.1% CAGR
Increasing demand for business digitization, adoption of cloud technology, less dependency on professional developers, and stringent government norms are the key factors driving low-code development platform industry
Source:
Oracle APEX on Oracle Cloud Infrastructure
Interestingly, Oracle today is making its popular APEX low-code development platform available as a managed cloud service that developers can use to build data-driven enterprise applications quickly and easily.
Expands on two decades of APEX functionality already used by 500,000 developers as an easy-to-use, browser-based service for creating modern Web and mobile apps.
While the original APEX platform was only available as part of the Oracle Database, APEX Application Development is available as a standalone service and works with a variety of applications.
Running on Oracle Cloud Infrastructure (OCI), the service starts at $360 per month, providing support for more than 500 users and unlimited applications, and elastically scales as additional capacity is needed.
A recent study from Pique Solutions showed that developers could build enterprise applications 38x faster with the Oracle APEX service without having to learn complex, full-stack technologies.
The Oracle APEX architecture provides extremely tight integration with the database, enabling a 10x reduction in round trips between the application and the database, resulting in much faster response times for end-users of data-driven applications. Additionally, APEX allows application developers to fully exploit the power and simplicity of SQL.

Oracle APEX Application Development – Comprehensive Low Code Platform

Oracle APEX Application Development – Framework
Used to build desktop and mobile applications for the Oracle Database. Oracle APEX enables you to design, develop and deploy beautiful, responsive, database-driven applications, either on-premises or in the cloud.
Quickly build reports, forms, charts, calendars, etc. on top of the data in your database
IT Developers and "citizen-developers" who know a little SQL can readily build applications.
Oracle APEX can also take advantage of the large majority of Oracle Database features.

Oracle APEX Application Development – Characteristics
The beauty of APEX is that it doesn't require any client software, is a meta-data model execution engine and easier to maintain in contrast to code generation, and is one of the most efficient execution engine on the planet for Oracle databases.
With a web browser, you can do everything you need to create apps:
Model database objects
Load/unload data
Create REST interfaces on this data
Build applications on these database objects
Run and deploy applications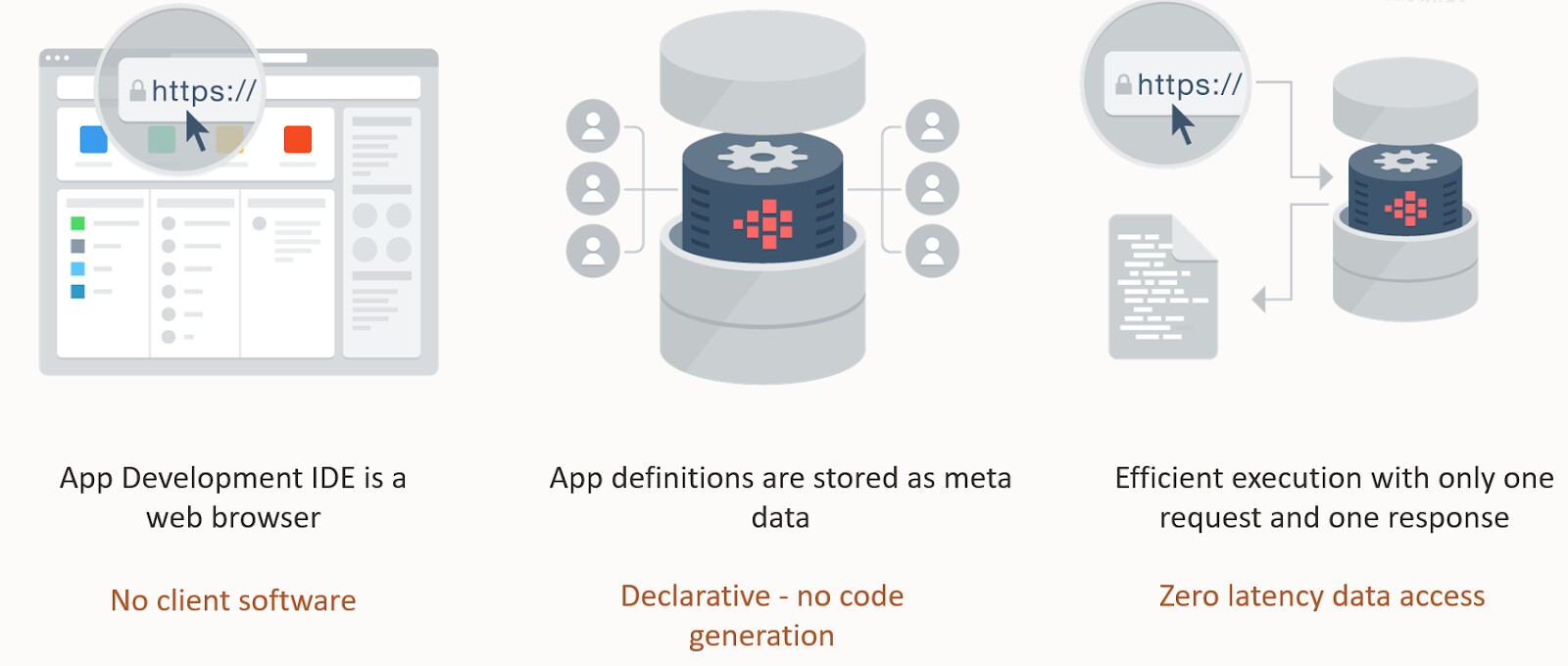 Oracle APEX Application Development – Architecture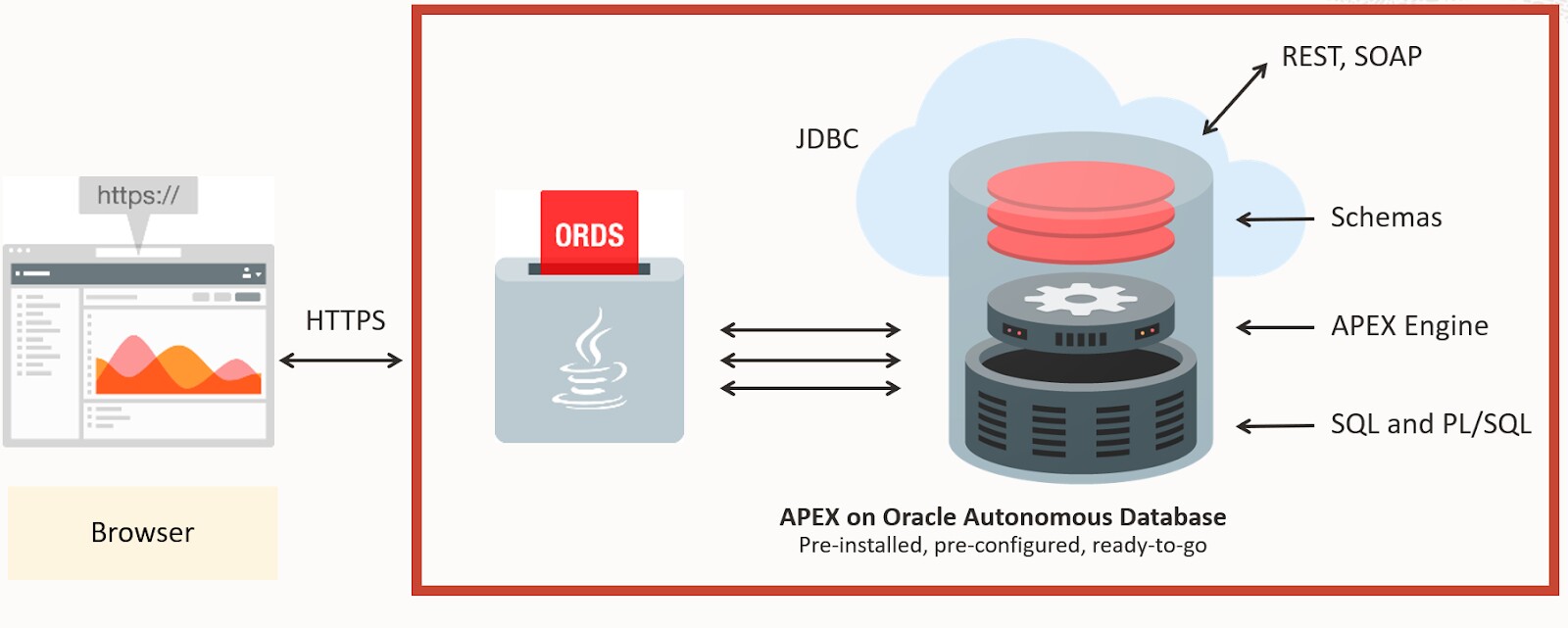 Oracle APEX Application Development – Value Proposition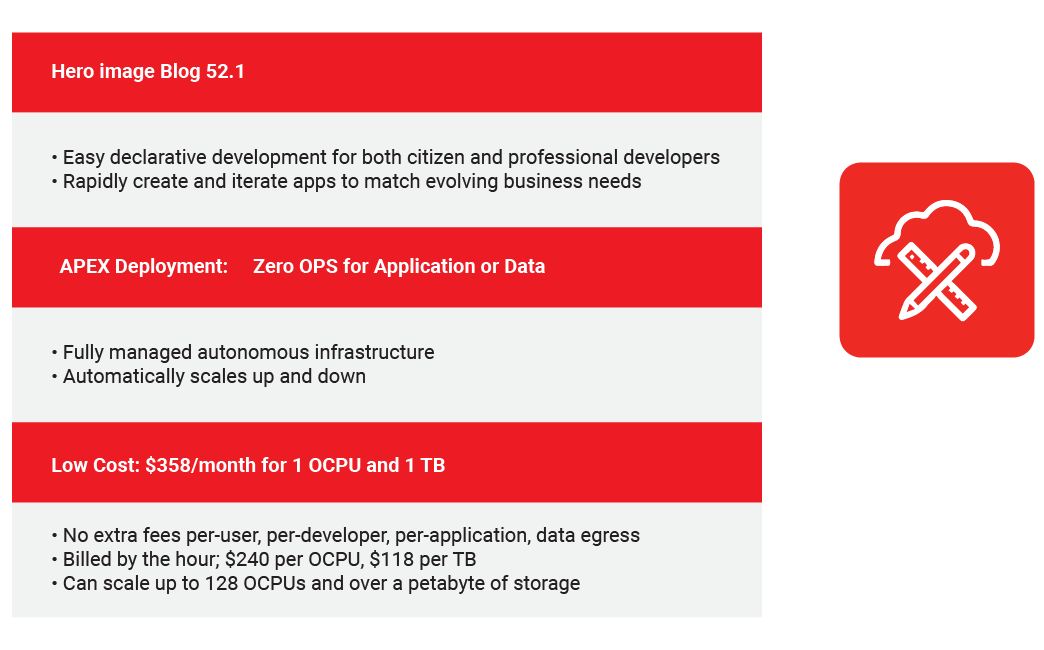 Use Cases Apex Can Help Solve
Use case 1 – Transform your spreadsheets to web apps
For Spreadsheet replacement, you can drag and drop CSV, XLS, XML or even JSON files into APEX.
APEX creates all the base tables, and create a new app based on that spreadsheet in minutes.
You can even create charts, calendars, validation rules, and more in mere minutes
Copy / paste or upload a spreadsheet file

Creates table in oracle database

Determines best-fit data types

Uploads data into oracle table

Creates first-cut of app
Move to a single source of truth

Send out a URL not a file

Secure, scalable, multi-user app

Add validations to improve data quality

Superior reporting with faceted search & dashboards

Extend with charts, calendars, and more
Use Case 2 –Rapid application development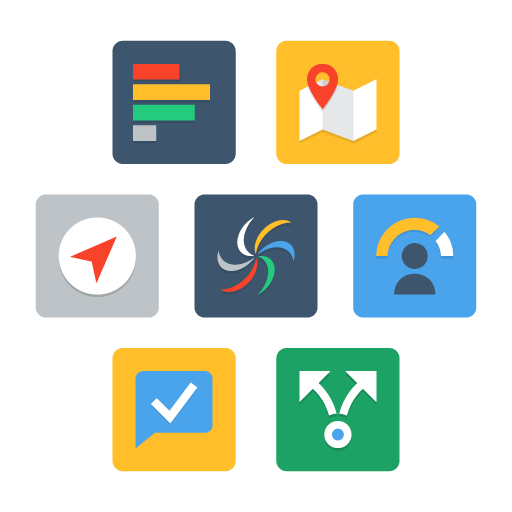 Build apps in days / weeks not months / years

Use powerful wizards to create fully featured apps

Low-code capabilities allow non-IT professionals to also build or help build apps

Easily modify to meet changing requirements

Rapidly iterate to production-ready app
Opportunistic 

Simplistic, tactical apps to meet immediate need

Webify paper processes

Generally developed by one or two people
Use Case 3 –Modernizing Oracle Forms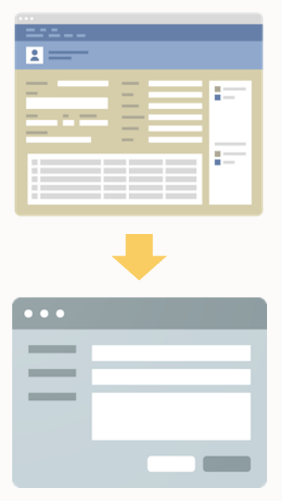 APEX is the natural evolution of forms

Both based on SQL and PL / SQL

Re-use DB packages, procedures, functions

Easily train forms developers to develop APEX
Proof-of-concept using subset of Forms apps

Organization-wide apps, rather than back-office

External apps for customers / partners

Mobile-first apps

Net new requirements
Use Case 4 – Build or Extend enterprise applications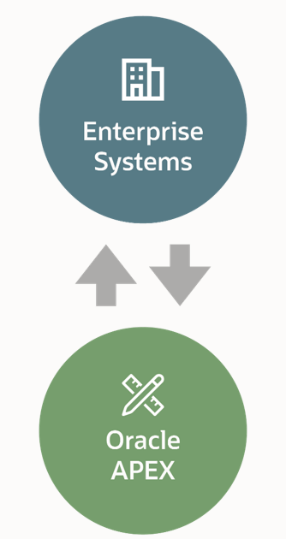 Quickly build custom mission-critical apps

Extend ERPs and other enterprise software such as EBS, PeopleSoft, JD Edwards, SAP, and SalesForce

Provide organization-specific dashboards and reports

Improved workflows

Enhance data capture, corporate data reporting and maintenance
Meet non-standard or industry specific requirements

Optimize common business functions

Integrate disparate data sources

Scale to hundreds of thousands of users

Leverage enterprise features of Oracle Autonomous
Use Case 5 – Integrated AppDev as a Service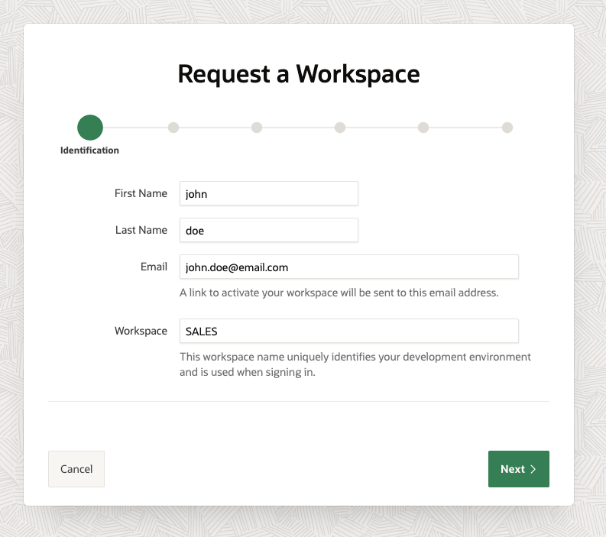 Optional "Self-Service" mode

Turns APEX into a private APP Dev Service

Each workspace provisions a database schema

Approval can be manual or automatic

Allows IT to deliver a service to citizen developers

Allows IT to govern data lifecycle, data management, and standardization of identity management

Used by 100's of customers 
APEX on Always Free Autonomous Database Vs. APEX Service
With Oracle Cloud Free Tier come Always Free Services which includes Autonomous Databases (2 instances). These Always Free Autonomous DB instances come with a generous capacity. The idea behind Always Free is to learn, explore and do POCs and when you are ready move to a Paid service which comes with support and many other capabilities listed on this slide.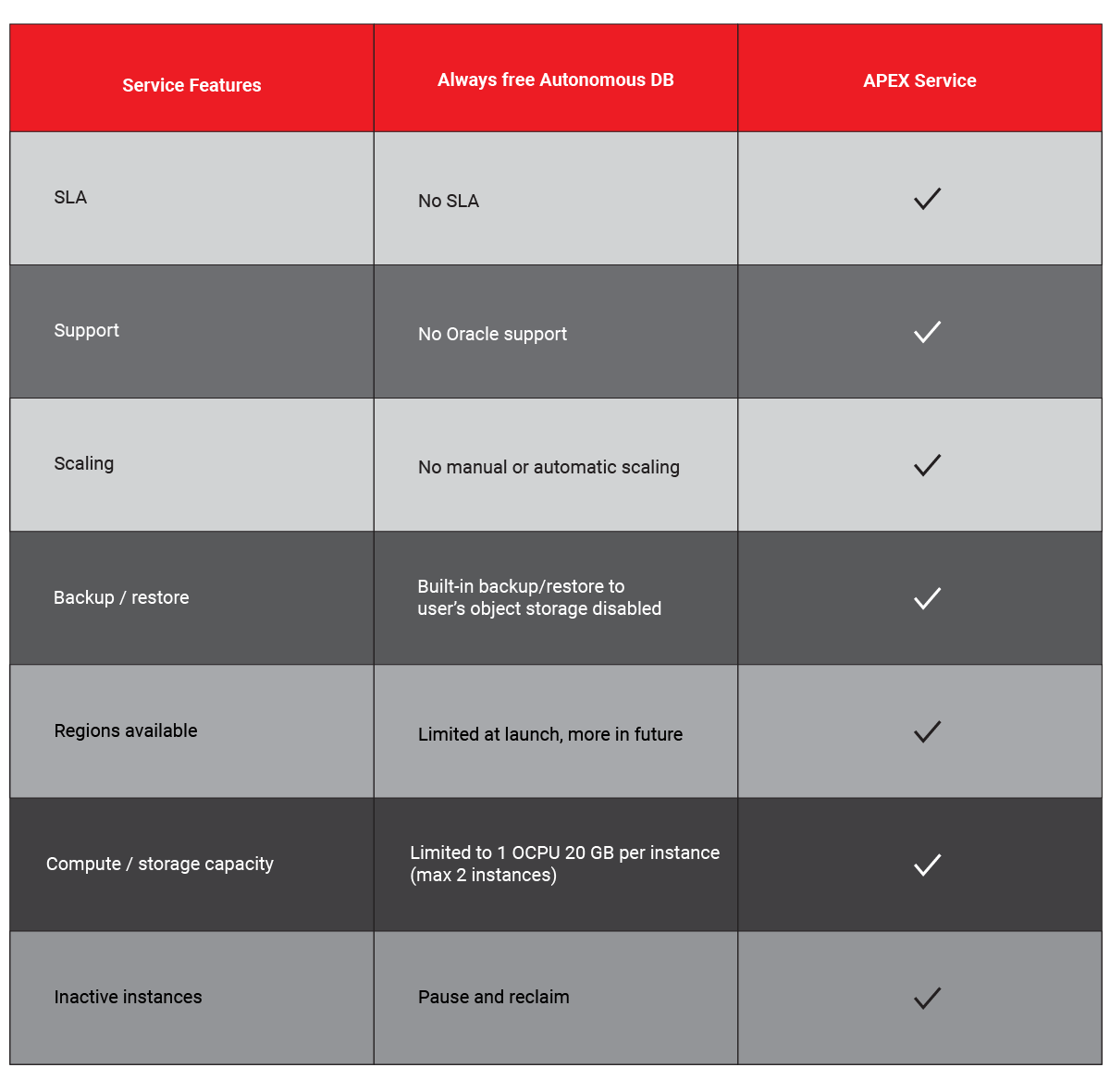 Global Companies are Today Leveraging Oracle APEX on Oracle Cloud
One of the leading British communications company, providing mobile, fixed, broadband and TV services

Uses APEX to manage entire infrastructure lifecycle from provisioning to retirement

APEX was selected as it is flexible, easy to customize, and allows for developing applications incredibly quickly with minimal coding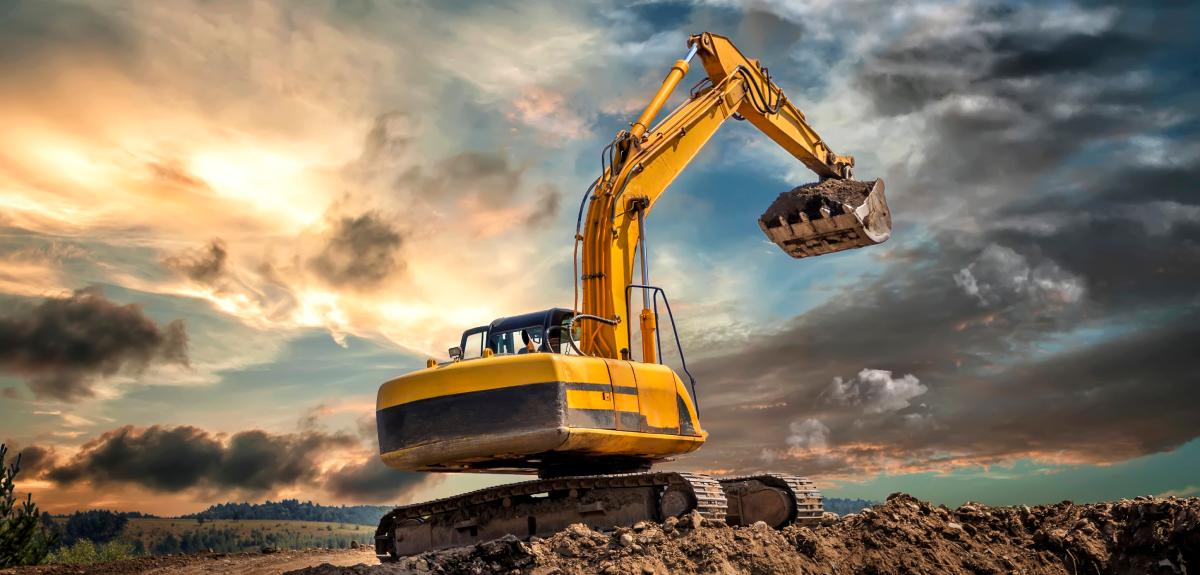 Leader in intelligent digital mining improves operational profitability and sustainability – Aaccelerates time to value

Ingests GBs of daily IoT sensor data at 2x faster performance and with flexible auto-scaling  

65% reduction in DBA workloads increased productivity on development and reporting 

Built-in APEX speeds development to deployment of new low code apps from 6 weeks to 1 week 

Future plans to use Oracle Machine Learning's once Phyton compatibility is available. 
Conclusion
IT Convergence can help you kickstart your Oracle APEX journey or even accelerate APEX to Oracle Cloud migration journey to maximize your time to value. Other key benefits which ITC can deliver:
– Inflight Upgrade of Oracle APEX on Oracle Cloud Infrastructure
– Assess & optimize APEX to Minimize architecture
– Oracle APEX integration with Identity Management SSO
Our unique methodologies and tools deliver the most cost effective and time saving for Cloud solutions.