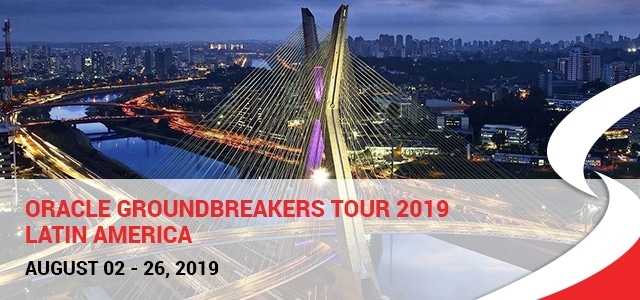 The Oracle Groundbreakers Tour Latin America will be held in 12 cities, where global technology experts will conduct sessions and workshops on the latest developments in Databases, Security, Integration, Big Data, BI & Analytics, and NoSQL Databases.
Join ITC's experts at the event for informative sessions on cutting-edge Oracle tools and technologies. Don't miss this opportunity to interact with our experts.
Presenter and Session Information
Gustavo Gonzalez
Chief Technology Officer
Gustavo is an Oracle ACE Director and IT Convergence's Chief Technology Officer and has been with ITC since 2006. Throughout his tenure as CTO, Gustavo has led IT Convergence by anticipating and reacting to major technology changes, making sure our teams – and our customers – are one step ahead.
Gustavo's thought leadership has been presented in more than 200 conferences around the world in more than 25 countries in North America, Europe, Latin America, and Asia. He is an author of multiple Oracle publications and the President of the Latin American Oracle User Community.
Session 1: Revitalize Your Visualizations with Oracle Autonomous Analytics Cloud
Oracle Autonomous Analytics Cloud Service is a complete platform in the Cloud-based on four pillars – Connect, Prepare, Explore and Share. Oracle Analytics Cloud allows users to connect to more than 50 different data sources, tools for auditable and traceable data handling, and a rich self-service visualization, exploration, and socializing insight across the organization. In this session you'll explore how organizations running Discoverer can benefit, we'll review best practices and lessons learned while moving out of an on-premise solution to the Cloud and which option is right for you.
Objective 1: Explore the concepts of working with multiple data sources – even your own personal files as a source.
Objective 2: how to prepare the data using the powerful tools available in OACS as well as how to build stunning visualizations for your organization
Objective 3: For organizations running Discoverer, we'll review best practices and lessons learned while moving out of an on premise solution to the Cloud
Session 2: New Startup? Rethink Building an App, Consider Digital Assistants!
The growth of the chatbots had to do with the fatigue of apps that we have in our day today. We needed an option to make application interaction and information search more attractive.
This session will help analyze the impact of the advance towards Artificial Intelligence to develop chatbots solutions.
E-Business Suite customers are embracing Chatbots for HCM Data, Absence Management, and even at the System administrator level.
We will learn how you can agilely build chatbots for your existing or new applications almost without limits by means of Oracle Autonomous Mobile Cloud Service.
Objective 1: The advance towards Artificial Intelligence and the tools of development in the cloud makes it easier to build chatbots for your existing applications
Objective 2: Discuss the 4 key components in the Oracle Intelligent Bots Platform to allow you to easily build these solutions: Configuration of the messaging channel, Flow of the execution dialog, Artificial Intelligence machine, Custom components
Objective 3: Show examples of how you can create your intelligent chatbot visually in the Oracle Intelligent Bots Platform with minimal code for a simple application as well as for your organization
Session 3: Learn How to Unlock Your EBS Data for Free Running in Days!
Oracle announced at OOW18 the availability of new Enterprise Command Centers for the E-Business Suite. This ECC is "unlocking the value of enterprise data" without any licensing costs. It is a product that is "free" for E-Business Suite customers running release 12.2.4 and above and is so simple to install that you can get it to work in "days".
The vision of ECC is to add visibility and optimize the work of E-Business Suite users by enhancing the way they work and accelerating their day-to-day activities. It is a starting dashboard with the right information to act and go straight to the documents or transactions. The rich graph and easy use of refinements -filters, and a powerful search.
Objective 1: Learn how to get Enterprise Command Center to work including patches and configurations
Objective 2: See in action how users will start in a dashboard with the right information to act and go straight to the documents or transactions
Objective 3: How users can tailor the ECC apps without a single line of code
Objective 4: Understand how the administrator can add new fields and more details
Edelweiss Kammermann
CMS BI Director
Edelweiss is an Oracle ACE Director specializing in analytics, author, and an Oracle community leader. She serves as Vice President and Director of Community for the Latin American Oracle Users Council and is a founding member and VP of the Oracle User Group of Uruguay.
At IT Convergence, Edelweiss is the Director of the Business Intelligence and Analytics practice. Edelweiss has technical certifications in Oracle Analytics Cloud, Oracle Big Data, and Oracle Data Integration, and years of hands-on experience with Oracle BI solutions.
Session 1: ADWC for Developers and Data Scientists
Oracle Autonomous Data Warehouse Cloud is the easiest option for having a data warehouse or data lake in the cloud in just a few minutes without having to worry about performance tuning or DB administration tasks. It provides CPU and storage online scaling and high availability on each component. In this session, you will see how easy it is to create an Autonomous Data Warehouse Cloud instance, start developing immediately, and use machine learning features for cleaning and analyzing data, discovering patterns, and performing predictive analytics. This session includes a live demo.
Workshop: Getting Started with Autonomous Data Warehouse
Session 2: ADWC, DIPC & OAC: The Dream Team for End to End Analytics
Having the right answer to your questions immediately, plus access to the right data is crucial. You also need predictive and proactive analytics to make the right decisions. But how do you get the right data from many sources, including big data sources? And how can you achieve great performance without spending hours and days trying to tune each query? In this session learn how the integration of Oracle Autonomous Data Warehouse Cloud, Oracle Data Integration Platform Cloud, and Oracle Analytics Cloud solves these issues and how these cloud services can be created and integrated. This session includes a live demo.
Jose Mayen & Hector Andrade
Oracle Big Data Integration & Data Visualization
Currently, companies seek to integrate and analyze information that is not only generated within their transactional systems, so that the rest of the information and storage intake is now governed by the Volume, Velocity ​​, and Variety of it, giving way to the creation of data lakes to perform the integral analysis of the information in a single site. With technological evolution, this is possible by adopting distributed processing and storage technologies such as : Apache Hadoop, Hive, Impala, MapReduce, Yarn, etc. In this session, we will talk about how to obtain information from various structured and unstructured sources and integrate them with Oracle Data Integrator, using the Cloudera distributor for Hadoop and other ecosystems and later viewing with Oracle Data Visualization Desktop. This session includes a live demo.
Jose Cabezas & Michael Ballestero
OAC and Machine Learning: Proactive Analysis
Nowadays, descriptive and reactive data analysis must go one step further than a simple analysis of historical data. This is why different types of analysis such as predictive, prescriptive, and proactive appear to explain future events and how to handle them. It is in this sense that Machine Learning technologies collaborate greatly. This session will demonstrate how Oracle Analytics Cloud, using Machine Learning features, can collaborate in different types of analysis and how to train these models to obtain the desired results.