According to Gartner's latest assessment on Oracle's Cloud IaaS & PaaS solution, Oracle Cloud Infrastructure's design has evolved to support Oracle and Non-Oracle workloads because of which Oracle Cloud Infrastructure offers a host of tooling and infrastructure support systems to cater to your custom needs.
Oracle Cloud Infrastructure delivers higher performance compute, storage, networking, and managed database instances that result in a high-performance experience for your users at a lower cost of operation. Oracle Cloud Infrastructure is the only platform where you can run the Oracle Database with Oracle RAC or Oracle Database Exadata Cloud Service. Other cloud systems are limited to less robust configurations.
In addition, Oracle provides specific tooling and automation to streamline deployment, migration, upgrading, and maintaining your implementation, reducing the time, expertise, risk, and cost of migration and day-to-day operations.
Oracle Cloud Migration Tools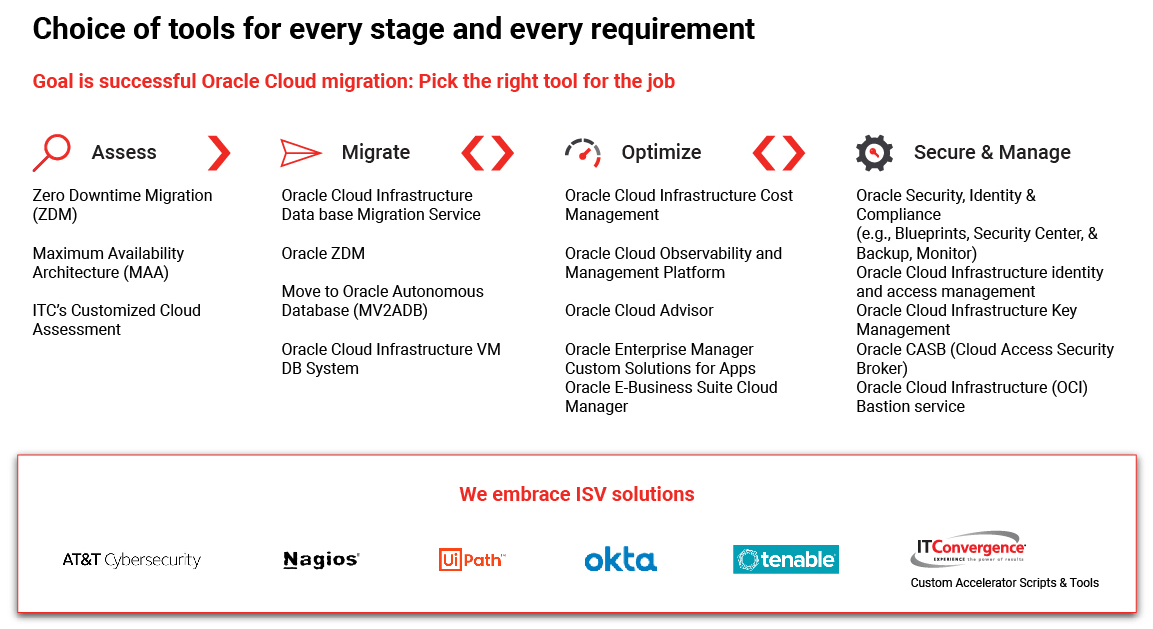 Tools for Cloud Assessment
Define high-level process that you will be using to assess your existing workloads and which data you'll be gathering to determine suitability for a cloud migration initiative. Gathered data should include enough information to determine the risk associated with the application, the technical and performance requirements, and whether the application can be moved "as is," or if it requires transformation.
Zero Downtime Migration (ZDM)
Maximum Availability Architecture (MAA)
ITC's Customized Cloud Assessment
Our certified cloud experts (CSPE) have successfully migrated critical environments to Oracle cloud for customers. Cloud expert teams help build a strategic roadmap of Application to Cloud journey with a personalized cloud assessment & TCO for you. You are assured of getting no-surprises or roadblocks on your cloud journey.
Tools for Data Migration to Cloud
Streamline migration with the use of Oracle native tools, tried and tested Intellectual properties (IP) & PaaS, which is designed and developed through a skilled team and have successfully executed complex projects. This team should have deep knowledge of the tools design methodologies for the migration project. Well documented projects can accelerate the migration process
Oracle Cloud Infrastructure Database Migration Service
Oracle ZDM
Move to Oracle Autonomous Database (MV2ADB)
Oracle Cloud Infrastructure VM DB System
Tools for Cloud Optimization
Observability, Monitoring and Management Platforms tools are converged with analytics services provided by Oracle. This provides the underpinning for Oracle's Autonomous Database services as well.
Observability is fast becoming one of the most critical enablers of digital infrastructure operations. Moving beyond traditional reactive log monitoring and dashboarding, observability allows ITOPs, CloudOps, DevOps, and SRE teams to quickly correlate, analyze and take action on infrastructure and applications performance metrics and traces including cost data, end user experience data and time series data such as Prometheus from container and cloud platforms.
Web-based applications that drive all the principal automation flows for Oracle Cloud Infrastructure, including provisioning new environments, performing lifecycle management activities on those environments, and restoring environments from on-premises.
Oracle Cloud Infrastructure Cost Management
Oracle Cloud Observability and Management Platform
Oracle Cloud Advisor
Oracle Enterprise Manager
Custom Solutions for Apps
Oracle E-Business Suite Cloud Manager
Tools to Manage Cloud Securely
Oracle Security & Management: (e.g., Blueprints, Security Center, Backup, Monitor)
Oracle Cloud Infrastructure identity and access management lets you control and Manage who has access to your cloud infrastructure resources, level of access they have, and to which infrastructure specific resources. This also helps you manage complicated organization rules with logical groups of users and resources and simple-to-define policies.
Oracle Cloud Infrastructure Vault – Key Management: This tool enables you to encrypt data using keys you control. Unified managed and maintained the encryption keys that protect enterprise data and the secret credentials used to securely access cloud resources on Oracle Cloud.
Oracle CASB (Cloud Access Security Broker) provides complete visibility to the entire cloud stack with security automation tools customized to your IT team needs into your. Gain visibility and detect threats on the entire cloud stack for workloads and applications with Oracle CASB.
Oracle Cloud Infrastructure (OCI) Bastion service enables access to private hosts without deploying and maintaining a jump host. Without the need for a public IP for bastion access, eliminating the hassle and potential attack surface from remote access.
Oracle Security, Identity & Compliance (e.g., Blueprints, Security Center, Backup, Monitor)
Oracle Cloud Infrastructure identity and access management
Oracle Cloud Infrastructure Key Management
Oracle CASB (Cloud Access Security Broker)
Oracle Cloud Infrastructure (OCI) Bastion service
Other Strategic Cloud Migration Tools And Management Partnerships
While the focus can be to leverage Oracle cloud native tools however, to maximize your existing investments you can initiate critical partnerships with a number of complementary companies that allow you to provide non-Oracle technical, functional and development support for software and technology critical in the overall cloud architecture. The partnerships here represent a select few of the relationships that can be developed and continue to maintain in order to best service your customized needs:
Oracle Cloud Platinum Partner & Managed Services Provider
AT&T Cybersecurity: Alien Vault & SIEM
Nagios: Enterprise Monitoring Solution
UiPath: Robotic Process Automation (RPA)
OKTA: Identity & Access Management
Tenable: Vulnerability Management