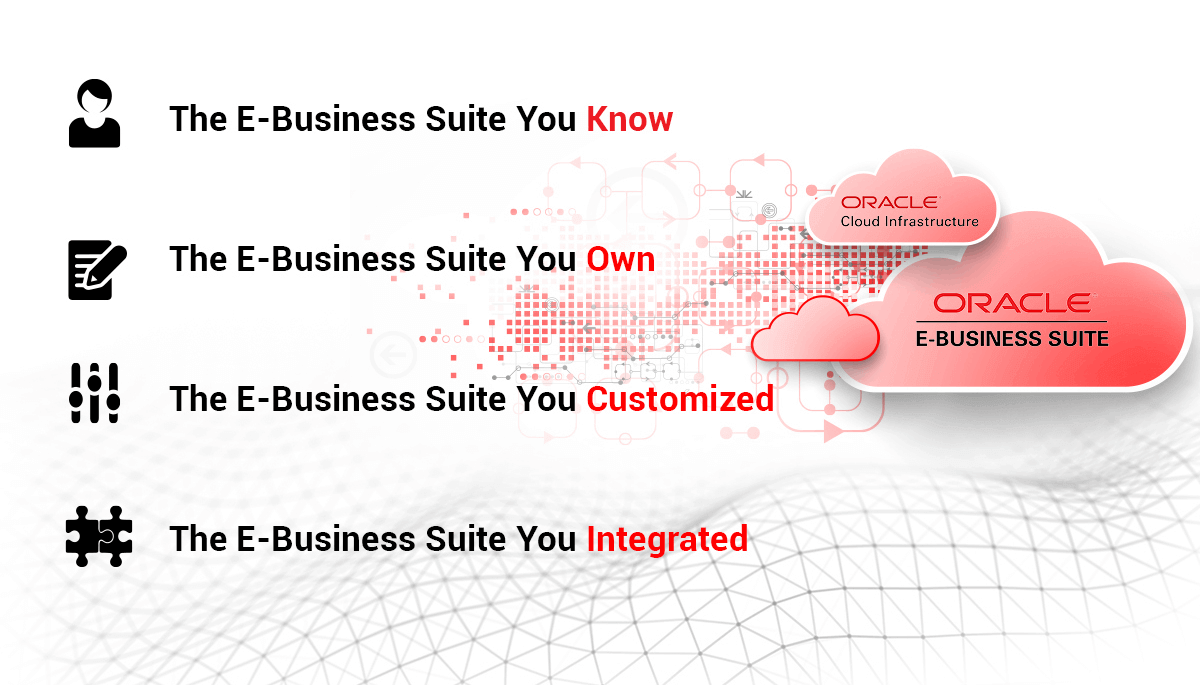 Designing a Move and Improve Strategy for Oracle Cloud
Challenges of Onprem Oracle EBS Solution
In case you are reading this blog, you would probably be using Oracle E-Business Suite (EBS) and most probably have an On-prem deployment of one or more of the solutions.
Oracle E-Business Suite supports many business drivers as its comprehensive suite of integrated, global business applications enable organizations to make better decisions, reduce costs, and increase performance.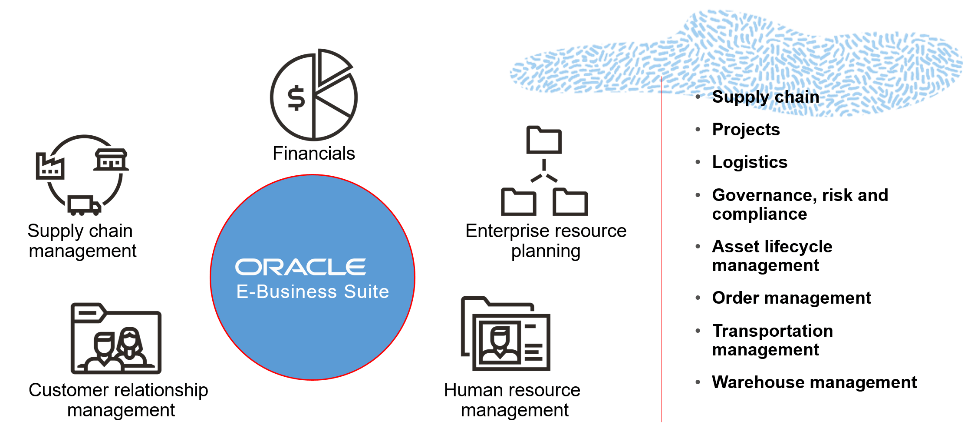 With hundreds of cross-industry capabilities spanning ERP, CRM, SCM, and HCM Oracle E-Business Suite applications help customers manage the complexities of global business environments no matter if the organization is small, medium, or large in size.
Over the years, you have been able to solve your specific business challenges with your instance of EBS Your organization depends on it to manage human resources, finances, supply chain, inventory, and student learning.
You've invested years into your mission-critical app environment, done deep customizations, and integrations with other apps and components to suit your organization's needs. In fact, you may have built it into your system of record, enabling you to run your day to day operations as effectively as possible. Without it, you can't properly manage HR, track your receivables, manage your inventory, nor pay your vendors. In essence, you can't run your business without it.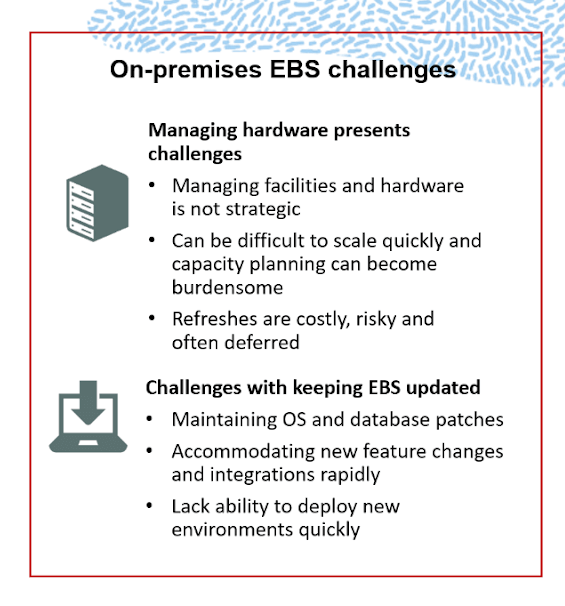 The good news is that you can move EBS to the cloud, keeping the EBS you know, own, have customized and integrated – all while taking advantage of the operational and cost benefits of the cloud. Also, check out this webinar to learn why OCI is the Optimal choice for EBS
Benefits of Move and Improve Strategy
"Move and Improve" is ideal for customers seeking control of Oracle EBS Application settings, and access to the underlying infrastructure for visibility, tuning, and governance purposes
OCI offers the ability to improve application performance, resiliency, and agility with its purpose-built enterprise cloud – optimized for Oracle EBS and Databases. More explained below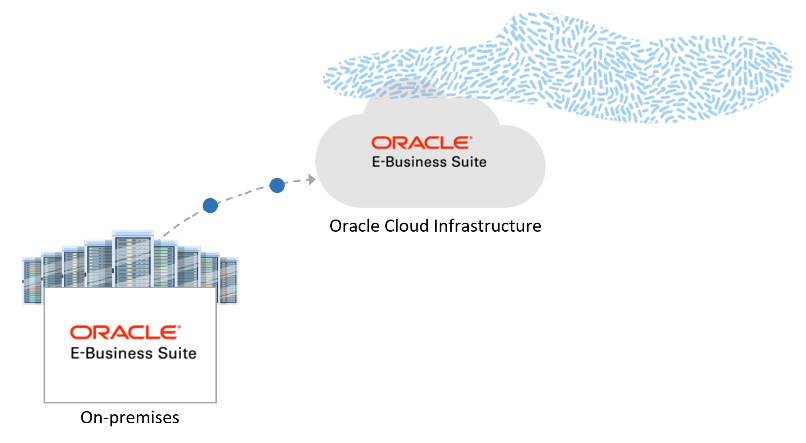 6 Key Areas for Move and Improve: EBS to OCI
To help you move to the cloud, we offer a wealth of proprietary methodologies, automated migration tools, and teams of experts who have successfully migrated Oracle customers to the cloud.
Our teams of experts are ready to discuss the value of EBS that you can benefit, with an assessment. More explained below.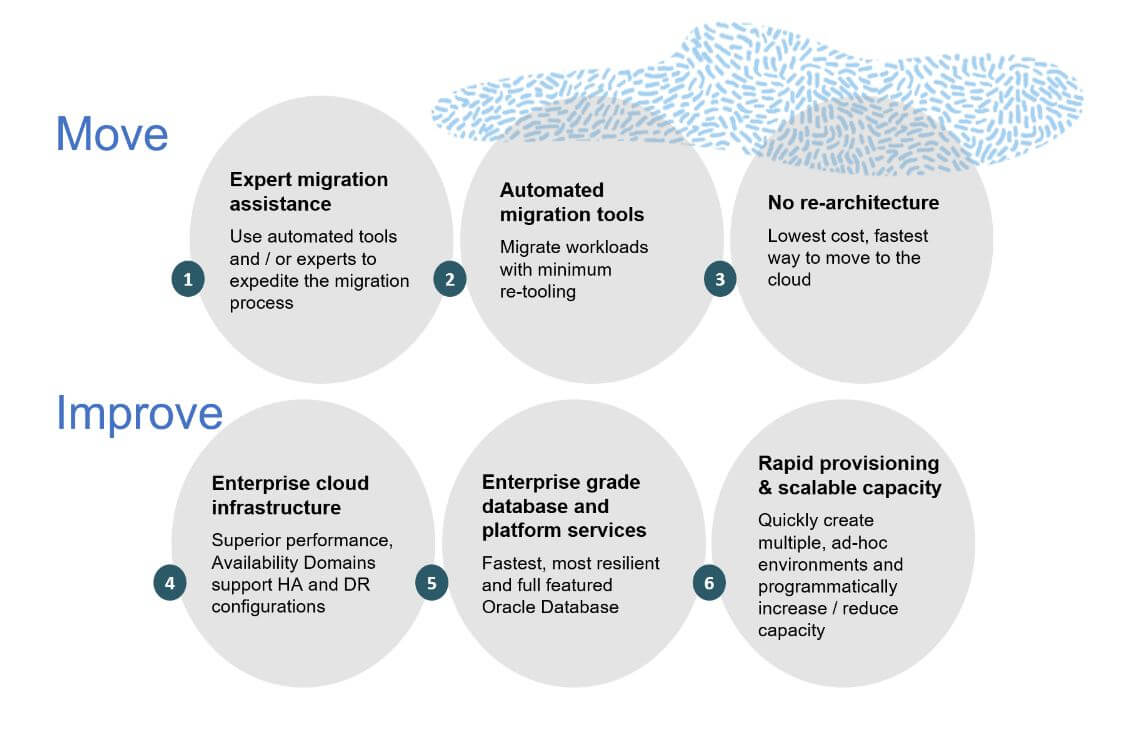 Move: Migration path for EBS with successful methodologies, automated tools, or experts
IT Convergence EBS certified experts can help you migrate & manage any simple to complex OCI environments with tried and tested proprietary tools and methodologies.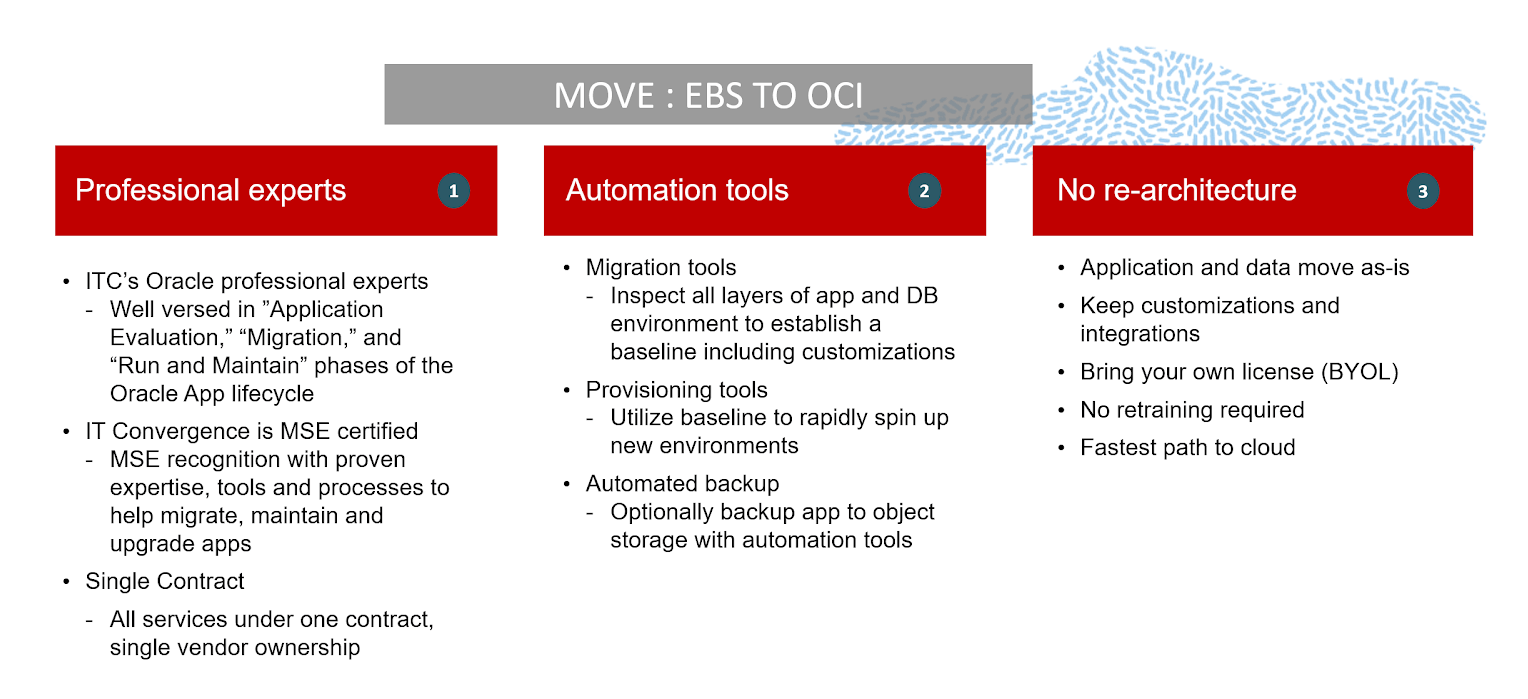 Improve: Better performance, higher availability, and rapid provisioning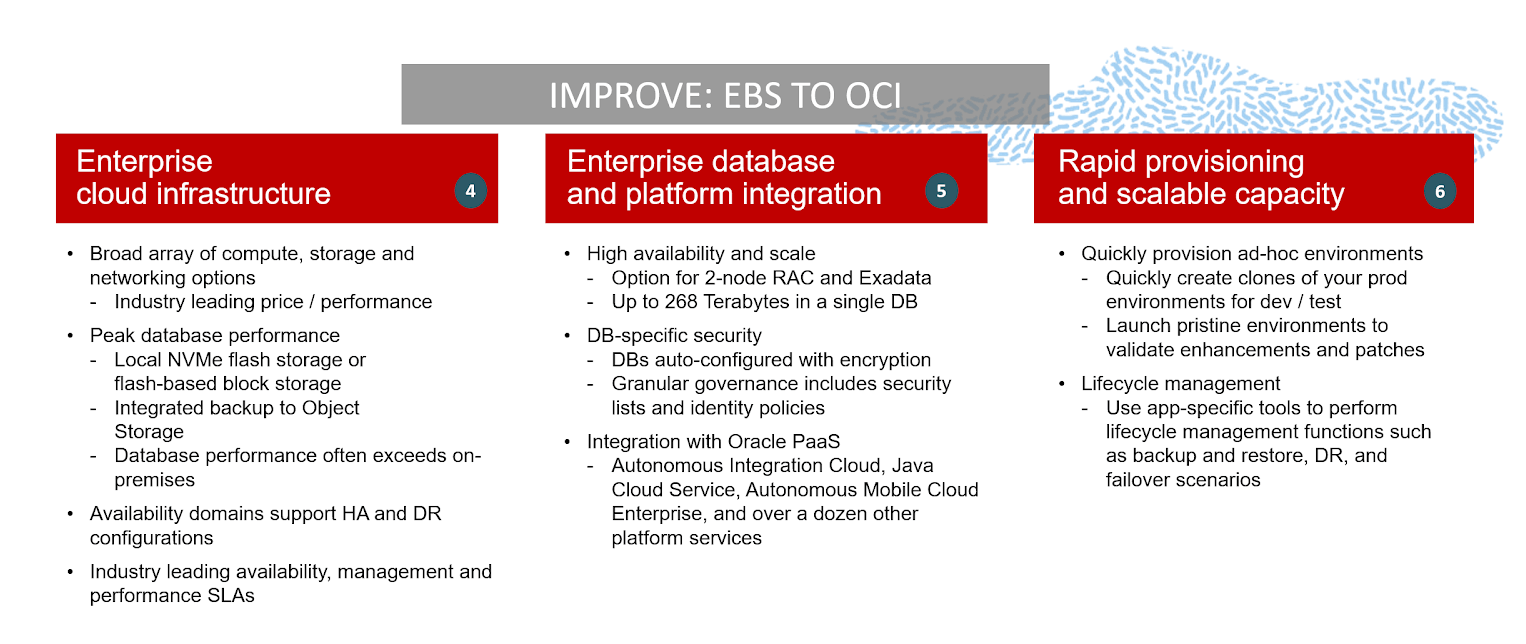 Gartner in its research, now recommends that cloud architects consider Oracle Cloud Infrastructure (OCI) not only for Oracle workloads, but also for use cases centered on bare-metal servers, high-performance computing needs or high-performance networking needs, and adoption of OCI should be considered to run both, mission-critical Oracle and Non-Oracle workloads, Learn more with this free eBook.
OCI takes advantage of high scale, high bandwidth networks that connect cloud servers to high performance local, file, block, and object storage to deliver a cloud platform that yields the highest performance for traditional and distributed applications, as well as highly available databases.
OCI offers the ability to run everything from small VMs to large bare-metal clusters and highly available databases on the same isolated networks, accessible through the same APIs and console – allowing your EBS to have direct, low-latency access to high-performance DBs running on physical or virtual servers in the same infrastructure.
With OCI, businesses can run applications requiring millions of IOPs, millisecond latency, and many GB/s of guaranteed bandwidth, on a pay-per-use or monthly credit model. They can build cloud environments with equal or better performance and predictability than dedicated, on-premises environments. In fact, most customers report workloads running on OCI typically show performance results exceeding their on-premises environment.
Learn more on oracle PaaS and IaaS public cloud service level objective and service level agreement policy. ITC consultative experts can help explain what this means to your EBS environment over a consultative call.
Deployment Choices for Oracle EBS on OCI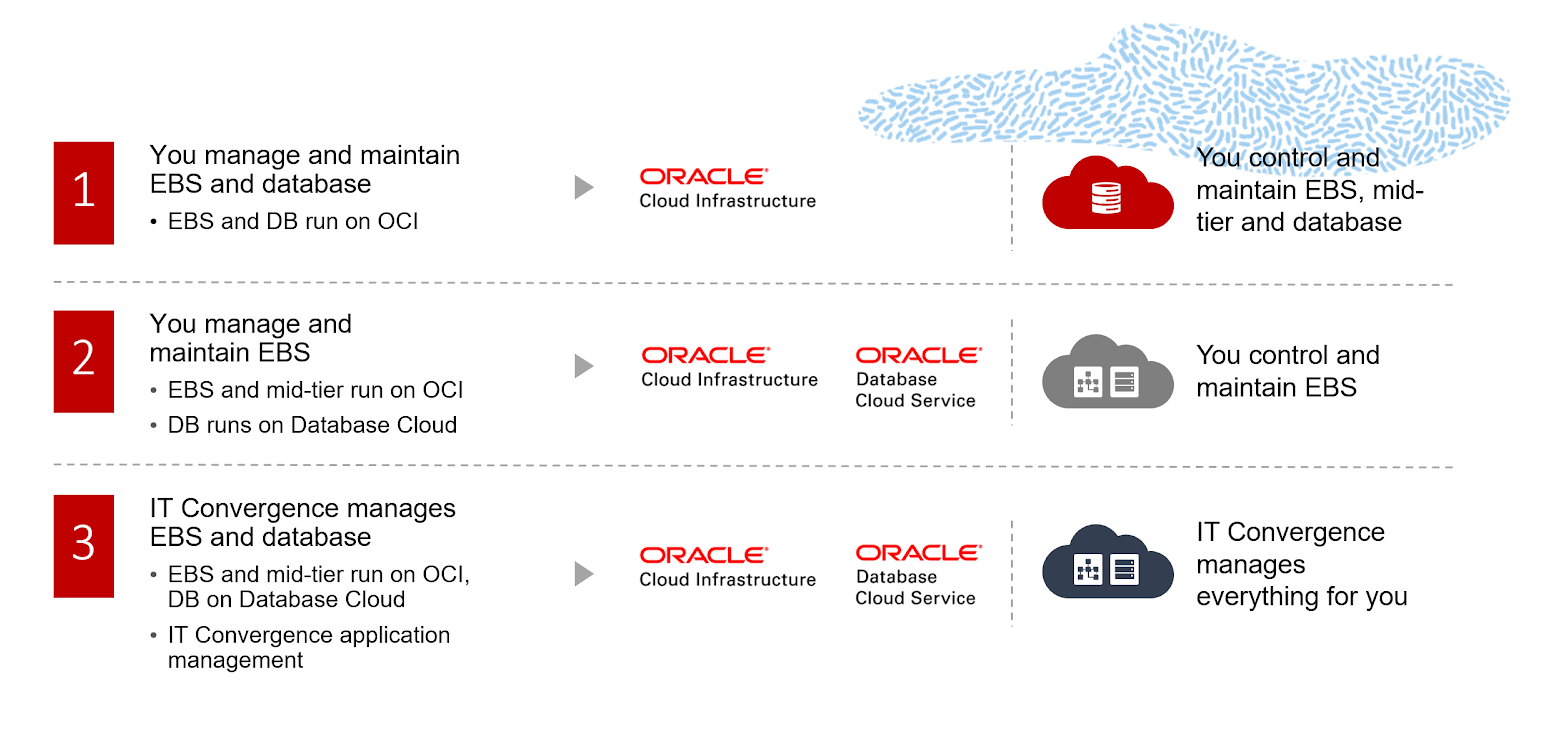 As highlighted above, there are 3 basic options for how EBS gets deployed on IaaS.
1) The application and the Database both run on Oracle Cloud infrastructure. In this instance, the customer controls both the application and the mid-tier. This will be the case often when a customer has a partner managing their implementation for them
2) The application and its customizations run on OCI, but the Database runs on Database Cloud Service to take advantage of the services DCS provides
3) The final option is actually the same implementation as the second option, except in this case it is consumed as a managed service where MSP/ MSE expert like IT Convergence manages the entire implementation for you
Validate and De-Risk Your Move-and-Improve in 4 Steps.
IT Convergence has designed successful proprietary methodology and tools to successfully migrate our customers to the cloud.
Check out how a leading business rental & Leasing company migrates EBS and other applications to OCI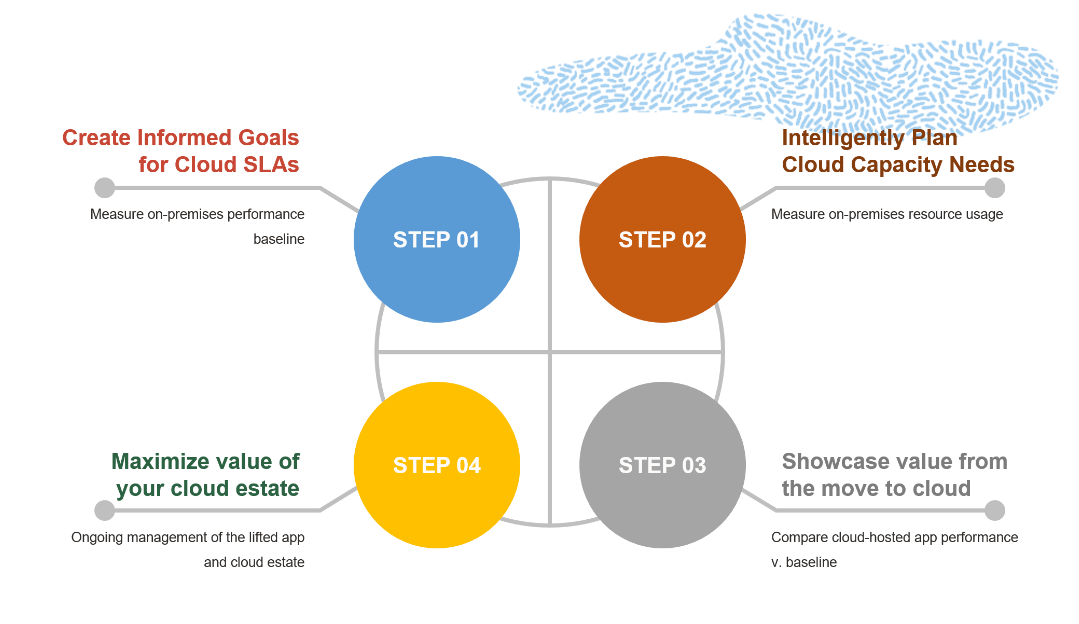 Why go through this hassle if your EBS is running fine?
The economic environment caused by the Covid-19 pandemic has upended the plans and expectations for nearly every industry and business. Most organizations have had to evaluate their lines of business, ways of operating, and financial health to determine their ability to withstand the challenges they are facing. For most organizations, changes are needed in order to stay resilient during this challenging time. Learn all the reasons to migrate EBS to cloud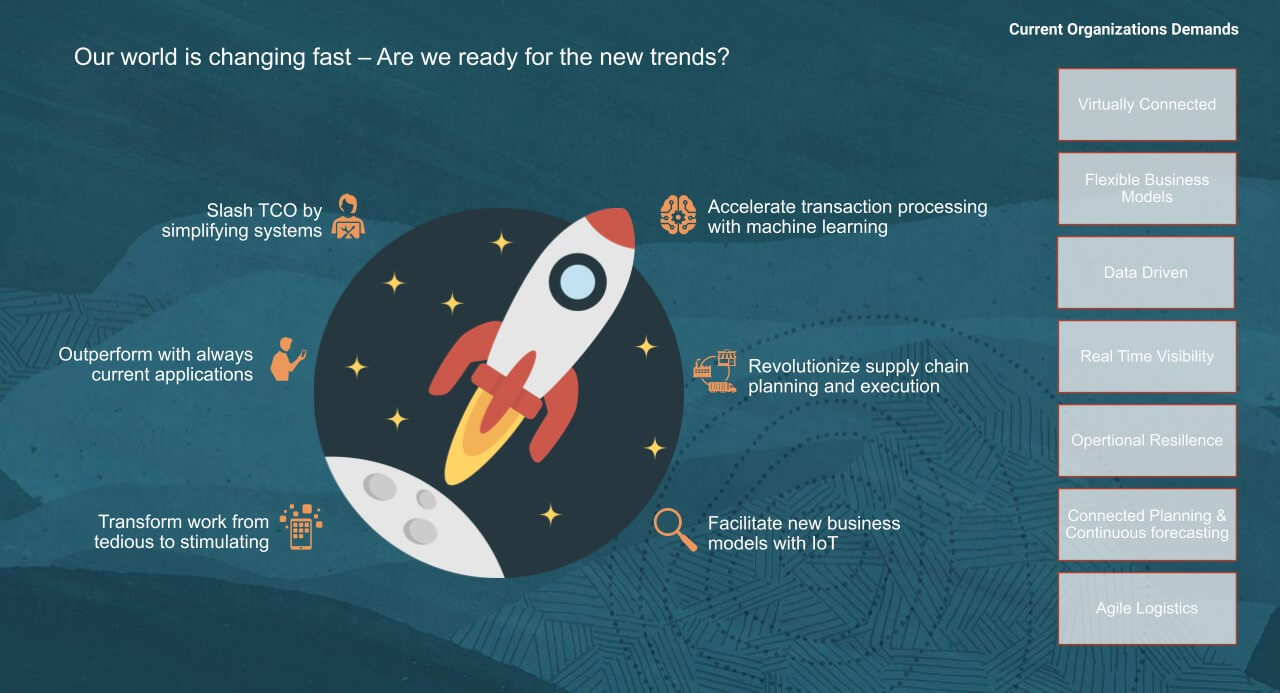 Licensing: Run EBS for Less
The good news for customers is that they can leverage their existing on-prem license while migrating to the cloud. IT Convergence can help customers in assessing the right-sizing of their license in case they do not have one.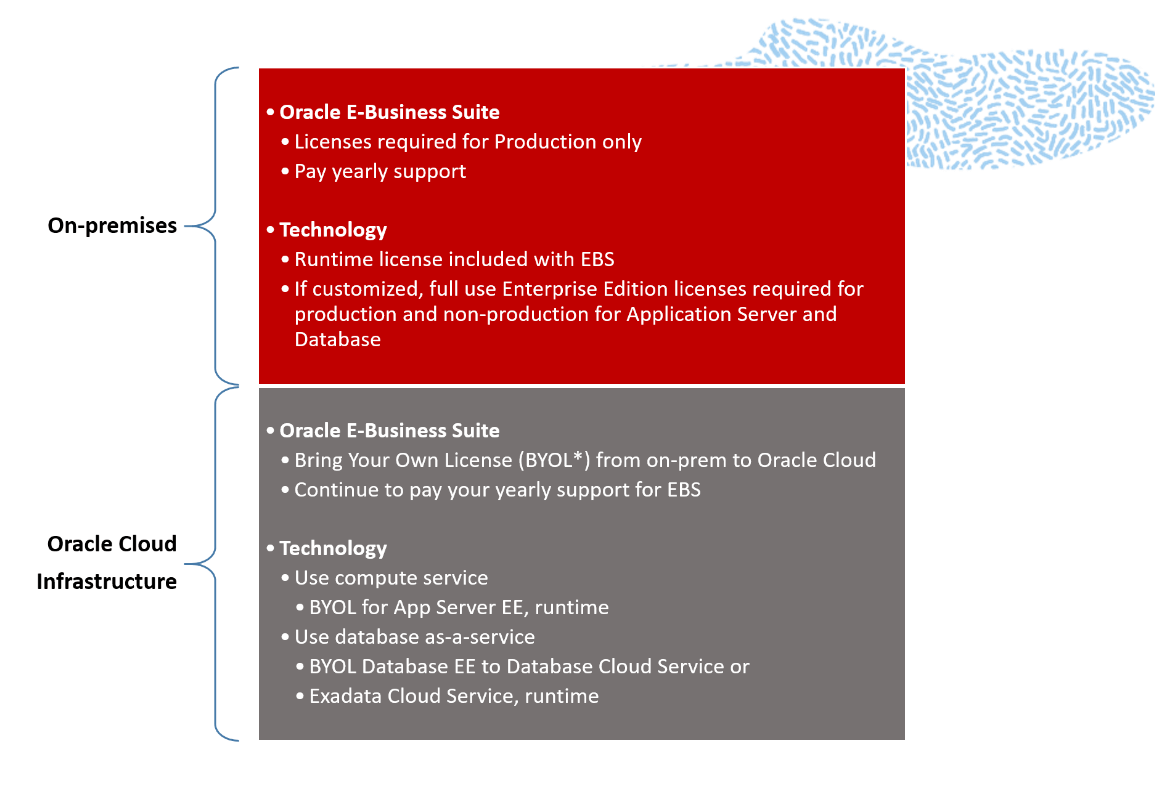 5-year TCO for E-Business Suite on Oracle Cloud (300& 600 users)
A 5 year TCO analysis by Oracle, found that operating EBS in Oracle Cloud Infrastructure can be up to 42% -46% less than running it on-premises for 300 to 600 users respectively which you can further read here. Significant savings come from eliminating upfront hardware, ongoing facilities, IT administration, and support costs. This analysis did not account for continued Managed services of EBS on OCI from an Oracle MSE Certified partner. While we understand every environment is different, we recommend you get your EBS assessment for TCO benefits to your organization. Being an Oracle MSE partner, we are certified cloud experts to help you with an assessment of your EBS environment.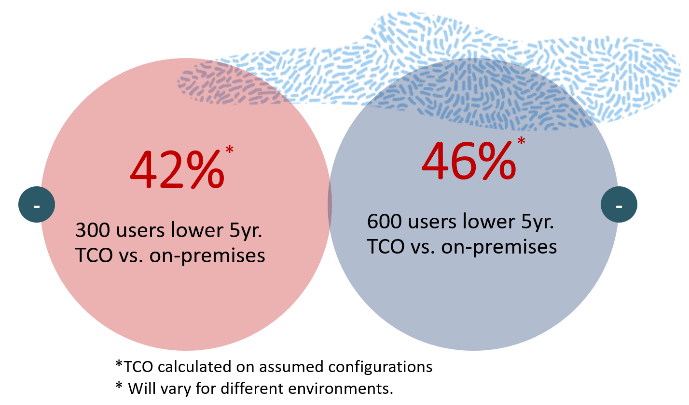 Enterprises interested in updating their EBS infrastructure environments, for increasing agility, capacity, looking for ways to optimize efficiencies and cost can attain this in OCI with careful consideration and planning. Gartner too recommends leveraging certified Oracle MSP/MSE in its analysis, which can be read here.
Being a certified Oracle Cloud MSE we have been helping customers in accelerating their successful journey to Oracle Cloud Infrastructure.