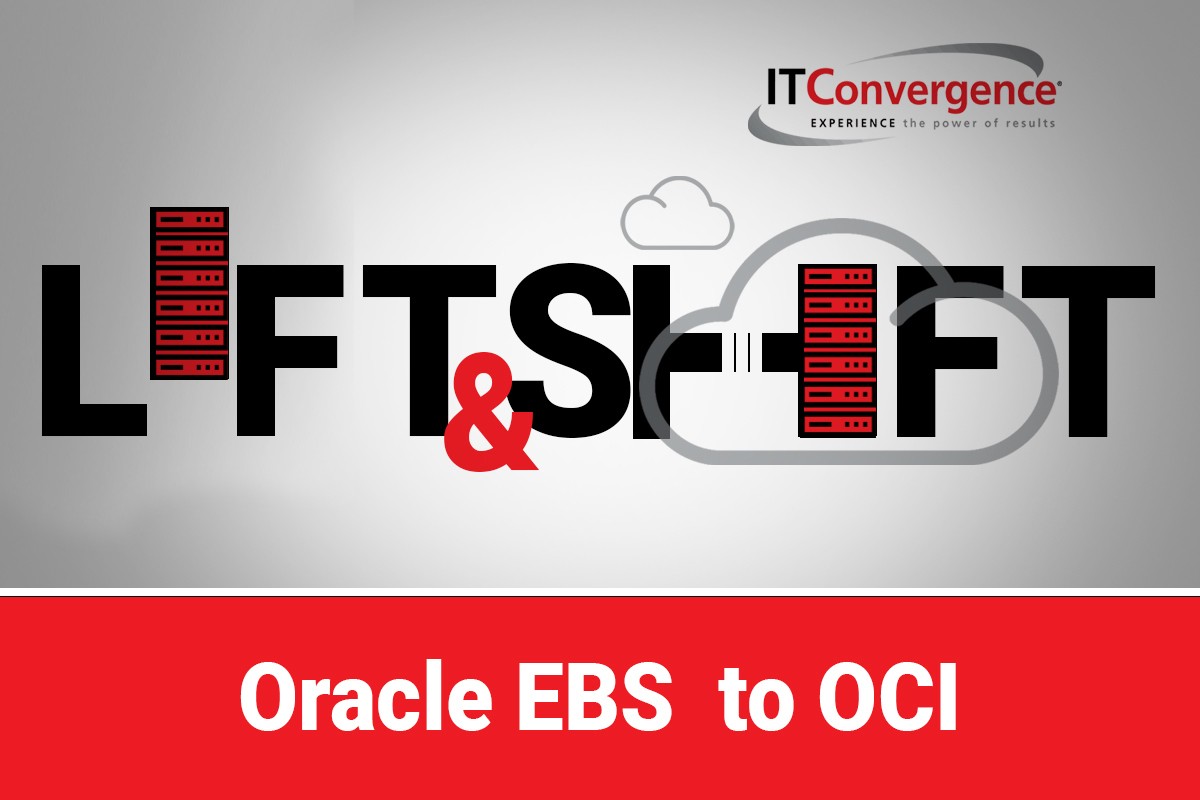 Migrating EBS to Oracle cloud, which is the most comprehensive end to end cloud solution available which fits Oracle Apps unlimited, with just one single vendor providing the infrastructure, integrations, enhancements and the application, which is easier to maintain in a complex hybrid cloud environment.
Move your E-Business Suite to OCI for leveraging improved efficiency, cost savings, and performance gains compared to on-premises deployments and other clouds.
EBS to OCI solution has a deep focus on helping customers maintain the integrity of existing knowledge, customizations, licenses, and integrations. Most E-Business Suite versions can be migrated to Oracle Cloud Infrastructure, and even SPARC- and AIX-based deployments have a path to migrate to the cloud. Lifecycle management in the cloud is provided by E-Business Suite Cloud Manager, which includes backup, provisioning, cloning as well.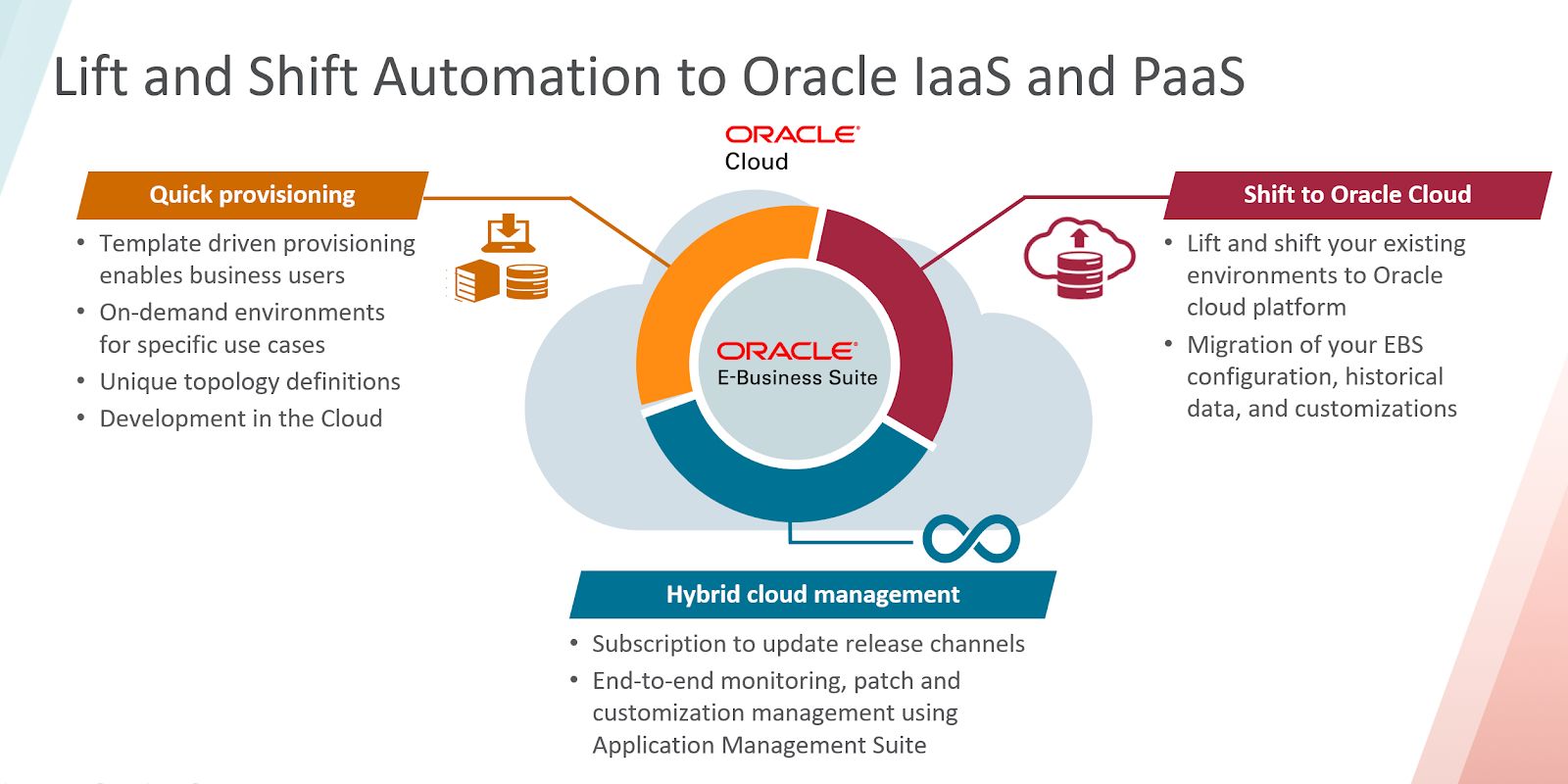 What is Lift and Shift for Oracle EBS
Essentially a like-for-like migration, from on-premises to Oracle Cloud is commonly referred to as Lift and Shift. If you want to continue using the same EBS applications in cloud, with little to no disruptions, no training or adoption costs for business users, you must choose to move your existing EBS on premises application to OCI and benefit from bringing your own licenses as well.
You can also carry all your customizations as is or pick the ones that are critical to your business and bring them to the cloud. Migrating to SaaS is another option but it depends on how much you want to invest and how much you are willing to disrupt. Lift and shift is faster, ensures the same experience, reduces risk, costs, increases agility and future potential for growth. With EBS on cloud customers can choose to maintain their own EBS instance on cloud and can also leverage certified database services to run their Oracle EBS databases.

Accelerate EBS to OCI migration with Automation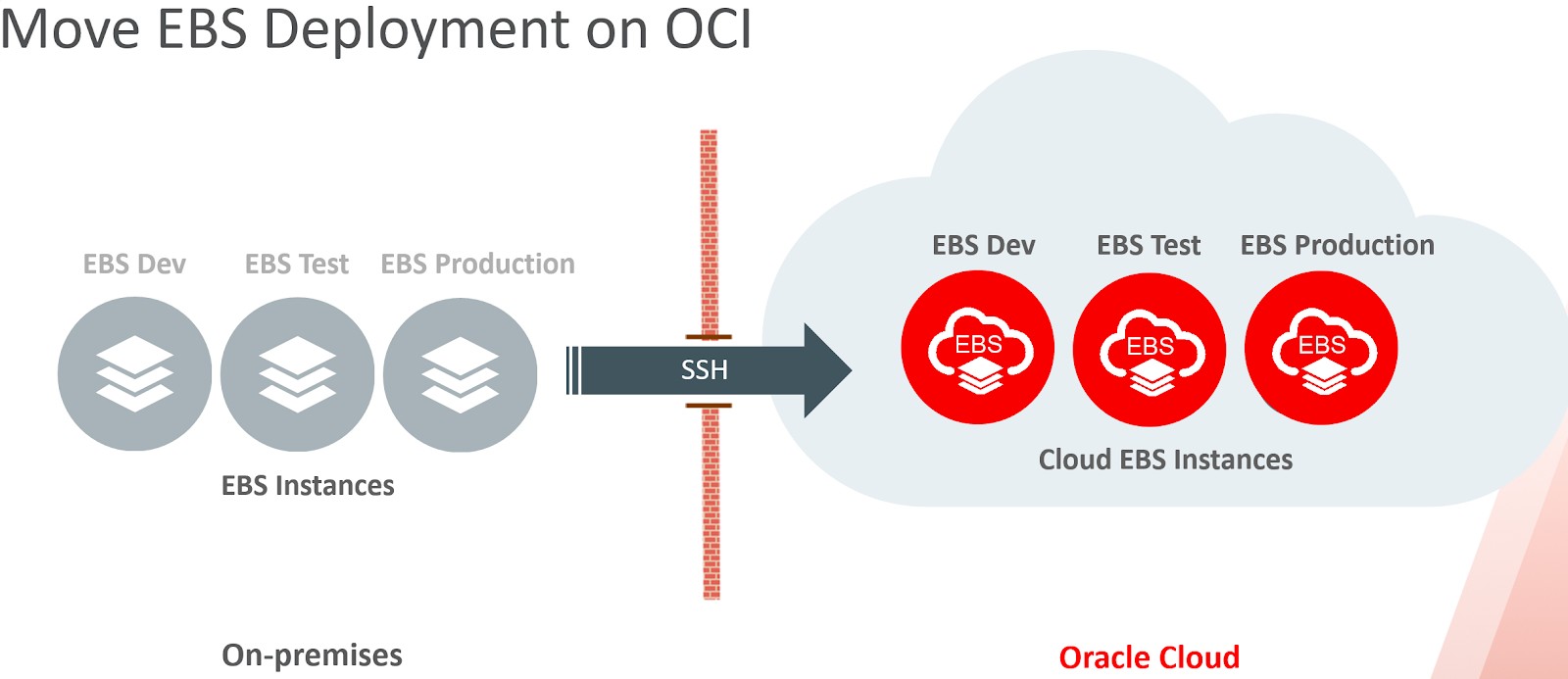 Leveraging Oracle tools for automation by a certified cloud MSP/MSE partner can help accelerate the migration for on-premises Oracle E-Business Suite instances to OCI. With the Lift and Shift automation you have the ability to define your deployment architecture. You will also define your Virtual Cloud Network including subnets, routing tables, security lists and load balancers. The Oracle E-Business Suite instance running on OCI can be used for non-production (test or development) and— when you are ready—for production as well. Check this ebook for 10 things you should do now, before you migrate EBS to OCI.
Drivers for the Lift and Shift Strategy for EBS
If your current high priority business objectives revolve around reducing risk and cost, or supporting increased agility for your company, the Infrastructure as a Service layer (composed of hardware, CPU/compute/storage/networking/backup/disaster recovery) would be the right place to look.
Leveraging Oracle OCI (IaaS) allows you to
Execute a Lift and Shift (also known as re-platform) to reduce risk of technology obsolescence.
Exit Data Center thus allowing IT to increase their support for LOB needs.
Support mergers, acquisition and or divestiture strategies via Rapid environment provisioning in the cloud to support on or off-boarding of businesses units.
Safeguard data and systems with world class security, backup, storage and disaster recovery solutions.
Use Cases for Lift and Shift for E-Business Suite Customers
Consider the following use cases as per your EBS environment and cloud strategy: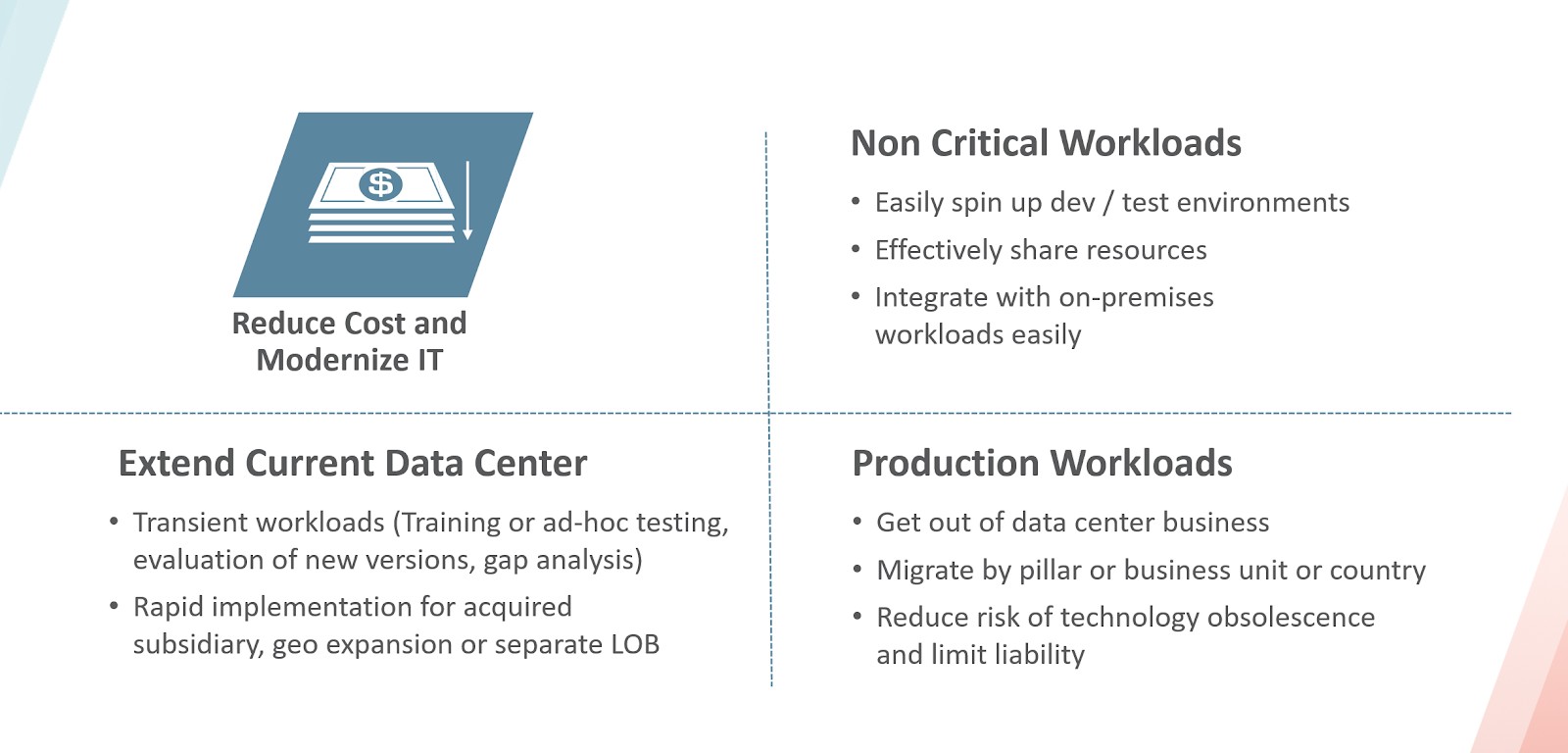 Configuration options or EBS on OCI
With OCI you can choose how much of your EBS you would want over the Cloud. Below are the various options you can consider:

Option 1: Single node on Oracle Compute Cloud Service (IaaS)
The single node on IaaS option consists of an all-in-one Oracle E-Business Suite machine image that includes both the application tier and the database tier.
This option is ideal if you wish to evaluate and test standard Oracle E-Business Suite functionality, and become familiar with the technology components and other features.
Option 2: Multiple nodes on Oracle Compute Cloud Service (IaaS)
The multiple nodes on IaaS option allows you to provision one or more application tiers, plus a separate database tier, on the Oracle Compute Cloud Service. You can scale out the application tier as needed, and an automated provisioning tool enables you to create a new installation of Oracle E-Business Suite across Oracle Compute Cloud Service instances.
The flexibility of this option makes it ideal for supporting production workloads, as well as development, testing and training environments in all types of Oracle E-Business Suite installation:
Option 3: Compute Cloud Service (IaaS) + Oracle Database Cloud Service (DBCS)
The third option is a variant of the multiple nodes option offered by Option 2. It comprises the same components, but does not deploy the Oracle Database within a virtual machine on the Oracle Compute Cloud Service. Instead, it uses a subscription to Oracle's Platform as a Service (PaaS) or Exadata Cloud Service to provide the Oracle E-Business Suite database needed.
Oracle Cloud Infrastructure offers 1-node DB systems on either bare metal or virtual machines, and 2-node RAC DB systems on virtual machines. So for EBS customers using RAC and moving to OCI we the can leverage PSM based DBCS deployed on OCI, which is a 2-node RAC shape or a ¼ Rack Exadata DB on OCI (which is 4 nodes) or OCI's DBaaS option for Virtual Machine database systems where you can have 2 nodes arranged in a RAC shape, sometimes referred to as VMDB 2-node RAC.

Deployment choices for EBS to OCI Lift & Shift: 3 choices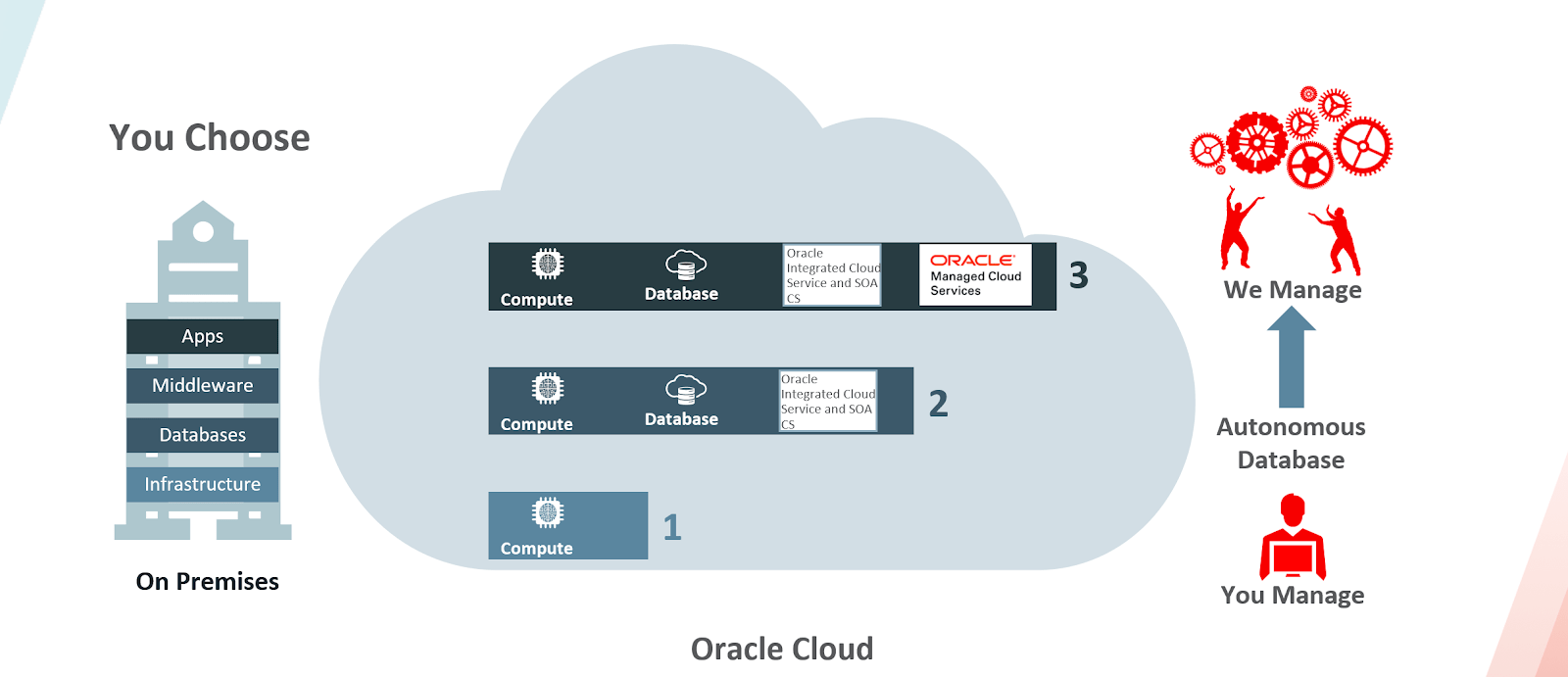 You can choose how you want to deploy, where you're in control of how much of cloud you want to manage – or not; how much resources you want to manage – or not; data, etc:
Move all workloads to cloud IaaS – most cost-effective and enables to maintain more control over environment – preserves investment in apps/workloads – you manage
Moving to cloud platform services preserves investment + modernizes IT with automation and integration capabilities. As a result, you begin to reduce your management burden, reduce operational costs
To take manageability to the next level, add Oracle Management Cloud for end-to-end hybrid cloud management from a single console. If you wish to get out of the business of managing your environment altogether, leverage Oracle Managed Cloud Services and turn over all administrative burden to Oracle experts.
Succeed with Certified MSP/MSE Partners
Leading Expertise: Oracle's certified experts to deliver your Oracle solution.
Broad Coverage: "End-to-end" lifecycle services across the entire Oracle product footprint
Global Scale: In 13 countries, serving over 1100 enterprises, 1/3 being Fortune 500 companies.
Unified Methodology: Based on industry standards, high quality results across complex projects for first time right migration efforts..
Flexible Delivery: Onsite, offsite, and offshore, along with innovative solutions such as Expert Services and Architecture Services.
Lifecycle of EBS Lift and Shift Migration
Lifecycle of an EBS migration to OCI is a planned approach with a series of steps to succeed. This EBook gives a broad outline for the lifecycle EBS migration to OCI.
Prepare your IT team to leverage Oracle Cloud Service for rapid provisioning and running mixed workloads
Define a migration approach addressing your application migration requirements
Lift and shift your non Oracle and Oracle technologies to Oracle Cloud leveraging Oracle leading practices
Demonstrate Oracle Cloud benefits & features that support your enterprise needs
Leverage enhancements and features of Platform and Oracle ERP for modernizing your EBS.