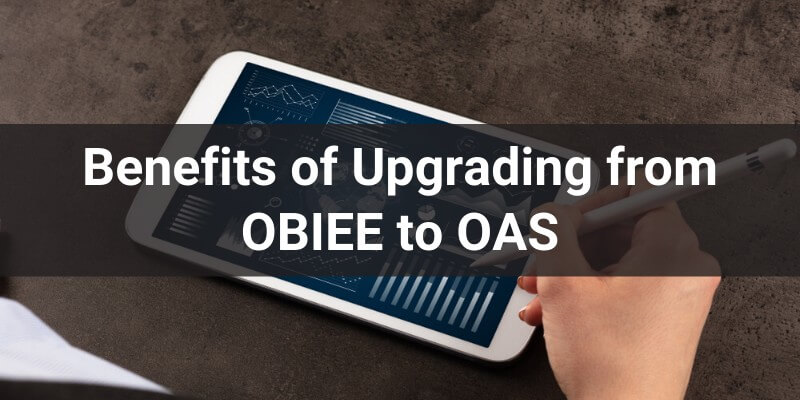 What is Oracle Analytics Server?
Oracle Analytics Server (OAS) is an on-premises self-service visualization and augmented artificial intelligence (AI) analytics platform. It offers AI capabilities that provide key insights from your data, with data enrichment features that automatically recommend new elements for analysis, machine learning (ML) capabilities for both traditional and citizen data scientists, and advanced data visualizations for your dashboards with pixel-perfect reporting.
OAS is built on a robust and modern foundation that supports the highest workloads and most complex deployments while providing timely insights to users across an enterprise at a low TCO. Organizations can modernize their analytics platform by providing easy-to-use interfaces for all users who need to access data, enable self-service capabilities including importing or blending data, performing analysis, or distributing reports securely via mobile, tablet, and all modern browsers.
OAS can be deployed on-premises or via private cloud allowing customers to manage upgrades on their own schedule and implement customization options such as custom skins/styles, metadata, messaging, and more. Oracle Analytics Server is an effortless upgrade option for existing OBIEE 11g or 12c customers.
Solutions Included
Oracle Analytics: Publisher
Oracle Analytics Server Enterprise Edition
Oracle Analytics Administrator
Oracle Analytics Interactive Dashboards
Oracle Analytics Delivers
Oracle Analytics Answers
Key Features
Self-service data visualization capabilities
Augmented analytics with Explain
Machine Learning in Data Flows
Data Enrichment capabilities
Natural Language Query
Powerful geospatial mapping and visualization
Pixel perfect enterprise reporting
Common Enterprise Information Model
Key Benefits
Faster time to insights with Explain, an AI engine that uses machine learning to render correlations, distributions, and segmentation in your data.
Drive innovation; explore and discover new insights by combining structured and unstructured data
Make insights accessible to anyone, anytime, and anywhere with mobile Business Analytics
OBIEE vs. Oracle Analytics Server
The majority of OBIEE features are also available in OAS. This includes data visualization projects, classic BI dashboards, or BI Publisher pixel-perfect report bursting. However, there are a few key differences between OAS and OBIEE that you need to evaluate before you make the upgrade. For example, the Scorecard and Strategy Management feature from OBIEE is de-supported and no longer in OAS, which means that Oracle will no longer fix bugs related to that feature.
OAS includes all the features that existed in OBIEE 12.2.1.4 except for the following, which are either de-supported or deprecated with OAS.
Scorecard and Strategy Management
Flash Templates
WebDAV Server Delivery Channel
Oracle Marketing Segmentation
BI Scheduler Job Manager
Flat Files and XML-based Data Sources
Session Personalization using System Session Variables
Blocking Analyses in Answers
Act As Another User
Database Storage for User Group Memberships
Oracle E-Business Suite
Visit this page for the feature availability and comparison with Oracle BI Enterprise Edition 12.2.1.4
OAS shares more similarities with OAC than OBIEE – and that's intentional, as OAS was developed to help on-premise customers transition to the cloud. It includes all the features of OAC except data replication and natural language generation.
Like Oracle Analytics Cloud, Oracle Analytics Server gives you access to your data, regardless of the source or location. Oracle ensures you have access to hybrid data—whether it's on-premise, in the cloud, or on your desktop:
Oracle Databases
Oracle Applications
Third-Party Data Sources
Files (CSV and XLSX)
What are the Benefits of OAS for Existing OBIEE Customers?
OAS enables existing OBIEE customers to modernize their analytics while having the flexibility to move to the cloud (whether public or private) at their own pace. OAS empowers customers to:
Leverage AI-powered augmented analytics for machine learning assisted data enrichment and analysis
Experience self-service data visualization and a modern analytics user experience
Drive innovation; explore and discover new insights by combining structured and unstructured data
Get faster time to insights with Explain, an AI engine that uses machine learning to show correlations, distributions, and segmentation in data

Upgrading from OBIEE 11g or 12c to OAS
Oracle Analytics Server was developed as a replacement for OBIEE 12c, and existing licensed OBIEE users can easily make the switch to OAS. This makes the upgrade process simple and ensures a smooth transition between the two products. An in-place upgrade updates and overwrites the existing 11g or 12c files in your pre-upgrade environment. For example, upgrading schema and domain directories are performed in-place. Customers have two upgrade options – in-place and out-of-place upgrades. During an out-of-place upgrade, however, you maintain your pre-upgrade Oracle home directory. In either case, the new binaries are installed in a new Oracle home directory and the schemas will always be upgraded in place.
---
Oracle Analytics Cloud is a complete platform that empowers your entire organization to ask any question of any data – across any environment, on any device. Download this ebook if you are evaluating a cloud-based replacement for OBIEE.