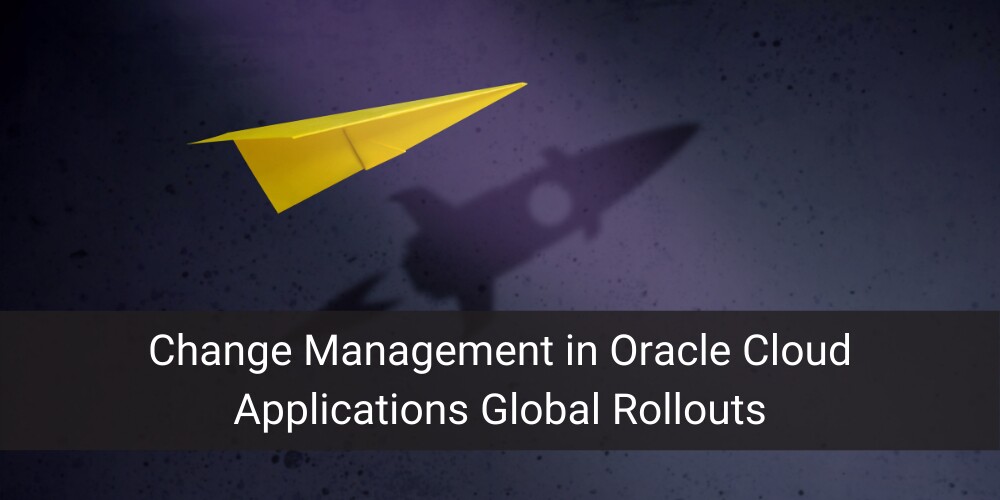 Gartner research found that nearly 75% organizations expect to multiply the types of major change initiatives they will undertake in the next three years. Yet half of change initiatives fail, and only 34% are a clear success.
Global rollouts of Oracle Cloud Applications require change management across the entire organization including IT teams, business operations and executive suites. For success, change management needs to incorporate the traditional pillars of any modern project: people, processes, and technologies. For any on-premises to cloud move, it is easy to focus on technology. People and processes often get left behind as the new technology is promoted. The bottom line is that the move from on-premises to cloud solutions often happens quickly.
Global Change Management Best Practices
Secure an Executive Mandate for Change
You can't underestimate the value of executive commitment to the success of an IT-led project. Ensure that senior management takes ownership of the project from day one. This is possible with constant cooperation and communication with the management. Without the backing of executive management, any transformation project is at the risk of failure. This is especially true for global rollouts. It is extremely important to have a management that really supports change and is willing to drive change across the organization.
Assemble core users, department heads and other company leaders through regular updates involving project schedules and goals. Consider collaborative briefings covering cloud capabilities with demonstrations and social constructs.
Simplify and Standardize your Environment
The key to change management success is to adopt a systematic approach to business process transformation based on four key principles: simplify, standardize, centralize, and automate. Automation for automation's sake isn't useful if the business process you are automating is broken. A better approach is to simplify the business process first, using the best process available; then standardize it globally using a global process owner; centralize it in a shared services or center of excellence (CoE) environment; then automate it to drive adoption of self-service. You can start small by selecting a process that is critical to the business, then replicate that success across other processes as you grow and scale operations.
Heavily customized systems make it difficult to upgrade or deal with compliance in different countries. Selecting a single provider like Oracle for all your cloud services provides a lot of integration right out of the box, especially in critical areas like business intelligence.
Create a Culture of Change Management
Business leaders need to invest in creating a culture of change management that isn't just accepting of change, but leading it. This could mean thinking about how all employees use technology today to stay plugged into work at any time from anywhere. It also means identifying change agents across the enterprise, and engaging them to drive business-led transformation.
Employ change champions across all parts of global operations to foster the right change mindset during an Oracle SaaS global rollout. You need these change agents in all parts of the business that communicate with the program throughout the deployment. Communicate with your process owners by telling them what's changing, why it's changing, and what's the benefit. All the business leaders need to understand the change, and express their support for the change. Make people understand that change is coming and do it over and over again because people need to have those messages reinforced.