With Oracle's continuous investment in technology, functionality, and even Cloud Infrastructure for EBS, companies that are using EBS and want to maximize their On-premise investment, have a broader array of options.
As we know there's a line of Cloud applications for ERP, HCM, SCM, and CX, that you can switch to from EBS. But if your company is not ready or has other reasons not to move everything to the Cloud and you plan to keep running EBS for the foreseeable future, there are things you can take advantage of from that product line. In order to do this, you would need to do it using a coexistence model to integrate naturally with EBS. This is what is called a Hybrid Coexistence Strategy.
Hybrid Coexistence strategy: The New Normal
According to an Oracle University training video provided by Cliff Godwin, SVP of Application Development at Oracle, "Hybrid is the new normal. Very few companies are running 100% of everything they do On-Premise and very few companies are running 100% percent of everything they do in Cloud. There's usually a mix of things there."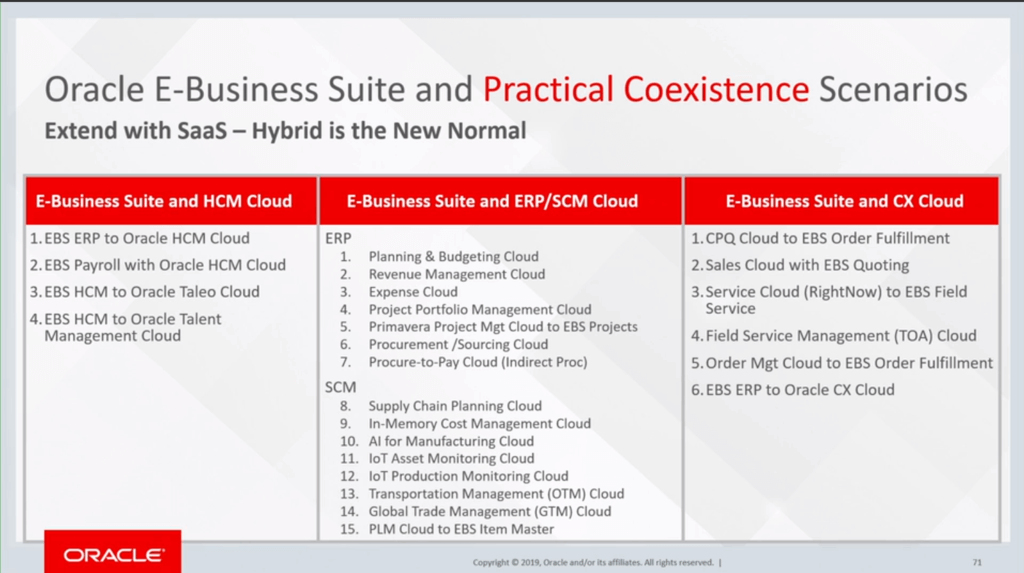 Oracle presents a huge variety of Integration points. In the image above we present a list of some Oracle EBS and Cloud hybrid coexistence scenarios for certain activities, but is not exhaustive.
Another way you could go at Oracle EBS and Cloud hybrid coexistence is functional partitioning. This is when you are going to run part of your system in the Cloud, like running your HCM in the Cloud, but you are still running your ERP On-Premise.
With Oracle EBS and Cloud coexistence being an available option to extend your EBS capabilities, the question is how do you pick what things to do and what things are going to work, support and integrate well, and what things are going to be really complex.
What Can You Do?
Modernizing your ERP system to drive innovation and focus on your differentiators is a journey that should be custom-tailored to your IT & business needs.
IT Convergence can help you identify the best path forward and recommend the optimal technology roadmap.
Our ERP Roadmap Assessment will provide you with:
ERP Best Practices and Recommendations to Drive Efficiency
Strategy for Data Capture & Cleansing to Support Analytics
Evaluation of Oracle On-Premise Environment & Recommendations
Roadmap for Your EBS and Oracle Cloud: Optimal Future State