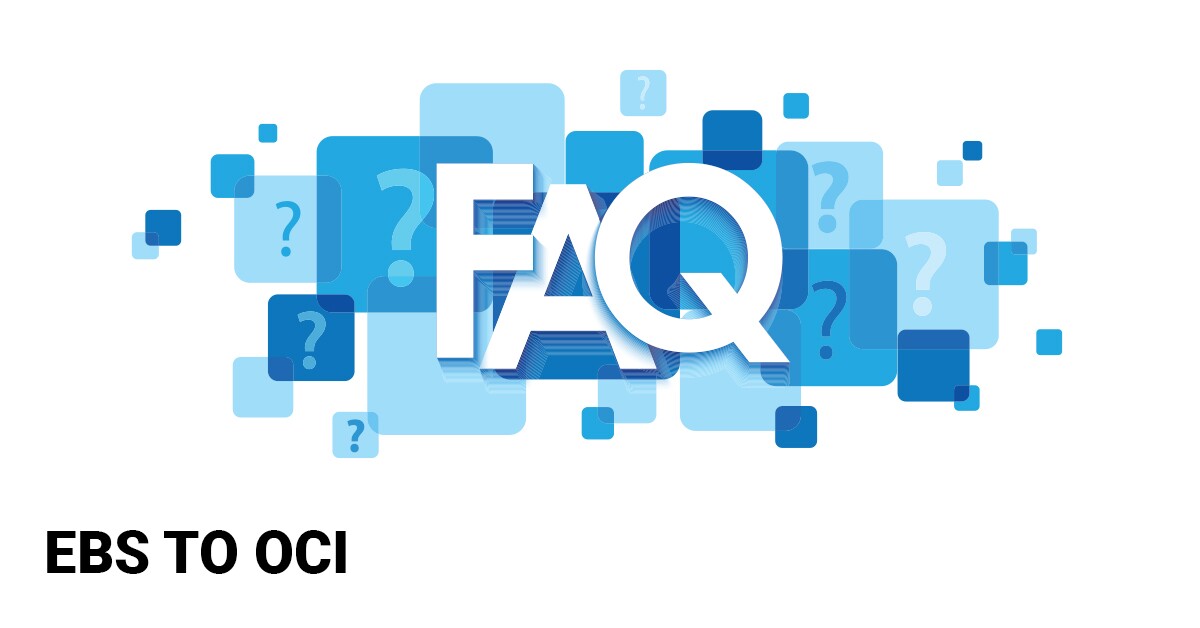 I Want to Move My EBS to the Oracle Cloud But How Do I Avoid Retaining My Existing Software Investments?
No, you do not need to discard your current EBS investments & can leverage the cloud infrastructure designed for the most optimum performance of your EBS on OCI. Check out the 10 things to do to prepare your EBS to OCI move.
What Use Cases Will justify My Move My EBS to OCI?
Few of the use cases can be – Operations in the Cloud, DevTest Environments, Running Big Data Analytics, Running Big Data Analytics, Moving Apps to the Cloud, Infrastructure Refresh, Application Consolidation, moving data center to the Cloud. You will find many more reasons to migrate your EBS to OCI here
Can Oracle Take Care of 'Noisy neighbours' Over its Public Cloud?
With Oracle Cloud Infrastructure single-tenant model, there is no overhead of any sorts and no noisy neighbors. Additionally, there is a long provisioning cycle for HPC cluster acquisitions in on-premises environments— with Oracle Cloud Infrastructure you can spin up instances in minutes. Moreover, these instances come with 10 Gbps network throughput which help move massive amounts of data quickly. Superior performance and ability to provision truly elastic bare metal servers in minutes make Oracle Cloud Infrastructure platform an ideal choice for running HPC workloads.
With Oracle Bare Metal Cloud Services, your application workload enjoys the predictable performance it needs with dedicated resources to avoid "noisy neighbors." For mission-critical workloads, you can deploy Oracle Database Exadata Cloud at Customer to ensure the extreme performance your business workload requires. Find out other Value benefits of Migrating Oracle E-Business Suite from On-Premises to Oracle Cloud

I Have Already Moved Some Infrastructure to the Cloud. Do Oracle Workloads (e.g E-business suite) in Oracle Cloud Coexist With Other Public Clouds?
You might run your cloud workloads on Oracle Cloud and one or more other cloud providers for various business and technical reasons. Cross-cloud workloads need a secure, low-latency interconnection between Oracle Cloud and the other cloud providers. check out more about Oracle cloud Interoperability
The following are a few examples:
Oracle E-Business Suite running on Oracle Cloud, with datasets replicated to Microsoft Azure Data Lake, for analytics.
.NET applications deployed on Microsoft Azure using a database running on Oracle Cloud.
What Will My EBS to OCI Project Lifecycle Look Like?
While each customer's environment will be different, the building blocks for migration of an Oracle EBS to OCI lifecycle will have the following stages:
Evaluation: Develop a cloud adoption strategy
Discovery, Assessment, and Planning
Implementation: Migrate and validate
Operations: Monitor, run, and fix your applications in the cloud
Evolution and Optimizations: Create a feedback loop to optimize your cloud solution
What Role Can IT Convergence Play Post Migration to Support Our EBS?
IT Convergence can be your trusted full lifecycle solution partner. We can own the lifecycle partnership: advisory, selection, implementation, migration, transition, upgrade, testing, Managed services support & retirement. In a very short span of time we can offer the agility to scale up or down throughout the partnership as dictated by project with skills to ensure there are not roadblocks in your digital transformation initiatives.