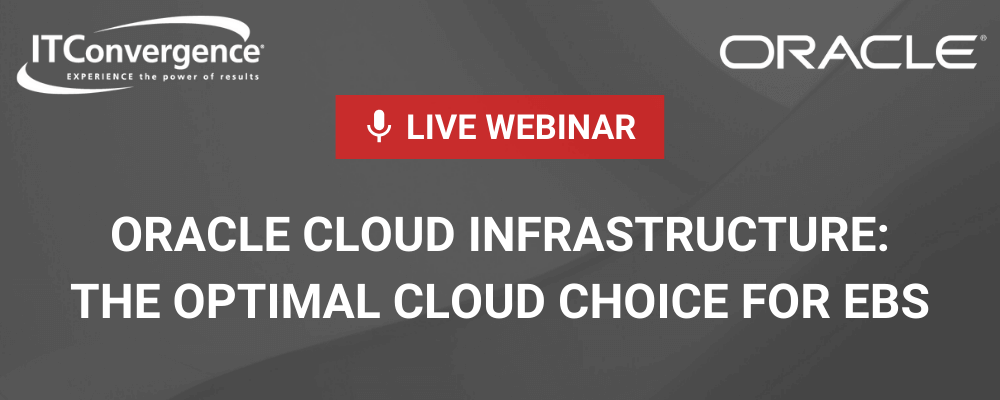 Last week we held our joint webinar with Oracle on why OCI is the most cost-effective and reliable option for companies using EBS in their Cloud Journey. Here's the Q&A transcript from the session. If you want to download the presentation or the recording of the webinar, you can do it here.

Q: We are considering OCI to "burst" non-production environments when needed for projects. Production would still remain on-premise for now. Do you have customers that are doing this kind of hybrid approach?

A: Yes. We have customers who have DR and non-prod's in OCI. Provisioning infra and app/db can be done in a burst in OCI.
Q: Currently, our CFS 12.1.3 application runs on-prem. The middle tier runs on physical Intel(R) Xeon(R) CPU X5650 @ 2.67GHz servers with 12 CPU Core and 12GB memory. The database size is about 2TB on Sun Solaris/T5 server. The concurred users are less than 50.
Our questions as follows:
EBS 12.2.9 Middle Tier:
1: How many VM do we need for the CFS 12.2.9 middle tier in OCI? DO we need one for FMW and another one for Concurrent Server?
A: Option 1 : A middle tier and concurrent manager can run in a single VM on OCI with Standard 2.8 template or higher configuration. Optionally based on your Oracle licensing availability you may also split the middle tier and the concurrent manager into separate VMs.
Question 2: We are currently running 12 CPU Core for CFS 12.1.3 on-prem. Do you think 6 OCPU is enough for the CFS 12.2.9?
A: 6 OCPU would give you 6 cores of an Intel Platinum 8167M CPU.  The X5650 was released in Q1-2010 and the 8167M was released in Q3-2017.  Based on the age of your current CPU alone, you will see an overall increase in performance.  That said since there is such a staggering difference between the platforms (legacy XEON vs. Skylake Platinum) your best bet is to plan to start low and scale up if required.  Doing a POC is a great way to test the performance of your application by testing by moving all tiers into the high-speed, low latency OCI network and systems.  Once you have validated in the POC, you can then properly plan to reduce your licensing overhead based on your test results.
EBS 12.2.9 Identity Tier:
Question 3: We are currently running OID/OAM for SSO on-prem. If we want to use IDCS and ADFS (on-prem) for SSO with CFS 12.2.9 on OCI, do we need to install the EBS Asserter with a load balancer? Or it is part of the EBC Cloud Manager Installation?
A: EBS Asserter needs to be deployed, and it's not part of the CLOUD Manager installation.

Q: Do we require a fast connection from our office to OCI?

A: It depends on your business requirements. If you have more workloads in OCI and need faster connectivity to OCI, FAST connect is recommended. For Hybrid models, if you transfer huge data between OCI and on-prem, FAST connect is recommended. Most of our customers are connecting to OCI using IPSEC VPN tunneling. As a reference, here you can find more information around FastConnect and the service requirements.
Q: Will there be any latency between on-prem applications integrated with OCI hosted applications?

A: No. If your integration requires a faster connection, FAST connect is recommended.
Q: How is OCI different from the cloud at a customer?
A: The difference is that Cloud @ Customer is Oracle OCI Cloud in the client's datacenter. Please refer to this link for more information. 
Q: Any your government client using the OCI Federal Cloud?

A: We currently do not have any of our ITC customers running on the OCI Federal Cloud.
Q: Is the EBC Cloud Manager tool available in the OCI Government Cloud?

A: Yes. Additional information on the EBS Cloud Manager installation may be found under Doc ID 2434500.1.
Q: Is there a limit Terabyte-wise to the size of the database that can be migrated to OCI?

A: No limit. We have a unique method to migrate data in the backend while the business is operational to reduce downtime during cutover.
Q: We have integrations into "Azure" that would still be required if we migrate to OCI, do all regions have "direct-connect"?

A: There are some established connections from OCI regions today and there are going to be more regions added over time. Ashburn, which is a very popular region, does have direct connectivity today. In fact, recently we have worked with a customer that maintains their CICD or their DevOps in Azure for their OCI, IaaS, and PaaS infrastructure in Ashburn, so we have been able to easily connect into and out of Azure and OCI to address our processes or the customer processes without latency or performance issues to speak of.
Also in North America, Toronto also has a direct connection to the Microsoft Azure environment. In the future, Oracle is going to have the same capabilities in their San Jose and Phoenix data center. Other regions around the world have the capability already today and also are others coming in the future. It's a really active type of scenario for their customer base.
Q: Can we migrate our custom apps along with EBS?

A: Absolutely. We know that there are thousands of mission-critical custom apps and workloads running on OCI today, and we have helped migrate a number of them for our customers. Whether it is home-grown apps or 3rd party apps, they all work very nicely inside the Oracle environment.
Q: Can I choose the OCI datacenter for my EBS environment?

A: Yes, you can select the regions where you want to deploy your EBS environment. If you have a desire to have production in one region and non-production and DR in another, or you want to cross over multiple regions however you need to have it architected, you definitely have the ability to select the regions. Each region has its own functionality and we can help you architect what regions might be best for the functionality you need to have from the infrastructure or platform as a service perspective.