Introduction
Oracle E-Business Suite (EBS) is used by tens of thousands of companies throughout the world to operate their core business operations. By introducing new features and innovations, as well as offering long-term Premier Support for Oracle E-Business Suite, Oracle is committed to assisting those firms in continuing to prosper.
Most Oracle E-Business Suite users are aware that Oracle Premier Support is a big incentive to upgrade their Oracle 11i and EBS 12.1.3 which expired on December 31, 2021. Almost 7 months past that date, anyone still using Oracle 11i and Oracle 12.1.3 have already been enrolled in Oracle's Sustaining Support program by default.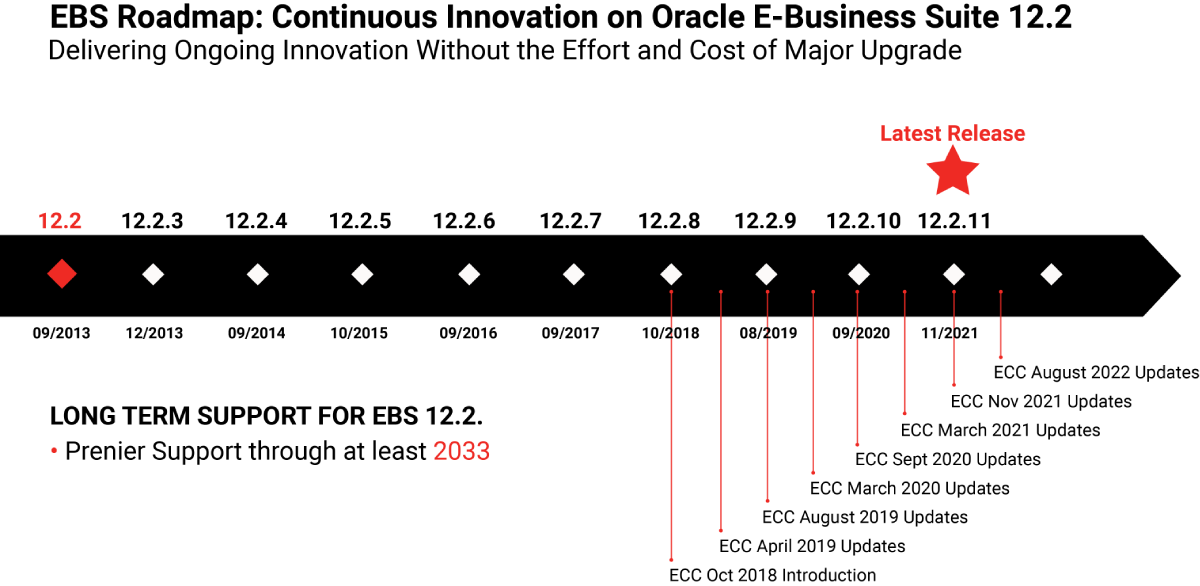 You can extend Premier Support for your Oracle 11i upgrade through at least December 2033 if you upgrade to EBS 12.2.x. The Oracle 11i upgrade is a no-brainer if you want to keep Oracle's Premier Support for at least 10 more years. If you're still hesitant about the Oracle 11i upgrade or 12.1 of EBS, here are eight compelling reasons to upgrade to Oracle EBS 12.2 right now.
8 Reasons for your Oracle 11i Upgrade to Oracle EBS R12.2.x
1. Simplified installation
In the past, enterprises were hesitant about the Oracle 11i upgrade due to the installation process's complexity. Users can now install the new EBS 12.2 on their current database servers, as well as into existing Real Application Clusters systems. Also simplified is the use of native installation tools for Oracle Fusion Middleware and Oracle Database technology stack components.
2. Increased mobility
Many businesses are adopting a more mobile workforce, which means their vital business systems must keep up. Oracle EBS 12.2 continues to improve the mobile experience in order to meet this demand, which is a vast improvement from the current state of Oracle 11i upgrade or 12.1 of EBS.
3. Enterprise Command Centers
Oracle EBS 12.2 has continuously introduced new dashboards that allow users to acquire analytical insights by drilling down to transactional data. These Enterprise Command Centers (ECCs) are a game-changer for users of Oracle 11i, especially as new dashboards and ECCs are added on a yearly basis.
4. The beauty of Online Patching
Before, patching activities were tailored to be completed as rapidly as possible to avoid downtime. However, with the Oracle 11i upgrade to EBS 12.2, your firm will gain access to a game-changing feature: online patching. This means you may install patches to your system while it's still up and running, and while users are still logged in. Patching and maintenance downtimes can be drastically reduced as a result of this.

5. Modern User Experience
Version 12.2 has a new look, feel, and user experience thanks to icon-based page navigation, something that is simply not the case when talking about the Oracle 11i upgrade. Users can navigate through new user interactions, detach tables, choose greater work widths, and use new widgets aimed to boost productivity by clicking on an icon to receive a summary of recent notifications.
6. Enhanced security
In the EBS 12.2 release, the app's password change method has been tweaked somewhat. Unlike FNDCPASS, a new tool (AFPASSWD) does not require any system user or app passwords. This allows you to divide the responsibilities of database administrator and application administrator. When it comes time to update your password, you now have a few more alternatives.
Also, unsupported versions of EBS like the ones thinking about their Oracle 11i upgrade, don't get security patches, making them more vulnerable to attacks. Cyber security-focused businesses are frequently invested in implementing the most recent versions of all key software.
7. WebLogic Server
WebLogic Server is the application server that replaces Oracle Containers for Java (OC4J) in EBS 12.0 and 12.1. The whole System Administration experience is improved as a result of this.
8. Customizations are now standard EBS functionality
More often than not, each line of business has its own set of specialized business processes. These customized processes might potentially be put at risk during an upgrade effort, but thanks to Oracle EBS latest versions, those same processes are now part of Oracle EBS R12.2.x standard functionality, meaning they can be readily standardized across your company to decrease complexity.
Other Benefits of Upgrading from Oracle EBS 11i or Oracle EBS 12.1 to R12.2
Oracle EBS 12.2 adds capability that improves current processes in a meaningful and significant way. Efficiencies and productivity are boosted by features that streamline, automate, or otherwise improve important business operations. Calculate the time and cost savings associated with these functions, as well as any other financial implications, to see if the update is worthwhile.
Here are some more benefits of upgrading to Oracle EBS R12.2.x:
Ownership costs are lower.
Added value to the company.
Downtime is reduced.
Compliance and security are improved.
User experience is improved.
Why Upgrading in 2022 Is a No-Brainer
A traditional upgrade effort takes somewhere around 6 months, but of course, this is highly dependent on how many customizations your system has along with other key considerations like 3rd party integrations, database version, current OS environment, and more.
If you took no action and ended up with Sustaining Support, you probably know what you're missing out on by losing Premier Support. Oracle Premier Support provides comprehensive maintenance and software upgrades for your Oracle Database, Oracle Fusion Middleware, and Oracle Applications. In stark contrast, Oracle's Sustaining Support ensures your Oracle software is maintained for as long as you use it. Access to Oracle online support resources, upgrade privileges, pre-existing fixes, and technical support services are all included.
Now, if you decided to purchase Market Driven Support, you know this form of support will only cover the years 2022 and 2023, with each year carrying a different cost. What happens after 2023? No one really knows and it's also true that Market Driven Support is limited in its own right, making it an insufficient solution for Oracle EBS users.
Upgrading to Oracle EBS 12.2 has a substantial number of benefits that can help you meet the modern business demands of 2022 and onward, including a more modern user interface, improved functionality, faster installation, operational efficiency, continual innovation, and improved performance.