Oracle Hyperion Enterprise Performance Management (EPM) is a powerful ally to have when it comes to outperforming competitors across diverse market conditions thanks to the agility and insights you can gain from using it. In a nutshell, Oracle EPM helps you model and plan across key areas like finance, HR, supply chain, and sales, all with the purpose of shaping and pushing forward better data-driven decisions.
While the cloud is all the hype as of late thanks to increased network speed, secure connections, and a strong case to reduce costs thanks to its "only pay for what you need" approach, it's also true that there is a lot going on behind the scenes with on-premise applications that need to be fully evaluated before jumping into a decision like moving to the cloud.
Of course, we can't turn a blind eye to the fact that the market for cloud management suites is growing by the day as more organizations migrate from on-premise applications. The 2020 Gartner Digital Business Acceleration Survey, conducted in November 2020, showed that 51% of respondents increased their investment and focus on digital business in 2020. Thirty-six percent continued at the same level as 2019. Only 6% scaled back investment on digital business in 2020.
As the cloud continues to manifest itself as the champion over on-premise solutions, that's not necessarily the reality for most EPM application owners. If staying on-premises is the right solution for your unique needs, you need to consider either an upgrade to the latest version or a transition to the cloud.
First, we'd like to emphasize that, thanks to Oracle's Continuous Innovation release model for Hyperion Enterprise Performance Management 11.2, the company has pledged the continuous delivery of ongoing applications and underlying technology stack updates for 11.2 without requiring a major upgrade. The icing on the cake is that the 11.2 version of Hyperion EPM is the long-term support release, meaning that Oracle will provide Premier Support through at least 2032.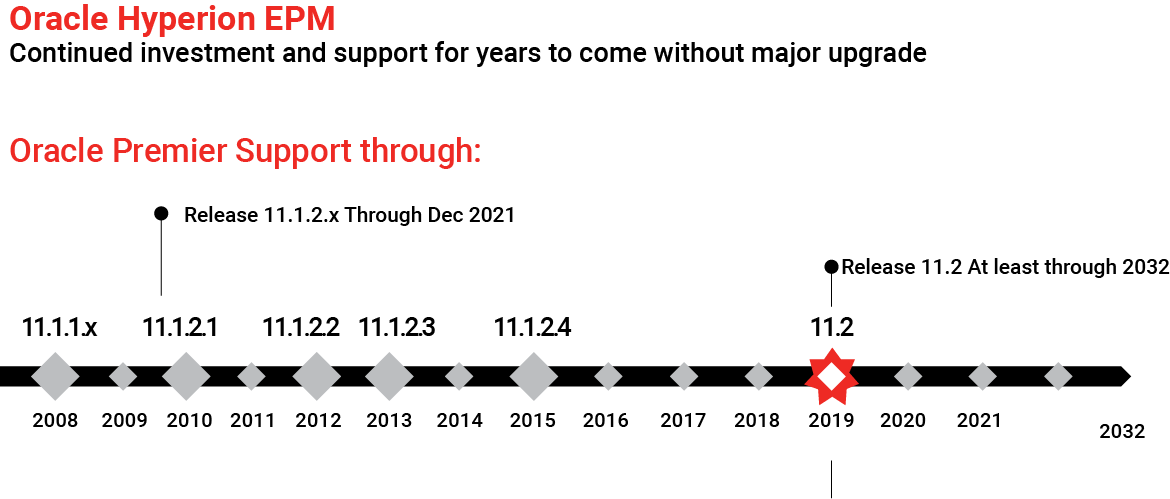 There are important innovations that you'll gain out of a supported Hyperion EPM 11.2 instance:
Continuous application updates: As stated earlier, Oracle will deliver ongoing updates to Hyperion EPM 11.2 on an annual basis. These updates will be cumulative and will coalesce all the bug fixes and new features into a consolidated patch set that is easily applied by Online Patching.
Ongoing tech stack updates: Oracle pledges to deliver much-needed refreshments to the Oracle Fusion Middleware platform technologies underlying the Hyperion EPM system. As such, customers will be able to get the latest versions of the tech stack without embarking on a major upgrade effort to the Hyperion EPM application code.
These two key innovation updates are proof of Oracle's commitment to continued investments and continuous support to its on-premise Hyperion EPM application and will help you build a business case to either move or migrate your Hyperion EPM as soon as possible so it remains under the Premier Support umbrella.
Expanding on the key benefits you'll receive by upgrading to Oracle EPM release 11.2.x, here's a list:
Updated technology, including Fusion Middleware 12g.
Platform certifications.
Streamlined architecture with an updated underlying technology stack.
Simplified repository configuration for future architecture and infrastructure updates.
And again, a key benefit, Premier Support through at least 2032.
Conclusion
To summarize, Premier Support for EPM below 11.2 will end in December 2021, after which Sustaining Support will be available. Of course, Sustaining Support is far from being a comprehensive solution and will not deliver new updates, fixes, or security patches, new tax, legal, and regulatory updates, new upgrade scripts, certification with new third-party versions or products, and certification with new Oracle products.
In fact, Sustaining Support will only provide technical support, access to My Oracle Support, fixes and updates created during the Premier Support stage, and upgrade scripts created during the Premier Support stage.
At the start of January 2022, if you haven't upgraded your on-premise EPM system to release version 11.2, Oracle Support will no longer file product defect reports for product versions below 11.2, nor can the company provide patches for existing bugs unless the patches already exist. For example, if you run into a particular issue and there's a bug fix that is not available for your platform, you cannot request a patch.
We highly recommend that you prepare an upgrade plan to Hyperion EPM release 11.2 or a migration plan to Oracle EPM Cloud. Download our latest ebook "Upgrading to EPM 11.2 or Migrating to EPM Cloud?" to understand the key pointers that you should have in mind when strategizing for your EPM modernization.