Applications Unlimited and the Continuous Innovation Model
Oracle EBS is the cornerstone of many of the business operations that help your organization operate seamlessly and successfully. Starting in January 2022, Oracle E-Business Suite release versions below 12.2 will move into Oracle Sustaining Support and you will no longer receive new fixes, updates, or security patches.
It's important that you take immediate action to modernize your Oracle EBS as soon as possible to continue to enjoy the benefits of staying under Oracle's support umbrella with Oracle Premier Support, the most comprehensive and robust protection for your EBS system that ensures the continuous, uninterrupted, and periodic delivery of new features and functionalities, as well as security improvements to protect your Oracle EBS investment.
To avoid support gaps, outages, and security vulnerabilities, Oracle Advanced Customer Services has created a new form of support that helps bridge the gap for you and help with just enough coverage while you are on your journey to modernization.
This solution, called Market Driven Support, is far from comprehensive, but it will help mitigate support gaps, provide temporary stability, and help with business continuity for the years 2022 and 2023. In a nutshell, Market Driven Support should only be looked at as a means to gain additional time to complete your Oracle EBS upgrade to Release 12.2, and not as a permanent replacement for Oracle Premier Support.
Oracle EBS, being one of Oracle's flagship products, is part of the Oracle Applications Unlimited program. Within this program, customers who upgrade to Release 12.2 will get Oracle Premier Support for their EBS instance through at least 2032 (as announced in March 2021), with 1-year increments from what we've seen so far since Oracle announced this program.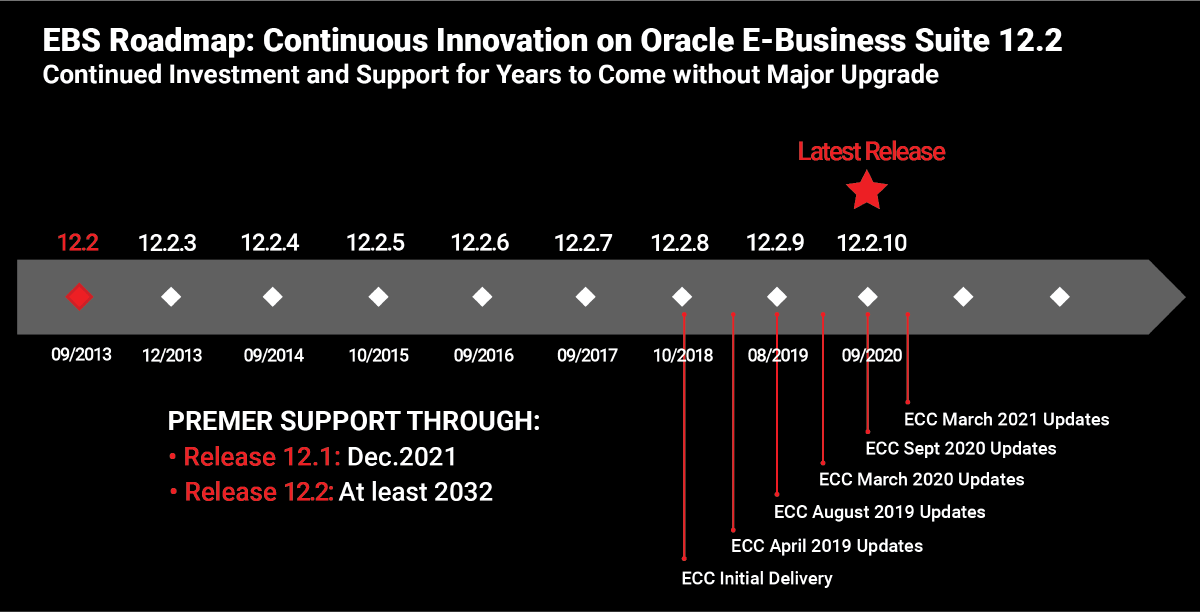 As part of Applications Unlimited, Oracle EBS Release 12.2 is part of the Continuous Innovation model, which is the subject of today's blog post.
Continuous Innovation and Oracle Premier Support
Continuous Innovation gives you the latest updates and functionality without having to embark on a major upgrade. Under this model, Oracle will deliver ongoing applications and underlying technology stack updates for Oracle EBS 12.2 without requiring the effort of simultaneous technical and functional upgrades. This will help you save time and money that can be better invested in other business priorities. As such, 12.2 is the long-term release for Oracle EBS.
The three major features of Continuous Innovation are:
Access new features without major upgrades
New functionality delivered as updates to the existing Continuous Innovation release (Oracle EBS 12.2.X)
Fixes and updates are cumulative and available in most current releases.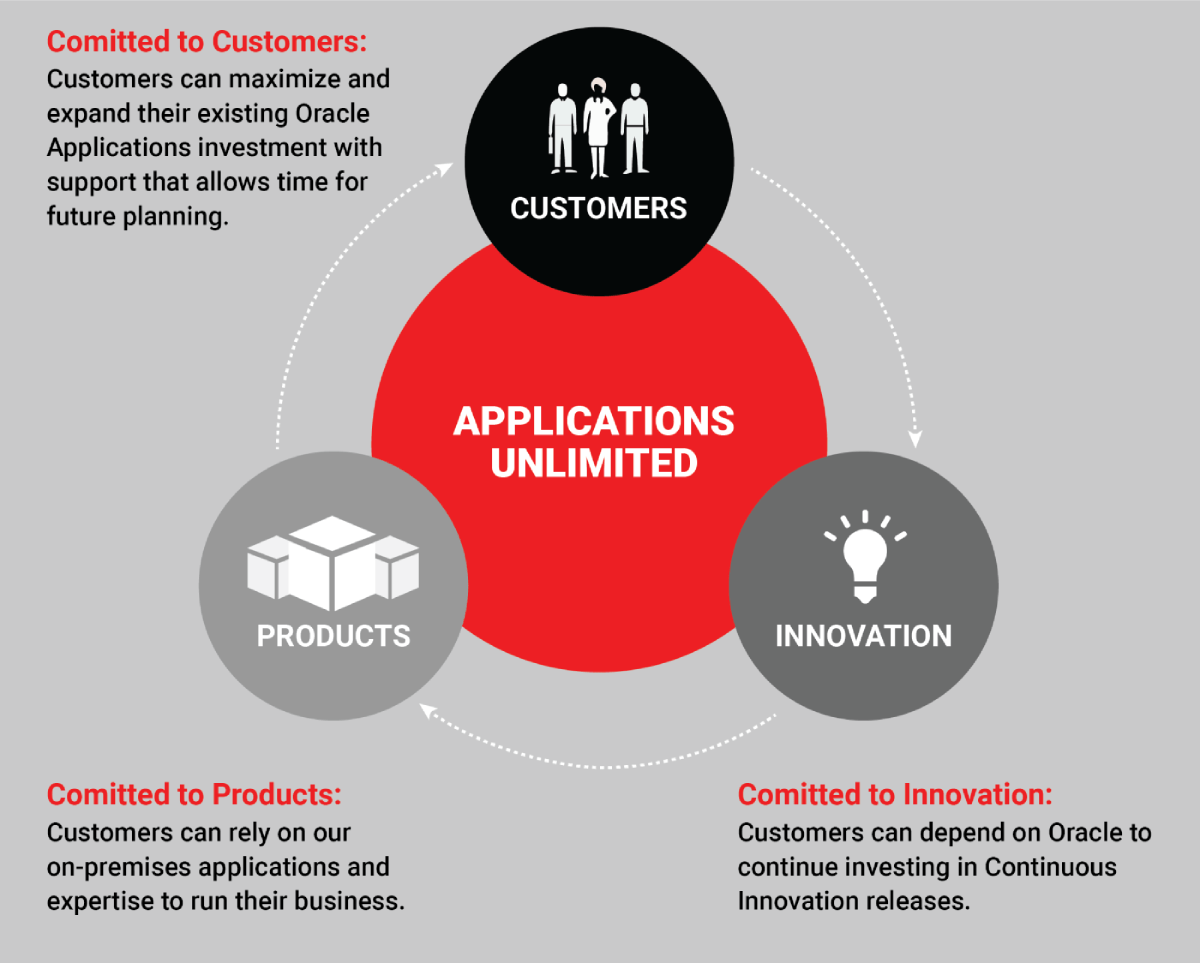 So, what can you expect once you upgrade to Release 12.2 and enter the Continuous Innovation model? Well, Oracle has now decoupled technology stack updates from applications code updates, giving EBS users the chance to consume later technology while retaining current application code level.
Annual, ongoing application updates to Oracle EBS 12.2 applications code. Cumulative updates will deliver bug fixes and new features in a consolidated, suite-wide patch that can easily be applied with Online Patching, another flagship and key benefit of Oracle EBS 12.2.
Ongoing technology stack updates for the Oracle Fusion Middleware platform technologies underlying Oracle EBS, delivered separately from application updates, allowing the delivery of technology updates in a manner less disruptive to your business.
Historically, Oracle EBS customers needed to engage in time-consuming, resource-straining upgrades to optimize their instance and glean new features and functionalities. In a nutshell, Continuous Innovation in Oracle EBS allows customers to consume later technology while retaining their current application code level, avoiding the hassle of a major upgrade and without the time and money investment typically required to upgrade Oracle EBS.
Continuous Innovation is Oracle's move towards modernization. Still, there are Oracle EBS customers who are questioning whether to upgrade or not and how much it makes sense to their business operations.
The reality is that the upgrade is not so much a question of how much it makes sense, but how quickly it can get done to secure Oracle Premier Support and avoid the costs and risks associated with working with an Oracle EBS version that is outdated, unsupported, and vulnerable to cyber attacks. What this means is that Oracle EBS clients running on 12.2 will continue to access new functionality and later versions of underlying technology at least until 2031 (as stated earlier, please remember that Premier Support is annually reviewed to decide whether to extend or not).
Conclusion
Expert best practices call for running mission-critical applications on software that has comprehensive maintenance that includes patching. With Oracle EBS Release 12.2, Oracle introduced Online Patching. Online Patching allows Oracle EBS customers to apply patches to an EBS 12.2 system while it is still up and running, with minimal downtime.
For more information about the key aspects of Online Patching, please download this infographic that covers how Online Patching helps achieve sustainable security, reduced risks, and minimal downtime.
To sum up, thanks to Continuous Innovation, the upgrade to Release 12.2 is the last difficult Oracle EBS upgrade you'll ever have to make. The 12.2 Release will continuously deliver new features, capabilities, underlying technology stack enhancements, and security fixes, allowing the technology to meet modern business demands.
The Oracle EBS Release 12.2 will go on indefinitely, so you can rest assured that its technology will be able to advance underneath in whatever way makes sense for you and your business needs.
The upgrade to Oracle EBS R12.2 comes with significant technical and functional effort. Whether you choose to engage in a resource-sharing model to share portions of the upgrade workload between experts and your internal team or hand it over as a turnkey project, the key element to consider is time.

If we can leave you with one thing, it's this: Time is running out for EBS clients who want to protect their investment by staying on Oracle Premier Support; for that to happen, the upgrade to R12.2 must happen before December 2021 ends.