This blog talks about a different approach to your normal 12.1 to 12.2 upgrade, one that puts CEMLI Remediation first.
Some Context on Oracle EBS
The end of support for EBS 12.1.3 is just around the corner (December 2021) and companies that haven't taken the next steps in their ERP Roadmap, need to start taking action. With an upgrade to R12.2 still being a solid option, and since Oracle has declared its continuous support for EBS, what is the best and most time-efficient way to go about this upgrade?
An upgrade to R12.2 is unique in that all CEMLI (Configurations/Customizations, Extensions, Modifications, Localizations/Internationalization, and Integration) objects must be evaluated and potentially modified to ensure compliance with Oracle R12.2 ADOP standards (the standards that ensure R12.2 online patching operates correctly).
Almost every instance of EBS ever deployed contains some level of CEMLI, as all customers need to apply their own special "personalizations" to EBS in order to make it function exactly the way they need it to. This means that the technical effort to complete the upgrade often outweighs the functional effort to complete the upgrade, which has not always been the case with past version upgrades for EBS. The focus on technical effort creates challenges for the upgrade – but it also creates potential opportunities.
Traditional Upgrade Approach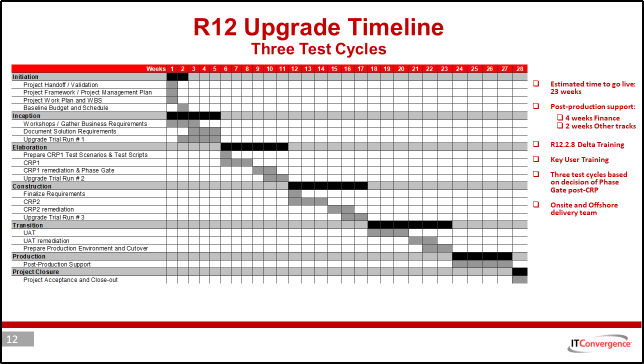 The traditional upgrade process would involve assembling a team consisting of Functional, Technical, and DBA resources, and then executing a project plan with three test cycles (CRP, SIT and UAT) followed by a Go Live and one month of post Go Live support.
Assuming that the customer is not implementing any new modules, then the bulk of the upgrade effort would be technical in nature, and would involve remediating the CEMLI objects to meet Oracle R12.2 ADOP standards.
Depending on the number and complexity of CEMLI, the amount of effort could range from hundreds of man-hours to thousands upon thousands of man-hours to do the CEMLI remediation and then test each CEMLI object. For a "typical" upgrade project, the elapsed time would be anywhere from five to seven months (Of course, the actual time frame depends on the situation of every company).
While this is a fairly straightforward and well-understood process for upgrading,  the amount of technical effort involved can potentially stretch the duration of the project.  What are the possibilities (if any) to approach an R12.2 upgrade from a different perspective and potentially reduce the duration (and disruption) that a lengthy upgrade involves?
For illustration purposes, imagine a hypothetical scenario where a company is using EBS 12.1.3 with zero CEMLIs at all. Without any CEMLI an upgrade to R12.2 could likely be completed in two to three months, as opposed to the five to seven months mentioned earlier.
Why is this?  Because (with zero CEMLI) a customer would only be utilizing standard functionality, and the Oracle EBS development team has already tested standard functionality through thousands upon thousands of automated regression tests. Oracle doesn't release a new version of R12.2, without standard functionality having been tested to a much more rigorous degree than any customer would ever test it during a typical three test cycle project. In our hypothetical scenario, the customer would only need to test standard functionality for his particular test scenarios, which could be accomplished relatively quickly and with a low probability of errors and rework required.
So why does a typical upgrade take so much longer than our hypothetical example?  It takes so long because the majority of what "breaks" during an upgrade are customer CEMLI, and customer CEMLI will need to be fixed, tested and retested before the upgrade can Go Live. But what if instead of doing the CEMLI remediation during the upgrade (the traditional approach), you could take a different approach? One that would shorten the duration of the upgrade project, reduce costs, and improve the overall quality of the upgrade?  This approach is what ITC calls the "CEMLI-first" approach.
CEMLI-First Approach: Prioritizing CEMLI Remediation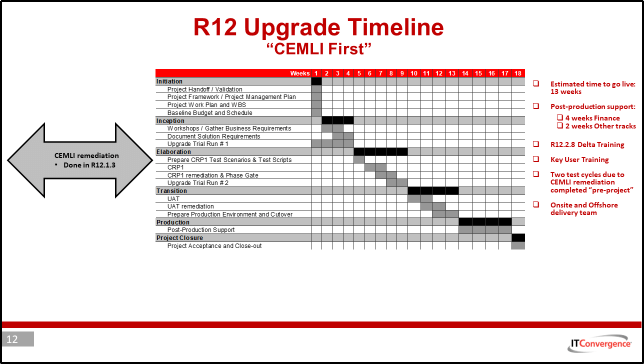 The ITC "CEMLI-first" approach basically means that instead of doing the CEMLI remediation at the same time as all of the other aspects of the upgrade, you would divide the upgrade in two parts. The technical part (the CEMLI remediation part) and the functional part (the main R12.2 upgrade itself). By doing this you can significantly reduce the risks, costs and time of your overall R12.2 upgrade.  How is that accomplished?
For the first phase, CEMLI remediation, you create a comprehensive inventory of all CEMLI within your EBS R12.1.3 instance and analyze them for adherence to R2.2 ADOP standards as well as against standard functionality contained in R12.2.
Based on the results of your analysis, you can then create a CEMLI remediation plan, assign resources to it and actually perform the necessary code changes in your current R12.1.3 environment. These changes can be tested and then deployed and run in R12.1.3 production, which will provide a "real-life" test of functionality far more stringent and thorough than the testing typically executed during a three-test cycle upgrade project.
Thus, when the time for the actual R12.2 functional upgrade arrives, customer CEMLI can be treated much more like Oracle standard functionality, which allows the upgrade project itself to be shortened from the typical five to seven-month range down to something closer to the hypothetical two to three-month range in our example above (maybe three to six months, depending on the customer environment).
The Best Approach for You
Although there are many advantages from taking a CEMLI-first approach instead of a traditional R12.2 upgrade approach, the approach you should take depends on your company's situation and unique goals. Although many clients are able to take the CEMLI-first approach, some clients have not been able to do so because of their unique circumstances. ITC can help you identify the best approach for you and support you in the execution of that approach.
For more information on our R12.2 upgrade services, contact us here.
You can also get prepared for EBS 12.2 with this checklist Oracle E-Business Suite Release 12.2: Technical Planning, Getting Started, and Go-Live Checklist(Doc ID 1585857.1), which applies to Release 12.2.5 and higher.