Spring Session | May 11-13, 2021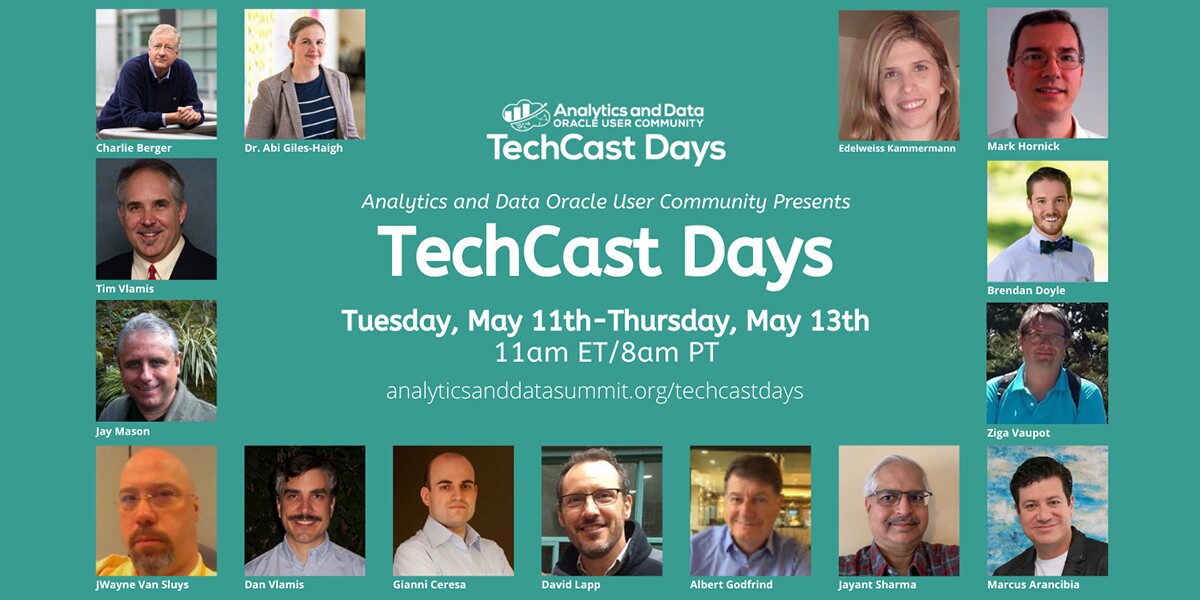 The Analytics and Data Oracle User Community (AnDOUC) is a group made up of the top Oracle BI, Data Warehouse, Advance Analytics, Big Data, and Spatial and Graph experts. AnDOUC TechCast Days include three days of the best analytics and data presentations on the web.
May 11th – Machine Learning Day
1st Oracle Machine Learning LiveLab
Tuesday, 11th May | 11 AM ET
In this 90-minute Oracle Machine Learning workshop, we will step users through Oracle Machine Learning (SQL) Notebooks while using multiple use case scenarios for analyzing insurance claims data and customer behavior data. Students will run the notebooks themselves to build and apply OML models inside Oracle Autonomous Database and then work with Oracle APEX applications that leverage OML's insights and predictions. We will also emphasize OML AutoML User Interface where "citizen data scientists" can easily "click" their way to good ML models and generate notebooks for further customization and deployment.
Presenters
Tim Vlamis
Charlie Berger
Dr. Abi Giles-Haigh
Edelweiss Kammermann
Brendan Doyle
Ziga Vaupot
May 13th – Analytics+ Day
OAC – Self-Service Data Visualization Hands-On Lab
Thursday, 13th May | 11 AM ET
Are you a business analyst curious about what Oracle Analytics can do? Join us for an Oracle Analytics Hands-On Lab (HOL)! This Analytics HOL will provide you and your team the necessary fundamentals to get started with Oracle Analytics Cloud (OAC). Throughout this lab, participants will gain a deeper understanding of how to get the most out of their data using Oracle Analytics Cloud.
OAC with ADW – Self-Service Data Prep and Data Flow Hands-On Lab
Thursday, 13th May | 12:35 PM ET
Attendees will receive training in a live OAC instance where they will learn how to connect to their needed data, prepare data using augmented enrichment capabilities, visualize that data to find insights, and collaboratively share their findings with other OAC users. This lab will provide you with best practices in leveraging key features like Data Flows, 1-Click Explain, statistical forecasting, data storytelling, and much more! Take your reporting skills to the next level in this hands-on lab.
Presenter Information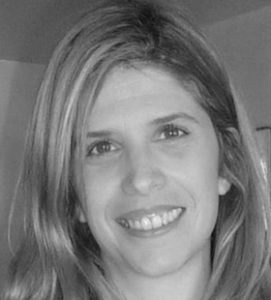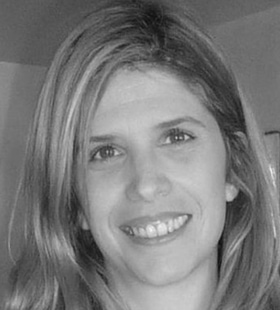 Edelweiss Kammermann
Senior Manager – BI & Data Analytics, IT Convergence
Edelweiss Kammermann is an Oracle BI and Data Integration specialist and Oracle University trainer based in Montevideo, Uruguay. She has over 20 years of experience in consulting and project management in Oracle technology. Her work with both private and public organizations has spanned much of South America, especially Uruguay, Bolivia, Panama and Honduras working in World Bank projects. She also worked for Rittman Mead as Training Materials Specialist, developing new training materials and delivering courses in English and Spanish She is a founding member and the Vice President of the Uruguay Oracle Users Group and is part of the Communications Committee and Community Director of Latin America Oracle Users Council (LAOUC). Edelweiss has presented in Spanish, Portuguese and English on Oracle BI, BPM and Data Integration products and techniques at many conferences across Latin America (including OTN LAD Tour), and also at very well-known international conferences like UKOUG, OOW, Collaborate and Rittman Mead BI Forum. Edelweiss has also published technical articles on OTN (English) and OTN Latin America (Spanish).