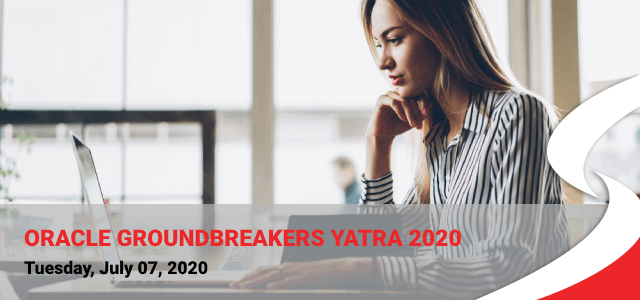 Oracle Groundbreakers Yatra 2020 is being organized by the Oracle Groundbreakers, Oracle ACEs, and Oracle User Group Evangelists in the region in the month of July 2020. Considering global precautions for the COVID-19 Coronavirus, and building upon recommendations from the World Health Organization, AIOUG is taking a new approach to its Oracle Groundbreakers Yatra event.
All India Oracle Users Group (AIOUG) is a not-for-profit organization started by like-minded users to share their experiences from using Oracle technology over the years with fellow users who have similar interests. AIOUG provides Oracle technology and database and application professionals the opportunity to enhance their productivity and influence the quality, usability, and support of Oracle technology.
Session Details
Using Machine Learning and OAC for Proactive Analytics
Tuesday, July 07 | 6:00 PM – 7:00 PM IST
The way we perform analytics has changed during the last few years. Besides doing the usual descriptive analytics, we need to be some steps ahead and predict the clients' and market's behavior to increase the business or analyze patterns to detect and predict fraud. This session explains the role of machine learning in predictive and proactive analytics. It covers the prebuilt machine learning features included in Oracle Analytics Cloud and shows how to create and train machine learning models for predicting the desired output. The session includes a ​live demo.
Speaker Information
Edelweiss Kammermann
BI Manager, IT Convergence
Edelweiss Kammermann is an Oracle BI and Data Integration specialist and Oracle University trainer based in Montevideo, Uruguay. She has over 19 years of experience in consulting and project management in Oracle technology. Her work with both private and public organizations has spanned much of South America, especially Uruguay, Bolivia, Panama, and Honduras working on World Bank projects. She also worked for Rittman Mead as a Training Materials Specialist, developing new training materials and delivering courses in English and Spanish She is a founding member and the Vice President of the Uruguay Oracle Users Group and is part of the Communications Committee and Community Director of Latin America Oracle Users Council (LAOUC). Edelweiss has presented in Spanish, Portuguese, and English on Oracle BI, BPM, and Data Integration products and techniques at many conferences across Latin America (including OTN LAD Tour), and also very well-known international conferences like UKOUG, OOW, Collaborate, and Rittman Mead BI Forum. Edelweiss has also published technical articles on OTN (English) and OTN Latin America (Spanish).