It's almost a moot point to highlight that Oracle Premier Support ended for Oracle E-Business Suite clients below the last major upgrade Oracle promised its EBS users would ever have to make: Release 12.2.
The end of 2021 marked the end of Premier Support, and with it, clients below R12.2 were left either in Sustaining Support or with a limited form of support thanks to having purchased Market Driven Support. Whatever the case, the future is not looking modern if below 12.2.
At this point in the life of their EBS instance, clients on Sustaining Support will only receive the bare minimum of support that Oracle has to offer. For those who decided to purchase Market Driven Support, they will be partially covered for the years 2022 and 2023 while they take action to modernize their EBS instance.
In both scenarios, the Oracle EBS instance is exposed to unwanted risks and added costs that can severely impact the wellbeing of any organization. Worth mentioning, without Premier Support, clients lose access to:
New updates
New fixes
Security alerts
Critical patch updates
New upgrade scripts
New tax, legal, and regulatory updates
Certification with new Oracle products
Certification with 3rd party products and versions
As such, Oracle EBS users on version 12.1.3 and below need to take significant action sooner rather than later.
The database is a crucial aspect of the Oracle EBS modernization roadmap, so it's important that clients take calculated steps to ensure their database version is compliant with the latest standards.
EBS support and database support cover different things, and it's crucial that clients take notice of this important fact. For example, Premier and Extended support timelines for EBS only cover EBS while Premier and Extended support timelines for Oracle Databases cover the database used by an EBS environment.
This means that Oracle EBS users need to ensure they remain on a database release and patchset that is fully covered by Premier Support or at least Extended Support. Also, it's important to keep in mind that Oracle EBS support timelines do not override Oracle Database support timelines.
Database Options with 12.1.3 in Market Driven Support
For EBS R12.2 on-premises and for cloud-based migrations, the best database release to be on is Oracle Database 19c as it's the Long Term release from Oracle. What does this mean, well, according to Oracle, there are two types of Oracle Database releases: Long Term Release and Innovation Release.
The Long Term Releases are primed for instances that benefit from infrequent upgrades as they offer the highest level of stability and the longest length of error correction support. These releases typically have 5 years of Premier Support followed by 3 years of Extended Support. In stark contrast, an Innovation Release takes place in between Long Term Releases, delivering enhancements and new capabilities which will also be included in the next Long Term Release. These types of releases are meant to help users continuously leverage leading-edge technologies to rapidly develop or deploy new applications or augment existing applications. Keep in mind that support for Innovation Releases includes 2 years of Premier Support, but there is no Extended Support.
If you're on release 12.1.3 of Oracle EBS and you purchased Market Driven Support, here are the database options you have available:
1. Only the following Oracle Database versions are certified with EBS 12.1.3:
Oracle Database 11g Release 2 (11.2.0.4)
Oracle Database 12c Release 1 (12.1.0.2)

The August-December 2022 period requires Severity 1 Exception Request from Premier Support.
Custom Market Driven Support for 2023 requires approval from Commercial Management

Oracle Database 19 (we strongly recommend that you're on this version already) supported through April 30, 2027.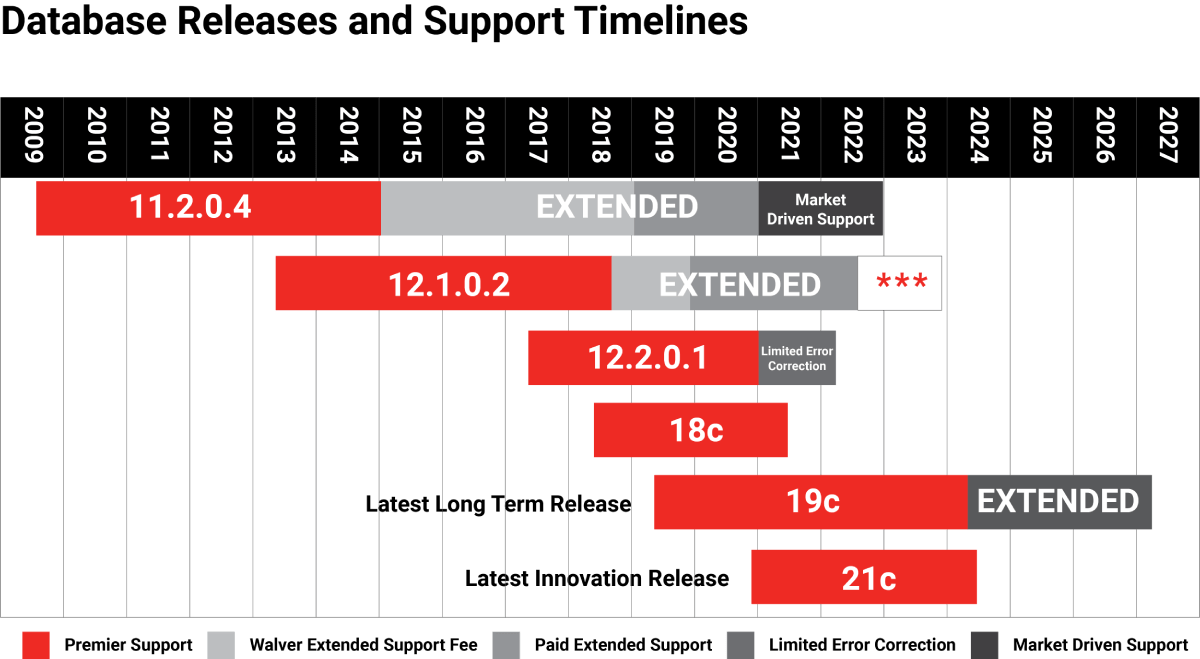 For Oracle Database 19c, Premier Support ends on April 30, 2024 with Extended Support fees required beginning May 1, 2024 through April 30, 2027. If below Oracle Database 19c, it's highly recommended that you upgrade as soon as possible. If you're running 11.2.x or 12.1.x, it's critical that you first upgrade to the terminal release, namely 11.2.0.4 or 12.1.0.2 and then proceed with the upgrade to 19c. If you're currently on 12.2.0.1 or 18c, you need to upgrade to 19c before the grace period for those two versions expires.
In May 2021, Oracle confirmed that Oracle Database 19.11 was certified with Oracle EBS Release 12.1.3 on-premises.
You can check out the service scope of Market Driven Support for EBS users in 12.1 in our latest ebook.