Cloud computing has become a mainstay of enterprise operations. Not only do organizations turn to public cloud services for their application and data requirements, but many are now deploying private clouds in their own data centers or other facilities — perhaps using an open-source platform such as OpenStack. But implementing a cloud infrastructure is no small matter and must be carefully weighed against the benefits of public cloud services.
Cloud providers Amazon, Google, Microsoft and Oracle could ultimately disrupt the entire HCI software market. They are further extending their cloud offerings to on-premises infrastructure with offerings such as Amazon Outposts, Google Anthos, Microsoft Azure Stack Hub and Oracle Cloud at customer from its Oracle Cloud Infrastructure solution. Meanwhile, I&O leaders will have an alternative to public cloud and private data centers by leveraging IaaS providers that use simpler-to-manage HCI software for their own infrastructures.
Traditional three-tier infrastructure platforms are evolving and becoming less expensive, more simple to manage, more efficient and designed to accommodate most performance-sensitive applications.
Over the last five years, hyper converged infrastructures have gained mind share, and are being considered as alternatives for traditional server and storage systems in data center modernization projects to enable a software-defined approach to the data center and edge deployments.
Understanding Distributed Cloud, HCI and Traditional Infrastructure
What is a Distributed Cloud
It refers to the distribution of public cloud services to different physical locations. These cloud services are optimized for performance, compliance, and edge computing. This complies not only on for your cloud provider's infrastructure but on premises, in other cloud providers' data centers, or in third-party data centers or colocation centers – and manage everything from a single control plane.
What is a Hyper-Converged
It provides a building block software-defined approach to compute, network, and storage on standard server hardware under unified management. Companies are using hyper converged infrastructure to run most types of business-critical, or tier-one, applications thanks to its high availability. Other common workloads that run on hyperconverged systems include database software like Oracle, virtual desktop infrastructure, collaboration applications, analytics, remote management, and testing environments
What is a Traditional Infra or three-tier infrastructure
It refers to the combination of disaggregated servers, storage arrays and networking infrastructure. Each tier runs on its own infrastructure, each tier can be developed simultaneously by a separate development team, and can be updated or scaled as needed without impacting the other tiers.

Benefits
Distributed Cloud
Enabling of cloud native infrastructure delivery
Alignment and standardization with public cloud IaaS
Hyper Converged Cloud
Simplicity of deployment and management
Consolidation of infrastructure services
Traditional Infra
Best-of-breed storage and sever selection
Lower Risk with tried-and-true technology
Limitations
Distributed Cloud
Integration with on-premises infrastructure stack
Unknown total cost of ownership
Hyper Converged Cloud
Inefficiencies of compute and storage
Difficulty to address scale-up applications
Traditional Infra
Difficult to manage
Designed for large data centers
What is the Best Fit for it?
Distributed Cloud -Use distributed cloud deployment platforms when trying to embrace cloud native applications and stacks at the data center and the edge
Hyperconverged Cloud – Use HCI to support well-defined, well matched workloads and not as a one-size-fits-all server/storage alternatives
Traditional Infra – Use traditional infrastructure for large deployments of consolidated applications with demanding and unpredictable needs.
Best fit Use Case
Distributed Cloud – A Cloud Solution Architect would prefer the capabilities of public cloud infrastructure availability at several locations for their distributed cloud solution, to overcome the limitation of space constraints and has the ability to scale-out as per their needs.
Hyperconverged Cloud – An Infrastructure Manager would prefer the capabilities to support consolidation and hybrid cloud for their Hyperconverged Infrastructure, to have best of both worlds, and overcome the limitation of space constraints and has the ability to scale out.
Traditional Infra – A Data Center Infrastructure Manager will prefer to leverage the need for core databases in their Three-tier traditional infrastructure, as they would not have any limitation towards space availability and would look to scale-up as and when they need.
Conclusion
Simply put, converged infrastructure is the same technology as traditional infrastructure, but is packaged to be easier to consume and deploy. On the other hand, hyperconverged infrastructure takes a completely different approach: using cloud computing technologies implemented entirely in software to enable clusters of commodity server hardware to reliably and predictably power enterprise software services.
Ultimately, HCI is far more flexible, manoeuvrable, and scalable, delivering a simple, speedy deployment model: Hyperconverged infrastructure is often deployed on commodity components, providing a simplified scale-out architecture with commodity servers.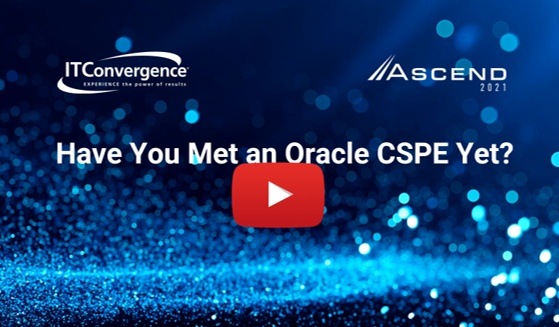 Gartner recommends engaging certified cloud partners early on in your cloud planning process, to ensure that loopholes are identified early and plugged in before it turns out to be a disaster.
We now have Oracle's latest cloud certification – CSPE, & consulting with our Experts can help you make faster decisions and define the roadmap for your digital transformation initiatives.

A well-versed partner with multi-cloud skills can help accelerate and de-risk your Cloud journey and ensure long term cloud success.
Speak to our cloud certified experts Now!