Last year at Oracle OpenWorld 2019, Al Marciante, Sr. Director, Product Management at Oracle, presented the plans for Hyperion Enterprise Performance Management(EPM) On-Premises Applications. In this blog, we'll discuss the main updates you should be aware of to plan your next steps accordingly.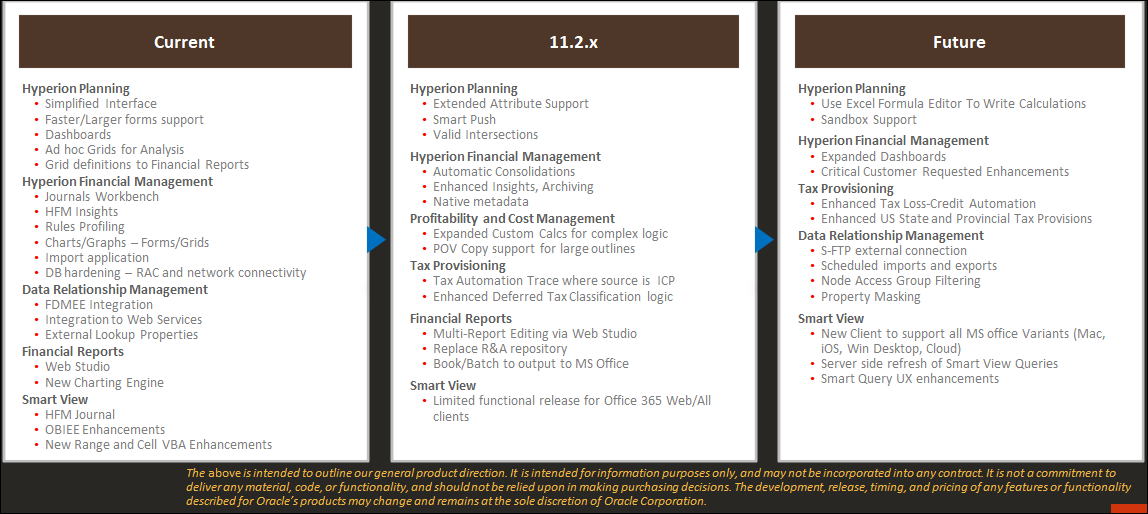 Hyperion Lifetime Support Policy Updates
First, the announcement that Premier Support for Hyperion 11.1.2.4 has been extended through December 2021. This replaces Extended Support, therefore no Extended Support will be offered.
Please refer to the following for more information and details:
Hyperion EPM and Applications Unlimited
As announced for other applications, like Oracle EBS, Oracle introduced the "Continuous Innovation" release model for Hyperion EPM 11.2, making Hyperion part of Oracle's Applications Unlimited. Applications Unlimited is Oracle's commitment to continuous innovation while also providing a commitment to offering Oracle Premier Support through at least 2030.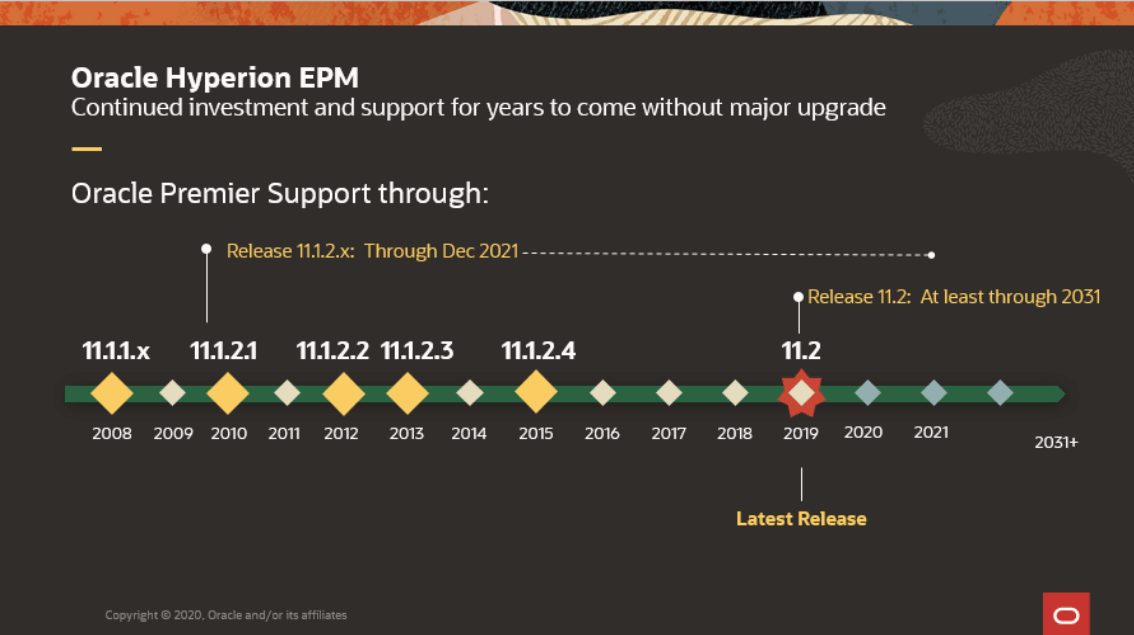 This means that they will be delivering ongoing applications and underlying technology stack updates for Hyperion EPM 11.2 without requiring a major upgrade. Updates will be cumulative and will combine bug fixes and new features into a consolidated patch set that can be easily applied with O-Patch.
In addition, 11.2 is the long-term support release for Oracle Hyperion Enterprise Performance Management, with Oracle Premier Support available through at least 2031.
As Hyperion EPM joins Oracle Applications Unlimited, enhancements are driven by customer needs and priorities and provides a more agile delivery mechanism with smaller releases for easier adoption.
Hyperion EPM On-Prem Product/Features Discontinued in 11.2
The following are the features discontinued in the recent release of Oracle Hyperion EPM 11.2.
Hyperion Financial Management

Financial Management Analytics
Essbase Analytics Link for Hyperion Financial Management
Quantitative Management and Reporting for Solvency

Hyperion BI+

Interactive Reporting (IR)
Production Reporting (SQR)
Web Analysis (WA)

Hyperion Planning

Hyperion Strategic Finance
Crystal Ball (replaced by Predictive Planning)
Simplified User Interface (SUI)
Workforce Planning
Capital Expense Planning
Project Financial Planning
Offline Planning

Additional

EPM Architect (EPMA)
Disclosure Management
EPM Mobile
Hyperion EPM On-Prem 11.2.x Planned Features
The following are features planned to be released in the upcoming future:
Hyperion Financial Management

Automated Consolidations
Configurable by admin
Native Metadata Editor
Replaces metadata management
Purging source tables after import
Performance improvements
SV, DB batch processing, etc.
Linux Support

EPM Infrastructure

Additional 3rd party certifications

Hyperion Planning

Smart Push
Dimension Editor SV extension
Extended Attribute support
Valid Intersections

Data Relationship Management

Batch scripts to ease EPMA replacement
Enhanced DRG Experience
DRG Mass Approvals
SFTP Connection
Out-of-Place Install
EPM 11.2 is an out of place installation which means that the software must be installed on new hardware.
What is the current version of EPM?
It is important to understand that your current version of EPM should be on 11.1.2.4.x to be able to upgrade to 11.2. If your system is not on 11.1.2.4.X, you need to perform an "In-Place" upgrade to 11.1.2.4.x first.
Define your Hyperion EPM Roadmap
So upgrade to Hyperion EPM 11.2 or migrate to EPM Cloud? ITC can help you sort this out. We provide unbiased advice to define the best roadmap for you, taking into account your current business processes, IT footprint, and areas of opportunity for innovation.
Request our assessment below and take your technology roadmap at your own pace.