Many organizations with on-premises financial applications are evaluating the capabilities of cloud solutions, and deciding when they should switch to the cloud. They are looking for solutions that are capable of providing functionality equivalent to their on-premises counterparts and in many cases; they find that the capabilities of modern cloud applications like Oracle ERP Cloud surpass those of on-premises applications.
Once you decide to modernize your financial applications and processes, you need to evaluate whether moving to Oracle ERP Cloud is the right option for your organization.
Benefits of Moving to Oracle ERP Cloud
Leading Product Capabilities
For the third consecutive year, Gartner has named Oracle ERP Cloud a Leader in its 2019 Magic Quadrant for Cloud Core Financial Management Suites for Midsize, Large and Global Enterprises. Oracle ERP Cloud is a Leader due to its broad and deep financial management capabilities, international capabilities, and strategic focus on selling and marketing the solution in all regions.
Additionally, Gartner's Critical Capabilities report rated Oracle ERP Cloud above average in all areas of functionality citing improved year-over-year scores in financial analytics and reporting, accounts receivable, and general ledger coding structures.
Magic Quadrant for Cloud Core Financial Management Suites for Midsize, Large and Global Enterprises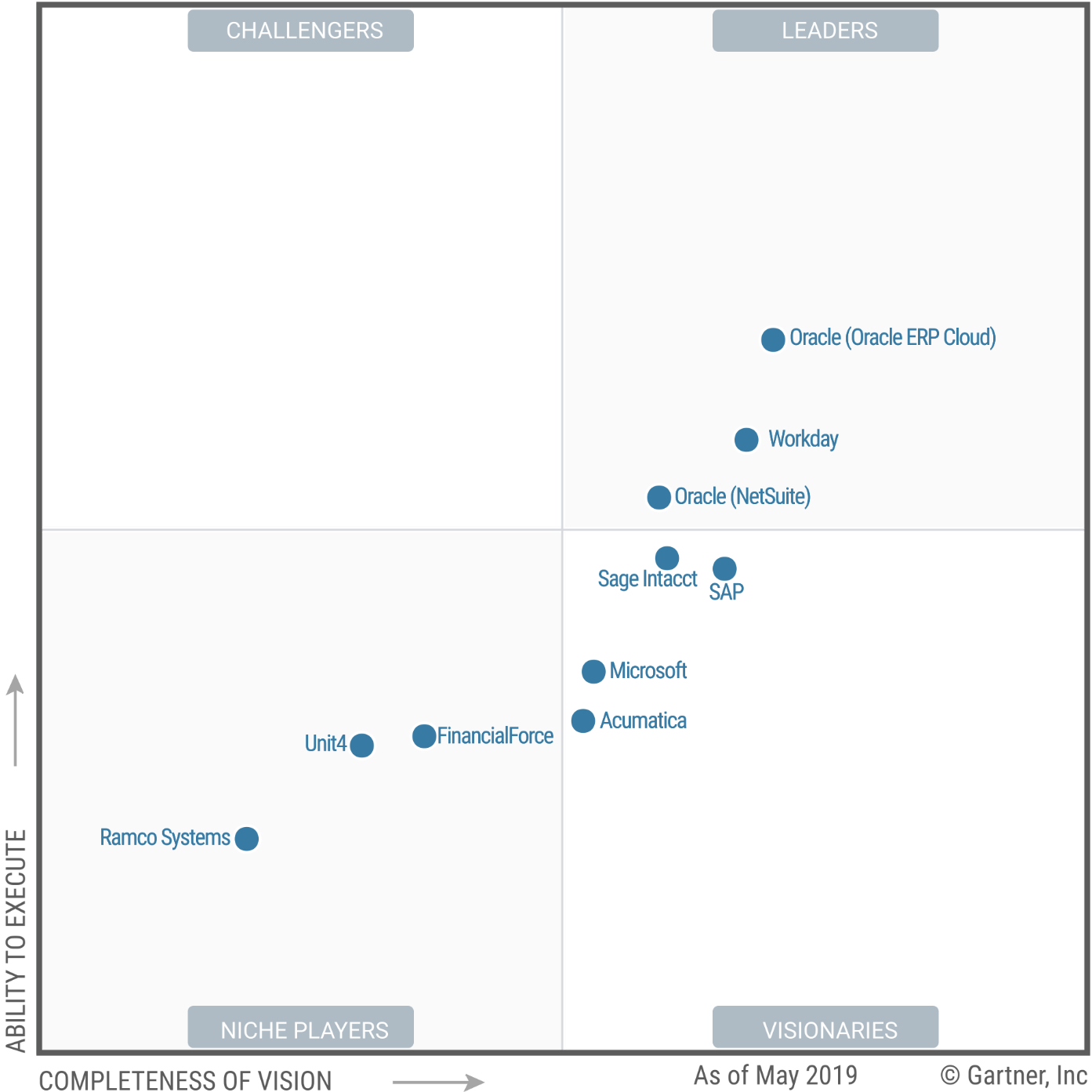 Lower TCO
One of the main reasons for moving any process or application to the cloud is reducing costs. Moving to Oracle ERP Cloud is much more cost-effective than on-premises counterparts.
Looking at software, hardware, personnel, and training costs over a three-year period, Nucleus Research identified that, on average, initial costs for on-premises ERP were 2.4 times higher than Oracle ERP Cloud.
A Complete Solution
ERP systems cover a number of back-office processes that are critical to your business. Moving to Oracle ERP Cloud enables you to deliver all capabilities according to the needs of your business. Using Oracle ERP Cloud, you can transform the following processes:
Financials
Revenue management
Accounting
Project management
Procurement
Risk management
Order management
Inventory
Continuous Innovation
Emerging technologies like blockchain, artificial intelligence (AI), machine learning (ML), cognitive computing, intelligent process automation, and the Internet of Things (loT) are set to transform finance.
Oracle ERP Cloud is updated every quarter with the latest emerging technologies, use cases, and best practices built into the software ensuring that it's always up to date. In Oracle's ERP trends report, 81% of Finance leaders cited the ability to stay current as of the top benefit of Oracle ERP Cloud. Organizations mainly moved to the cloud for economic benefits but once they moved to the cloud, the competitive advantage offered by new technology outweighed everything else.
Global Presence
The ability to do business in multiple languages, across many countries, and comply with regulations in every region, is critical for a global organization. Oracle ERP Cloud combines the power of a global ERP suite with transactional and reporting capabilities across a range of business flows and countries. This is especially important for global enterprises.
Deeper Insights
Oracle ERP Cloud can pull important data together from a wide range of sources, helping your decision-makers easily understand it using an intuitive analytics dashboard. When you're able to combine data from multiple applications, you can get deep, valuable insights that can help you make informed decisions, faster.
Challenges of Moving to Oracle ERP Cloud
Resistance to Change
No matter the size or complexity of your organization, ERP implementations are difficult. There could be some resistance to change among your employees due to many reasons like the fear of losing their jobs, fear of diminishing their value to the organization, and the fear of not being in control of their business processes. It's important to develop a plan for change management that can ease your employees' fears about moving to Oracle ERP Cloud. The more information you provide, the more your employees will understand why the change is happening and how it will benefit them.
Limited Customizations
Standardization vs. customization in cloud applications is an ongoing debate and the answer always depends on the situation. With every release, Oracle ERP Cloud is becoming more and more configurable. This means that functionality that used to be developed through customizations is now being offered as standard. However, the fact remains when companies require heavy customizations, on-premise ERP applications are usually a more suitable option.
Security Considerations
Oracle ERP Cloud ensures good security standards, but organizations still need to implement the additional controls around security and visibility as if they were running the application on-premises. Many organizations customize their ERP systems and potential security vulnerabilities can be introduced by the customer while extending the functionality, and that needs to be controlled. Some controls that organizations should implement include ERP vulnerability assessments, ERP monitoring, interface data security, and secure configuration.