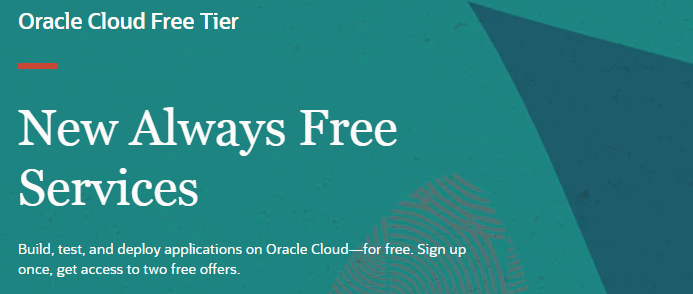 Sept 16th, San Francisco, California – Today at Oracle OpenWorld 2019, Larry Ellison announced the Oracle Cloud Free Tier that will allow users to build, test, and deploy applications on Oracle Cloud for free.
As usual, Larry Ellison's Keynote came with several updates, but the one that caught the most attention was the announcement of the Oracle Cloud Free Tier. The Oracle Cloud Free Tier allows users to sign up for an Oracle Cloud account which provides Always Free Cloud Services and a Free Trial with US$300 of free credit to use on all eligible Oracle Cloud Infrastructure services for up to 30 days.
What's Included In Oracle Cloud Free Tier?

New Always Free:
Two Oracle Autonomous Databases with powerful tools like Oracle Application Express (APEX) and Oracle SQL Developer
Two Oracle Cloud Infrastructure Compute VMs; Block, Object, and Archive Storage; Load Balancer and data egress; Monitoring and Notifications
30 Day Trial:
US $300 in free credits that can be used to access a wide range of Oracle Cloud services for 30 days, including Databases, Analytics, Compute, and Container Engine for Kubernetes
Services Available in the Always Free Cloud Services
These services are available for unlimited time although some limitations apply. Currently these are the services available:
Autonomous Data Warehouse
Autonomous Transaction Processing
Compute
Block Volume
Object Storage
Archive Storage
Load Balancing
Monitoring
Notifications
Outbound Data Transfer
If new services are added, users will be able to use them automatically.
What You Can Try with the Free Trial Credits?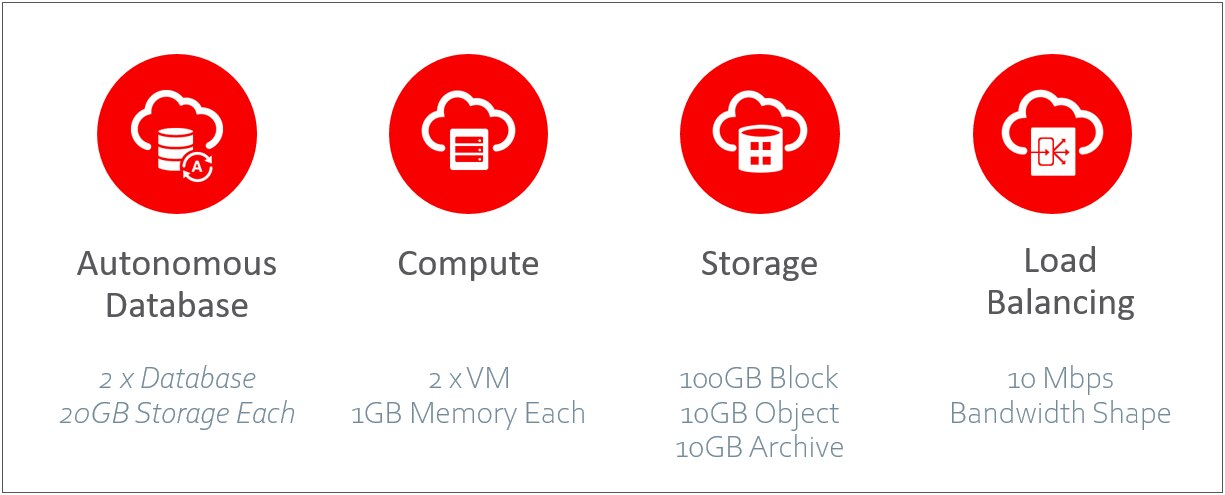 Infrastructure: Oracle Cloud Infrastructure services including compute, storage, containers, database, functions, load balancing, and FastConnect
Databases: Self-driving, self-securing and self-repairing Autonomous Transaction Processing and Autonomous Data Warehouse, NoSQL Database and Database Backup
Application Development: A comprehensive DevOps platform for CI/CD, deep diagnostics for Java applications, and streamlined integration – includes Java, Digital Assistant, Mobile Hub, Visual Builder, Developer and Messaging
Analytics: Connect people, places, data, and systems to change how you understand and act on information
Content and Experience: Drive omnichannel content management and deliver consistent digital experience to employees, partners and customers with Content and Experience Cloud and WebCenter Portal
Management and Security: Monitoring, logging, and analytics to provide smarter insight and enable faster action, and a cloud-native identity platform to add user authentication to your apps
Integration: Out-of-the-box adapters and process automation to seamlessly integrate on-premises and cloud applications, and to build and deploy SOA-based applications
What are the Specifications?
2 Autonomous Databases (Autonomous Data Warehouse or Autonomous Transaction Processing), each with 1 OCPU and 20 GB storage
2 Compute VMs, each with 1/8 OCPU and 1 GB memory
2 Block Volumes, 100 GB total, with up to 5 free backups
10 GB Object Storage, 10 GB Archive Storage, and 50,000/month API requests
1 Load Balancer, 10 Mbps bandwidth
10 TB/month Outbound Data Transfer
500 million ingestion Datapoints and 1 billion Datapoints for Monitoring Service
1 million Notification delivery options per month and 1000 emails per month
Use your Always Free resources as long as you want with no time constraints—subject only to the capacity limits noted. When your 30-day trial period for the expanded set of services ends, you can continue using Always Free services with no interruption.
Always Free and Free Trial instances can be seamlessly upgraded to paid at any time. Existing Oracle Cloud customers have access to Always Free services automatically—no new sign up required.
We believe that this is a very generous offer from Oracle, allowing businesses to experience first-hand the many benefits of Oracle Cloud Platform and Infrastructure.
Know about detailed breakdown of the Oracle cloud free services
---