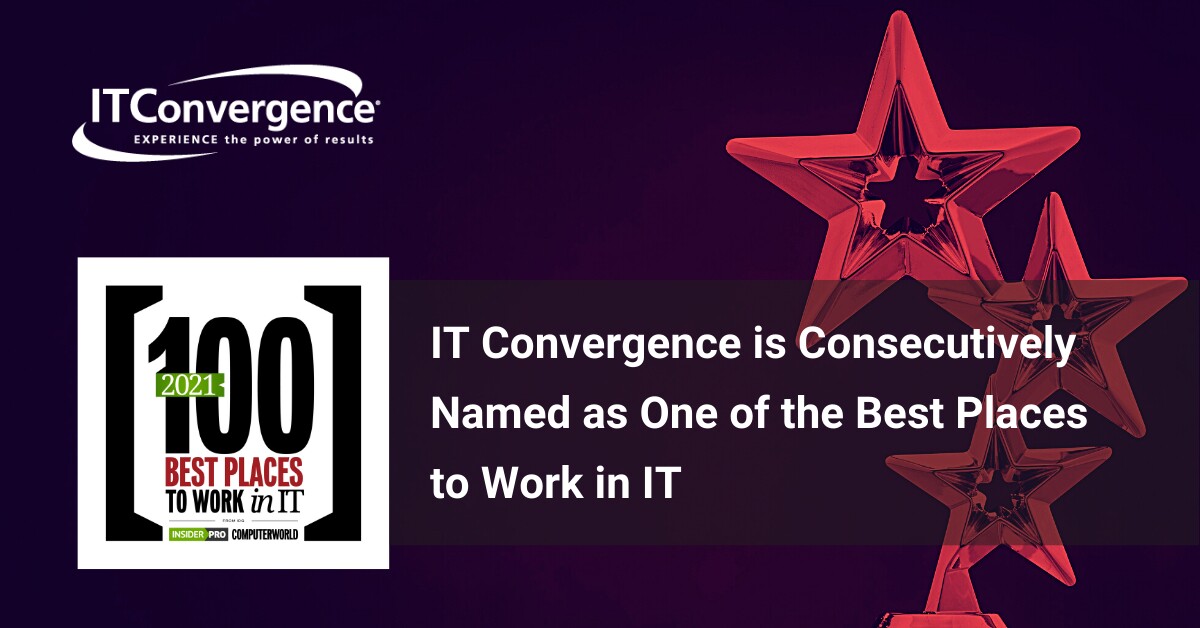 IT Convergence is proud to announce that we have been ranked 14th among small organizations in Insider Pro and Computerworld's 2021 Best Places to Work in IT. This achievement is a testament to our efforts towards creating a positive workplace culture at IT Convergence, where everyone feels respected and takes pride in their work. We thank all our employees for their outstanding support, and for making IT Convergence an amazing place to work.
According to the survey, the 100 organizations on this list demonstrated a strong focus on employees in a challenging year, particularly around career development, training, benefits, diversity and inclusion as well as retention efforts. Given that company size can play into the culture and benefits, the organizations on the 2021 list are broken down by size (large, midsize, small).
Best Places to Work in IT researchers conducted a comprehensive survey of tech employees at participating organizations. Respondents were asked about the most important issues facing their IT department, as well as the most important issues facing the tech industry as a whole. Employees were also asked to reflect on how fairly and equally they believe their organization treats employees when it comes to gender, race, religion and sexual orientation.
About IT Convergence
IT Convergence is a global Oracle Platinum Partner with a comprehensive service offering across all three pillars of the Cloud (IaaS, PaaS, SaaS), including Consulting (Advisory), Private Cloud (Hosting), Managed Services, Cloud Migration, Integration, Business Intelligence/Analytics, Cybersecurity, Development, RPA, Testing, Training, and Change Management services. We have created value for over 1,100 customers globally, including 1/3rd of Fortune 500 companies.