Are you using Oracle ERP, HCM or E-Business Suite? These are systems you have invested millions in, and you have entrusted them with important business data. How easy is it to migrate them to cloud?
The shift to cloud is happening faster than expected and businesses are eager to modernize their processes and experience the many benefits. Several Oracle customers struggle to develop a transitional roadmap to adopt cloud due to multiple, complex decisions that business and IT must agree on. Migration activities are difficult to reverse and a poor migration strategy risks increased costs and causes project delays.
While you may overcome this hurdle and mutually agree on your decision to migrate to cloud, the difficult part of the journey is yet to begin. Ensuring a smooth & first time right migration, within time and budget that you have planned for.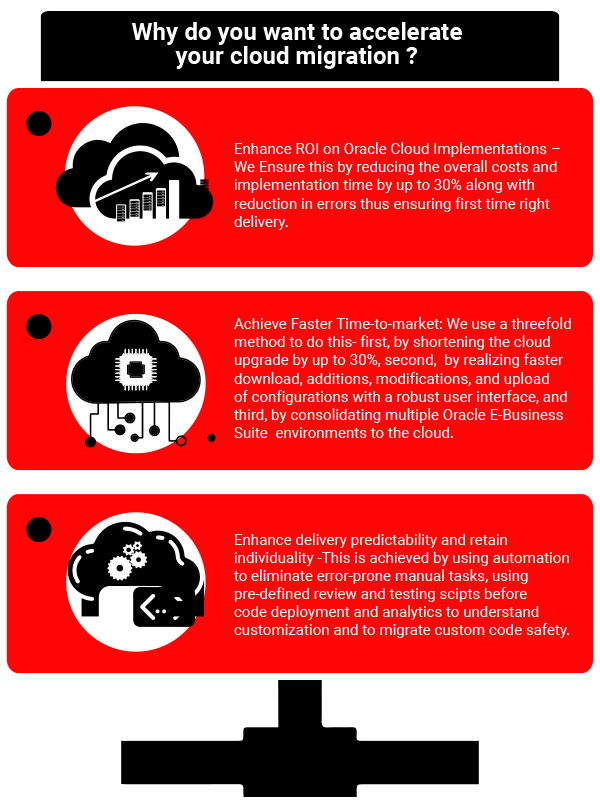 10 Migration Accelerators for EBS to OCI
1 Data Cleanup
Customers frequently perform bulk migrations of their application data when moving to the cloud. There are different online and offline methods for moving your data to the cloud. When proceeding with a data migration, data owners must consider the amount of data, transfer time, frequency, bandwidth, network costs, and security concerns. Besides lower IT costs, Smart data purging and removing obsolete programmatic objects are dramatic, can help accelerate your cloud migration and improve performance.
2 Network
Even with high-speed internet connections, it can take months to transfer large amounts of data. For example, it can take more than 100 days to transfer 100 TB of data over a dedicated 100-Mbps connection. You can configure the cloud network with an optional internet gateway and an optional IPSec VPN connection or FastConnect to securely extend your on-premises network. Oracle Cloud Infrastructure FastConnect provides an easy way to create a dedicated, private connection between your data center and Oracle Cloud Infrastructure. FastConnect provides higher-bandwidth options, and a more reliable and consistent networking experience compared to internet-based connections.
3 Oracle Cloud Storage
Migrating out of tenured, familiar data storage solutions is not an easy decision. It can involve serious and tedious work in designing, planning, and executing your cloud data migration project plan, along with having a contingency plan in place in case of any speed bumps. Oracle's Fast and scalable cloud storage delivers consistent high performance and scalability. Customers will get Block Volumes that scale up to 1 PB, File Storage that can scale up to 8 EB, and local NVMe that scales to 2 TB.
4 Get a Dedicated Project Manager
Project manager is not just someone who creates reports and charts, but is on the ground, looking out for future pitfalls, and understands what it takes to do a migration or enhance an existing customer environment. A consulting project manager is especially useful in complex migrations where multiple project teams are involved; they serve as a hub of shared knowledge about all cross-team migration initiatives and bring other key experience.
5 Hire an Oracle Certified MSP/MSE Partner
Gartner recommends enterprises to work with cloud certified Oracle MSP / MSE, to bridge this critical skill gap that not only have a proven track record of successful migrations within the target industry, but are also willing to quantify and commit to expected costs and potential savings. The benefits of an Oracle MSP/MSE, will help accelerate the migration and provide faster go to market benefits from cloud, such as cost savings, agility, innovation and performance.
6 Proprietary Tools & Methodologies
We have executed and documented several migration projects till date. Our tried and tested proprietary tools (Packaged as ITC Tool Chest), makes the migration process more efficient through automation. This high-performance migration tool automates configurations, setups, and data loads, allowing your business to migrate to the cloud with the use of minimal resources, time, and effort. In several cases it has reduced migration time by upto 50%.
7 Recruit Certified Experts Trained on Oracle Migration and Management
In case your organization does not have any experience with cloud, you may want to assess now on relevant skills in migration and management such as Enterprise Cloud Migration, Integration Architecture. However the cost of getting a team on board vs hiring services from a certified Managed services provider needs to be assessed. A certified MSE brings in the Skills and knowledge who can also help in continuous change and optimization of the EBS application and can get productive from the day 1 itself. While IT Convergence can provide you with necessary skills for all Oracle Cloud Infrastructure capabilities, you can also scale these resources up and down as per your need. We can build, deploy, run, and manage Oracle and non-Oracle workloads on Oracle Cloud Platform.
8 Setup a Cloud Center of Excellence
Establishing a cloud center of excellence (COE) is an effective way of bringing about cloud-enabled IT changes. There is no right time to create a cloud COE. Irrespective of where you are in your cloud adoption journey, a cloud COE is a great way to accelerate your cloud adoption efforts. Build a cloud migration program team that includes a core team, a support team of technical SMEs and a cross-functional steering committee to oversee the migration. Lay out the team's mandate and ensure all members understand their roles and responsibilities.
9 Formulate Pre-migration Test Plans
Pre migration testing is essential, as it allows for lessons learned without incurring significant risk to business operations, builds confidence and familiarity for the migration team, and accelerates migration acceptance and credibility enterprise wide. Create a plan for testing the migration of applications, data and network configurations to identify errors or performance issues, validate assumptions, and better estimate migration time and resource requirements.
10 Plan Plan Plan – Planning ahead will help you accelerate the migration.

Conclusion
Migrating hundreds or thousands of workloads requires coordination and implementation across multiple disciplines and teams. You need to mobilize your workforce and resources, establish automation to migrate applications with an agile approach, to ensure a successful migrating of these assets to the Oracle Cloud Infrastructure. Speak to our experts on how you can get a first time right migration for your applications.