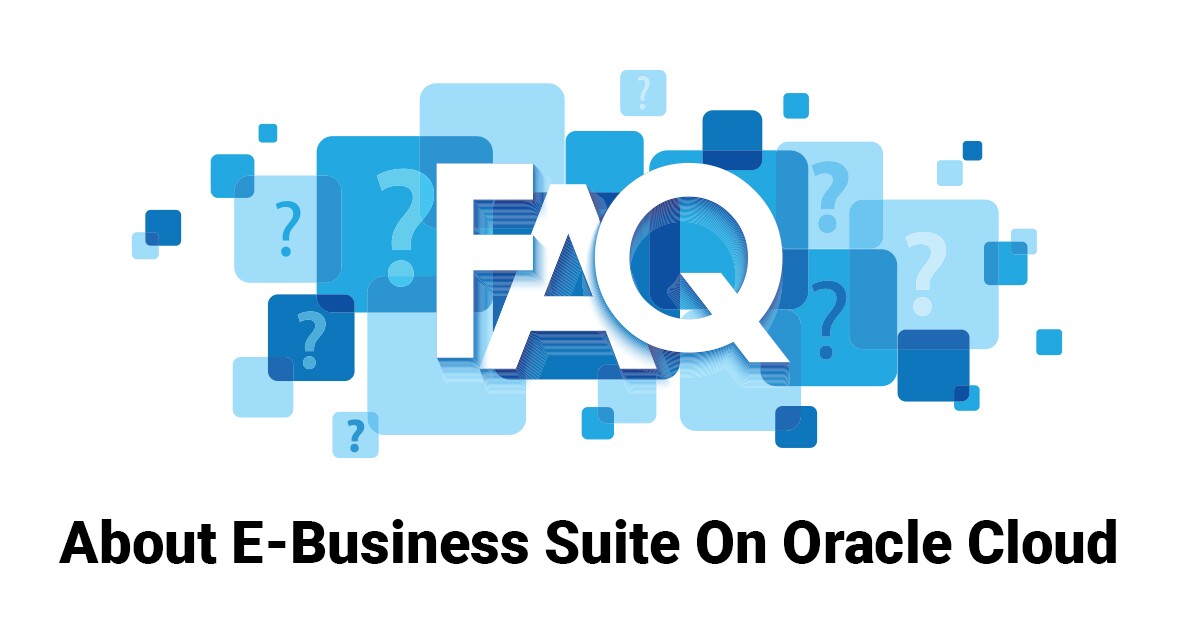 What is Oracle E-Business Suite on Oracle Cloud?
This refers to running Oracle E-Business Suite on Oracle's Cloud Infrastructure and database service offerings. Leverage Oracle's Gen2 Cloud capabilities for maximum performance of their Ebusiness suite. Customers can move and improve their EBS performance by utilizing all the autonomous, high performance, scalable and secure solutions available on OCI as compared to traditional in-house hosting. This helps businesses to focus on their core business than to spend time on managing a data center. Larn move on Hosting Oracle EBS Application On-prem Vs Oracle IaaS
What are the Key benefits to Using Oracle E-Business Suite on Oracle Cloud?
Running your EBS on Oracle OCI is much cheaper than any other cloud offering today. Along with this you can expect unmatched flexibility, scalability, automation, security and enhancements. With OCI you can provision new development and test environments quickly in response to such changes while ensuring continuity of day-to-day operations. WIth Autonomous data features which are unique to OCI only, you can gain more with less maintenance costs.
Oracle's Cloud Infrastructure offerings are elastic and allow IT to scale up or scale out the infrastructure on demand. You can move all of your E-business suite modules or part of them to Oracle Cloud infrastructure as per your needs. This elasticity and the flexibility to pay-as-you-go reduces the need for upfront capital expenditure, and decreases wait times for hardware and other resources, lessening overall project risk. Learn more on Migrating Oracle EBS To OCI – TCO benefits and beyond
Are there Additional Licensing Fees? Or Do I Trade in Some of My Licenses to Support My Move to Oracle Cloud?
Oracle Cloud resources and services are available for subscription by Oracle customers. Customers who already own Oracle E-Business Suite product licenses may use their Oracle Cloud subscription to provision and deploy Oracle E-Business Suite instances on the Oracle Cloud (bring your own Oracle licenses to Oracle Cloud Infrastructure). The deployed instances may be used for development, testing, training, and so on. Once a customer acquires a subscription to Oracle Cloud, no additional Oracle E-Business Suite license or usage license is required This depends on current license and the type of architecture which can be supported by existing licenses. Reach out to ITC for more information and we can help determine the cost. Besides the benefit of BYOL you save on your current support fees on your Oracle Database for maintenance.
Do I Need to Purchase Oracle E-Business Suite Product licenses to Run on Oracle cloud?
Oracle customers who already own Oracle E-Business Suite licenses may use the Oracle Cloud to host instances of their applications. Oracle's Cloud Infrastructure Compute service uses a "Bring your Own License" model, so customers who wish to use Oracle's infrastructure must already own a valid license to the software deployed on the cloud.

How Can I Customize and Extend Oracle E-Business Suite on Oracle Cloud?
The same Oracle tools you use within your on-premises data center are available on the cloud in order for you to customize or extend your Oracle E-Business Suite systems. There is no change to your application. There is no change to the applications. Rigorous Testing is required post the migration.Depending on the version of EBS that you have, you might have to apply patching.
However to accelerate your migration to OCI, IT Convergence has built proprietary tools and methodologies to ensure you get the right Size, Right fit and 'first time right' migration to OCI. Learn more on 10 Things You Need to do NOW to Prepare Your E-Business Suite Move to OCI Cloud
How Do We Migrate Our Existing Customizations & Integrations on OCI?
While changes and customizations within Oracle EBS are relatively easy to migrate, integrations of 3rd party apps connected to EBS need to be evaluated and planned in advance for seamless transition. Our Integration practice experts can successfully ensure your customizations and integrations are intact in your new environment. Learn more on Lifecycle of an EBS Cloud Migration to OCI
Can I Use the Same Certified Third-Party Solutions I Currently Use On-Premises With Oracle E-Business Suite on Oracle cloud?
Yes, the entire Oracle E-Business Suite architecture is the same whether deployed on-premises or on Oracle Cloud. All third-party components in an Oracle E-Business Suite application instance will be deployed on the cloud. Oracle Cloud's strategy should also allow customers to use Oracle Cloud to host instances of other applications that integrate with their Oracle E-Business Suite systems. Reach out to our experts to a consultative call to help you assess your applications integration
Does Oracle Support Deploying Production Instances of Oracle E-Business Suite on the Oracle Cloud & How Can I De-Risk My Migration Efforts?
Yes. While many of our clients started testing OCI with their Non-prod instances, almost all of them have moved their production instances too. They saw value in autonomous features, better price performance, flexibility, seamless operability, and secure environment within OCI. Learn more on 4 Steps to De-Risk & Accelerate Your EBS to OCI Migration and Risk-Free Path to the Cloud on demand Webcast.

What is Oracle's Position on Other Cloud Solutions, Such As Amazon Web Services, Azure, IBM etc.?
Oracle's Cloud Infrastructure solution offers several clear advantages over other leading cloud solutions such as AWS, Azure, IBM etc.
Oracle provides automation not available from other vendors and any future customizations will also be added to Oracle Cloud.
Other vendors do not have database services such as Oracle Database Cloud Service and Oracle Exadata Cloud Service.
With Cloud@Customer, purpose-built for business critical ERP systems with highly sensitive, latency driven data can leverage all of the public cloud capabilities behind their firewall.
With Oracle Cloud Manager continuous improvement to manage Oracle apps on OCI with latest features and updates first on Oracle.
Oracle Support has well-established processes for collaboration across different product teams, designed to promote quicker resolution of issues.
Oracle tests on Oracle Cloud Infrastructure and not on Amazon.
For core applications like Oracle EBS, JD Edwards, PeopleSoft etc, oracle clearly differentiates its credentials in learning more on Oracle vs AWS.
What If I Want to Move My EBS Workloads to Other Cloud Providers Instead of Oracle OCI?
Yes you can. You can decide to move your Oracle workloads to any cloud providers. Besides losing out on the price performance benefits OCI brings, you may also lose on the agility and flexibility OCI brings to customers. Few of the problems you may face while migrating EBS to Third-Party Clouds are:
Insufficient deployment choices
Cumbersome migration requirements
Limited compatibility between on-premises and cloud environments
Fragmented management tools
Inconsistent performance
Gaps in security, visibility, and control
Lack of availability and redundancy for critical workloads
Oracle EBS works best on Oracle. Single neck to catch for all your applications' growth story. Oracle Partners can guide you on substantial cost savings & superior TCO benefits while migrating EBS to OCI.
How Do I Leverage Oracle Partner for My Long Term Cloud Success for Oracle Applications?
Learn more on how to leverage Oracle Partner for long term cloud transformation success.